This post was authored by Sachin Chheda, Director of Product Marketing
If you are an Exchange administrator, you have most likely been exposed to Microsoft's Exchange Solution Reviewed Program (ESRP) for Storage numerous times. It is one of the most well recognized programs for storage for Microsoft Exchange with well-maintained testing tools (JetStress) and well-defined review processes conducted by Microsoft Exchange Experts. While it isn't a directly implementable blueprint or a real world reference design, it is a good point for administrators to start from when looking at options for infrastructure.
Nutanix is proud to have published the industry's first hyperconverged ESRP result – 24,000 mailboxes on a Nutanix NX-8150-based system. That's compute plus storage together to support tens of thousands of users in a fraction of the space it would take traditional 3-tier infrastructures with > 70% lower management overhead across the entire infrastructure stack (see the IDC report based on real Nutanix customers
here
).
Here is information on the published Nutanix ESRP solution:
24,000 mailboxes
0.05 IOPS (0.06 IOPS tested for additional 20% headroom)
1.0GB per mailbox
6 Exchange Servers (3-node setup tested in a 4-node Nutanix cluster)
4 databases per host with 2,000 users per database
Guest VMs running on Windows Server 2012 R2 on Nutanix (NOS 4.1.2)
Nutanix CVM to Hyper-V using SMB 3.0
Guest VMs using SCSI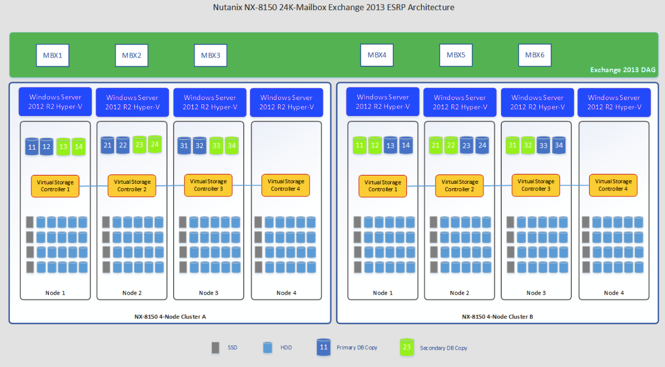 On the Nutanix front, we maintained ample headroom for storage management functionality. We also used the default Nutanix tunable redundancy setting to maintain a degree of resiliency (RF2). This is transparent to the VMs running on top of Nutanix. Coupled with Exchange's own DAG functionality, this means that the system maintained gets 4 unique copies of data.
Here are frequently asked questions on the Nutanix solution for Microsoft Exchange. Have a question? Just drop us a note at
info@nutanix.com
.
1. Can Exchange be virtualized?
Microsoft supports virtualization of Exchange 2007 SP1 or later, Exchange 2010, and Exchange 2013 on Hyper-V and other hypervisors validated under their Windows Server Virtualization Validation Program
.
Virtualizing Exchange can deliver some real value including consolidation, the ability to abstract hardware and live migrate if needed, and simplified performance monitoring and infrastructure management.
2. What hypervisors can I use for virtualizing Exchange on Nutanix? You can use your choice of:
Nutanix Acropolis Hypervisor (read Josh Odger's blog on the topic here)
Microsoft Hyper-V (the hypervisor used in the ESRP submission)
VMware vSphere (with guest VM connected iSCSI volume)
3. How can I size Exchange on Nutanix?
The easiest way is to contact us at info@nutanix.com and we'll help walk you through the process using our intuitive sizing tool. If you want to understand the VM requirements for Exchange, download and use the Microsoft Exchange 2013 Server Role Requirements Calculator (instructions here).
4. Your ESRP result is based on NX-8150 systems. Can I use your NX-3000 series?
Yes, we chose the NX-8000 series for the ESRP solution and have customers that have deployed it in production. We also have customers, including Joseph Chamberlain College, who use other models including the NX-3000 series for running Microsoft Exchange. The fastest way to find the optimal configuration for your environment is to contact a Nutanix partner or sales team.
5. I want to run file services along with my Exchange deployment on the Nutanix cluster. Is that possible?
We have a few customers that run different workloads including file services on the same Nutanix system. Apart from virtualizing all Exchange servers alongside other workloads for higher efficiency on a single hyperconverged platform, you can also non-disruptively scale your Nutanix system by adding individual nodes to existing clusters.
6. How is Nutanix better than my existing 3-tier setup for Exchange? Where should we start? There are just so many reasons why! Here are some of my favorite:
Our web-scale architecture with intelligent tiering and caching of data means you get a platform that lets you start small (and quickly) and linearly scale (one node at a time) as your Exchange requirements grow. There is no need to overprovision storage to hit the storage latency requirements. The Nutanix solution also minimizes the noisy neighbor problem seen with traditional shared storage by serving active data from the local flash, so you can run other workloads on the same Nutanix cluster.
Nutanix supports compression to reduce the amount of storage needed to start your user mailboxes. In addition, you can turn on the Nutanix EC-X for cold data to further reduce your users' mailboxes while maintaining the same level as resiliency as RF-2.
On the physical front, Nutanix customers commonly report up to 80% reductions in the amount of datacenter space needed versus their previous 3-tier environments.
Our consumer-grade Prism management interface gives you deep insight into your system, including the Exchange VMs, storage, and more. You can automate reports based on our extensive set of PowerShell commandlets and Acropolis APIs. IDC found that our customers cut their management overhead by as much as 71% versus their legacy infrastructure.
Ready to get started? Send us a note at
info@nutanix.com
, send us a DM on twitter
@nutanix
, or sign up to attend one of the
.NEXT on Tour events
coming near you.
Not ready to talk or just looking for more information?
Read the Nutanix ESRP report
Read about the Nutanix solutions for Exchange
Read the Nutanix bible
Read about the ESRP on the Microsoft website