Welcome to the third installment in this blog series focused on the needs of Service Providers. The
first blog
explained the benefits of a Nutanix Enterprise Cloud for Service Providers of all types. The
second blog[/i]
focused on Desktop as a Service. Today we'll be investigating Managed Service Providers (MSPs), why they chose Nutanix, and the benefits they've gained.
In the past, many MSPs focused on delivering services on customer-owned infrastructure. Today, in addition to the traditional model of managed services, MSPs often host customer applications on cloud infrastructure that they own, and offer other cloud services similar to—and in competition with—the public cloud.
By providing a simple, scalable, and highly available enterprise cloud platform, Nutanix makes it easier for MSPs to offer a variety of cloud services, freeing them to focus more time and effort on customer needs. MSPs such as
Claranet
,
Synergics
, and
UCS Solutions
have deployed Nutanix solutions to simplify infrastructure and streamline operations.
Claranet's Nutanix deployment provides public cloud services including web servers, ecommerce apps, and MySQL databases, while UCS Solutions hosts both its Microsoft environment (including Exchange) and Linux installations on its Nutanix platform—with plans to host DR and business continuity services in the works. Synergics offers both VMware and Hyper-V and hosts Microsoft Lync (now Skype for Business) and other applications.
These three MSPs chose Nutanix for its superior economics—both in terms of CapEx and OpEx—reduced complexity, and greater flexibility.
[Synergics estimates it has cut its total costs (CapEx and OpEx) by about 35% with Nutanix, while UCS Solutions estimates it has reduced its capital expenditures alone by 20%. These savings translate to more cost-effective solutions for customers and put these MSPs on a better competitive footing.]
Eliminating SAN Complexity
All three of these MSPs were having trouble with the complexity and lack of scalability of traditional SAN environments, making moving to a more streamlined and flexible environment a priority. For example, Synergics was spending too much time simply maintaining its infrastructure instead of focusing on the needs of its clients; frequent SAN updates and upgrades added to those challenges. UCS noted that engineers with SAN skills were hard to find and that SANs weren't built for virtualized environments.
The Nutanix hyperconverged design combines compute and storage in simple building blocks, making it easy to provision and reallocate resources—perfect for dynamic cloud services. Capacity and performance can be increased simply by adding nodes to the cluster, making it simple to scale, and one-click management tasks—especially non-disruptive upgrades—take a lot of the pain and complexity out of day-to-day management.
All three MSPs noticed the speed with which the new infrastructure could be deployed versus SAN environments. Claranet was migrating applications within two days with no training required; UCS after a single day.
Flexibility and Scaling
UCS Solutions found that eliminating SAN and deploying Nutanix allows it to spin up services faster and repurpose and reuse resources much more effectively. Claranet provisions resources according to a performance-per-VM ratio. As customer demands grow, Claranet adds nodes incrementally with predictable scaling. Synergics found it easier to respond to customer demand with Nutanix's simpler architecture, and pointed out how simple and non-disruptive upgrades are in the Nutanix environment.
Great Performance
Agility, speed of execution, and cost effectiveness were higher priorities than performance for Synergics, as is often the case [with MSPs? with Synergics? with all of our customers?]. However, all three MSPs experienced better performance than the SAN environments that they replaced—and their customers noticed the improvements as well [
Note to Draft: Consider including an example of how the customers were impacted
].
These improvements are possible because every Nutanix node includes a combination of SSDs and HDDs (or just SSDs for all-flash configurations). A distributed storage fabric manages all the storage resources in a cluster as a single, flexible pool. Data is actively managed to ensure that a VM's hot data is on local flash and automatically tiered using our integrated Information Lifecycle Management. Combined with the intelligent tuning built into the system, a Nutanix enterprise cloud is designed to deliver predictable high performance without the need for constant IO tuning.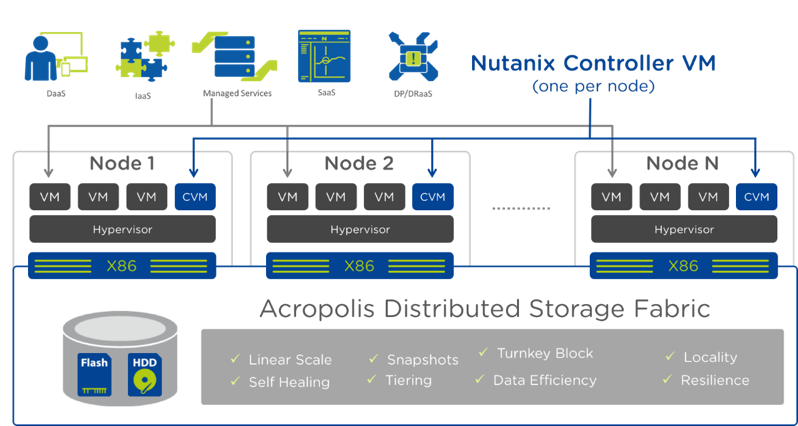 Flexible Virtualization Options
Another advantage that Nutanix provides for MSPs is the ability to choose between three hypervisors: VMware vSphere, Microsoft Hyper-V, and Nutanix AHV. The Nutanix App Mobility Fabric (AMF) simplifies the process of moving VMs between various environments, allowing VMs to run where they are needed, rather than where they were provisioned.
Each of the three MSPs described here uses or has used at least two hypervisors in production. UCS Solutions runs one Nutanix cluster with VMware and a second with AHV. AHV is provided with Nutanix purchases at no additional cost,
drastically reducing licensing costs
.
UCS Solutions reports that its experience with AHV has been excellent. Because AHV management is integrated with Nutanix Prism, the process of deploying and managing infrastructure is designed to be incredibly simple. Prism integrates the entire stack, including virtualization, into a single pane of glass. UCS Solutions also uses Prism Central, enabling the team to view and manage multiple clusters from this same single interface.
Superior Services and Support
Another thing that differentiates Nutanix for MSPs—and all types of service providers—is the quality of its services and support. Nutanix's goal is to support the entire solution running on Nutanix, so support is simplified and finger-pointing among vendors is eliminated. We do this through engineers trained on the entire stack, and alliance such as TSAnet. One call gets you the help you need, saving time and accelerating problem resolution.
Synergics recognized the value immediately, noting that Nutanix support was both fast and knowledgeable. UCS Solutions utilized Nutanix Services for its initial infrastructure deployment, and found the overall experience of working with Nutanix to be "phenomenal".
These are just a few of the benefits that Nutanix provides for MSPs. Be sure to follow
Nutanix
on Twitter or
reach out to us directly
to get a demo and a deep dive into all of our technology. Also, continue to watch this space as this series expands.
As always, join us on next.nutanix.com to continue the conversation.
This post is authored by Chris Brown, Solutions Marketing Manager at Nutanix