This post was authored by Bill Hackley, Federal Sales Engineer at Nutanix
It's that time again! The New Year? Not quite.
'Tis the season for every Information Technology department in the U.S. Federal Government to go through the arduous task of determining budget requirements for the upcoming fiscal year. The challenges of budget austerity and operating on a Continuing Resolution (CR) almost every year since 2001, have made planning a combination of inexact art and science. As a result, it's more critical than ever to have adequate capacity planning to provide a data-centric basis for budget requests, and – inasmuch as possible – to guard against coming up short on resources during the fiscal year budget cycle.
Although it seems simple enough, understanding what technology resources are already running and how to properly scale them as demand grows, many Federal IT departments are forced to cobble together disparate pieces of data for their capacity planning – hence, the 'inexact art and science'. Typically, teams must log into multiple consoles, manually aggregate the data into a spreadsheet or table, and take a "best guess" on how to accommodate various requirements.
Nutanix customers know they have an "easy button" for capacity planning: "
Capacity Runway
" (the Nutanix version of a "CR"). Capacity Runway is a feature that is native to the Nutanix Prism Central console. It takes live data about the Nutanix environment and predicts if and when the resources will reach capacity. These resources can be anything from CPU to RAM to storage. In the example below, based on live data and trending, the environment will run out of RAM in 185 days.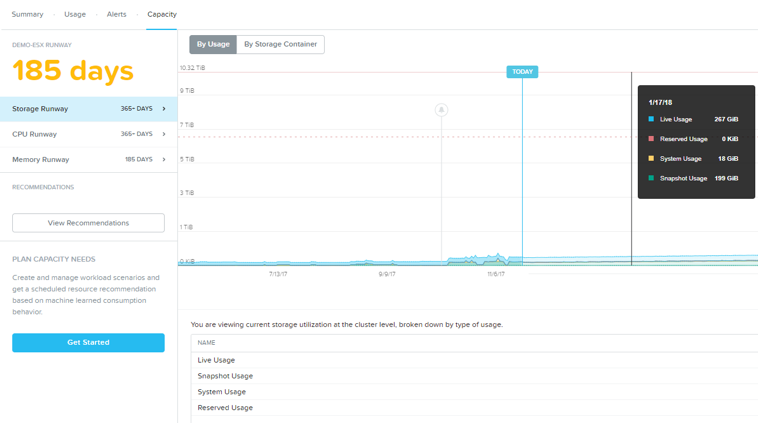 By clicking the Recommendations button, users can see a variety of options, such as removing "dead" VM's or right-sizing overprovisioned VM's, that could be the best course of action.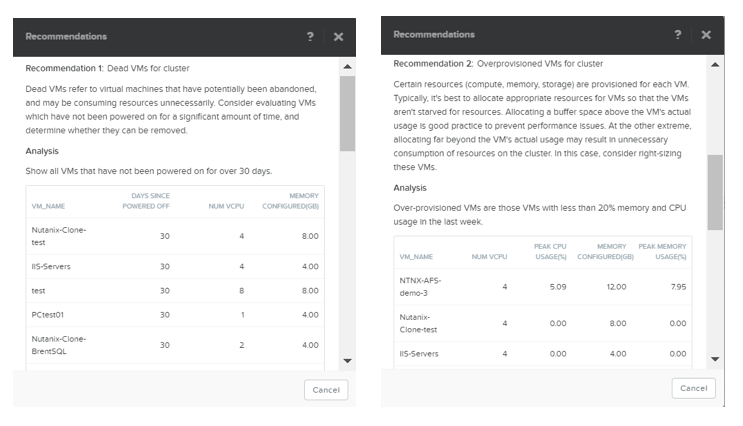 When determining how to properly scale for an upcoming project, Capacity Runway allows users to examine multiple "if/then" workload scenarios to determine the best mix of resources to meet budget and operational requirements. For example, if there is an upcoming VDI project using Citrix XenDesktop for 1,000 task users, that can be plugged into the tool to show the exact Nutanix scaling that would be required.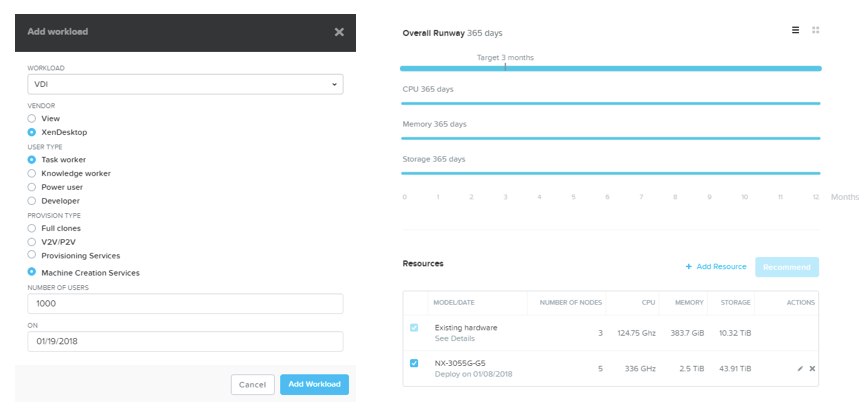 Capacity Runway gives Federal IT decision makers the data needed to appropriately scale and size the infrastructure requirements of their data centers. This is a "CR" that makes things easier on Federal agencies.
© 2017 Nutanix, Inc. All rights reserved. Nutanix and the Nutanix logo are registered trademarks or trademarks of Nutanix, Inc. in the United States and other countries. All other brand names mentioned herein are for identification purposes only and may be the trademarks of their respective holder(s).