By Elad Wind, Director of Technical Marketing, Mellanox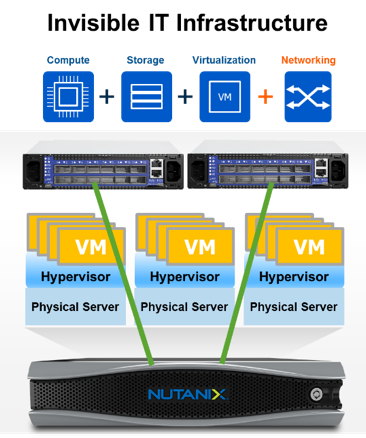 As Nutanix and the hyperconverged industry have grown and matured, the networking portion of the enterprise has also been racing to adapt and shrink its draw on footprint, costs, and resourcing.
Mellanox
, maker of End-to-End data center interconnect has bundled a
complete networking solution for Nutanix
with a technology capable of rapidly deploying all of the network's needs, with no IT administration and offering the lowest total cost of ownership (TCO).
The footprint conscious Mellanox
SX1012
, administered by
NEO
, caters to network needs more efficiently than when utilizing traditional methods. NEO fabric management runs as a virtual-machine (VM) on the Nutanix nodes for a one-click network operation.
The SX1012 is uniquely built with 12 ports in a compact half wide design, perfect for a highly-available solution to fit into just 1U of the whole storage solution. This leaves ample space to add another SX1012 as customers grow their networks. Mellanox's SX1012 is designed to future proof 40G needs as well with QSFP ports.
Automatic and Self-Healing Networks
Mellanox is also working to address the challenges of customers and solution providers alike in dealing with network administration. Jeff Shao explains in his blog "
how networking matters in your enterprise cloud
"; that slower than expected storage solutions can yield increasing administration and operational cost (OpEx).
[img]https://uploads-us-west-2.insided.com/nutanix-us/attachment/1607iC56A1651573E74B1.png[/img]NEO
is up for the challenge, taking away an estimated dozen hours per month spent on enterprise network administration, and by deploying a self-healing approach that reacts to on-going workload changes.
Download NEO today for a one-click bring-up and tune-up. Once NEO is up and running, the background alerts will show any network glitches and sub-optimal performance.
As a
Nutanix .Next On Tour
2016 gold sponsor, Mellanox cordially invites you to meet us in Bangkok, Tokyo, Sydney, Beijing or Bangalore and to see a demonstration of the invisible network, specialized for Nutanix and OpenStack.
Mellanox and Nutanix: A Perfect Solution Match
- Scalable agile infrastructure
- Lower Costs: reduction of overall TCO
- Smallest footprint: two SX1012 in a single rack, less cables in the rack
- Free IT resources: NEO one-click deployments and self-healing enterprise cloud