This guest post was authored by Ajay Dankar, VP, Products of Aviatrix and Sridhar Devarapalli, Sr. Director, Product Management of Nutanix.
As more enterprises embrace the public cloud to extend their on-premises environment, it's impossible to ignore the friction involved in hybrid cloud management. Until now, hybrid cloud management has meant slow, error-prone manual provisioning; expensive operations and scaling; and highly skilled networking experts for even the simplest change requests.
To ease this friction,
Nutanix
and
Aviatrix
announced a joint solution at
Nutanix .NEXT 2017
that aims to reboot the hybrid cloud. Nutanix customers will be able to get the one-click power of Aviatrix Cloud InterConnect (ACX) from the Nutanix Marketplace (part of Nutanix Calm, which is currently under development) and can create an integrated hybrid cloud fabric across their private data centers and Amazon AWS in minutes. By combining the one-click cloud networking of the ACX with the cross-cloud management of Nutanix Calm, Nutanix customers will be able to instantly provision workloads with seamless networking across the entire hybrid cloud infrastructure.
Despite the key benefits of the public cloud—operational agility and economic elasticity—enterprises struggle to adopt a hybrid cloud environment that enables a single unified operational model between their private cloud and public cloud. The top challenges we hear from enterprises are:
Disparate constructs to build and operate a private cloud vs a public cloud (e.g. VLANs vs VPCs, AMI vs templates, and, EBS vs volumes)
Disjoint lifecycle and operational workflows
Totally different Identity and Access Management (IAM)
IT control and separation of duties (operator vs developer)
What's needed is a unified consumption experience that allows enterprises to manage and operate their business applications regardless of the underlying environment. The selection criteria to choose the right target environment should be based purely on economics, rather than on the choice of technology or on operational practices and without lock-in to provide the flexibility required to change later on as the workload evolves.
One key aspect of unifying the experience between a private cloud and a public cloud is the ability to access and consume the compute, storage and network resources in the public cloud from the data center without opening IT tickets. Furthermore, to enable an on-demand self-service model, the network must be set up dynamically and seamlessly, just like compute and storage resources. Networking is a complex area for almost all enterprises, and is further complicated in the hybrid environment because it usually takes weeks to provision and configure the networking equipment at the edge.
Nutanix Calm provides seamless orchestration of enterprise applications across multiple clouds, thereby eliminating the complexities of multi-cloud management. ACX on Nutanix securely extends the enterprise's datacenter network into the public cloud with a single click—creating a unified, secure network on demand that spans multiple clouds, enabling self-service via dynamic hybrid cloud network provisioning.
Hybrid Cloud Use Cases
Why is the hybrid cloud important for enterprises? Let's look at some of the use cases:
Application Mobility between private and public cloud: Enterprises looking to leverage the public cloud for incremental infrastructure capacity need to move applications and data between private and public clouds. For example, several companies are moving Dev/QA environment in public cloud while keeping their production site on-premises.
Capacity on Demand in the public cloud: Many teams have unpredictable and seasonal needs for on demand infrastructure, either to handle customer demand or for dev/test needs. These applications have dependencies on applications and data still residing on-premises, and need a seamless way of interacting and accessing them.
Backup, Disaster recovery and high availability: Enterprises can use public clouds as a target for backup and disaster recovery, leveraging the benefits of the public cloud and avoiding upfront capital outlay that's otherwise needed to build these solutions themselves.
The cost of disparity in technologies and operational workflows
Disparate compute, storage, networking and security technologies, coupled with disjoint operational workflows make today's hybrid cloud environments complex, expensive, and inflexible. Let's look at the impact closely:
Today's hybrid cloud environment is provisioned mostly by hand, making it error prone besides the long lead time to build
Hybrid cloud is expensive to operate because many point tools and DIY scripts are cobbled together
Hybrid cloud requires highly skilled IT to work on even the routine modify-add-delete change requests
Last, but most important, today's hybrid cloud fails to deliver on the unified experience for the customers
Why is the network a problem?
Disparate point-to-point networking and encryption technologies to connect data center and the public cloud – IPSEC VPN, SSL VPN, DirectConnect, ExpressRoute etc., impact the hybrid cloud network architecture and performance
Lack of technology choices to seamlessly extend the private IP address space to the public cloud causes IT to offer disjoint experiences
Lack of options to securely connect multi-cloud or inter-regions result in hybrid cloud environments without end-to-end security
Multiple teams need to be involved – Networking team, virtualization team, cloudops team, security team, compliance team etc. that causes
Long lead times, often several weeks to establish hybrid cloud connectivity as the edge router needs to be reconfigured as well which requires additional scrutiny due to the associated business risk
Errors due to manual configuration, open source tools, or legacy 3rd party tools, all of which require some degree of manual configuration
Cost of operationalizing a hybrid cloud environment increases exponentially as it scales since there is no end-to-end network connectivity or performance visibility, no central place for logs/events and no single-console for all things networking
Details of the Joint Solution
Under the joint solution (see figure 1), Nutanix is breaking the multi-cloud barrier with the introduction of Calm, a cloud agnostic application orchestration product offering, whereas Aviatrix complements Nutanix's offering by adding a pre-integrated multi-cloud secure connectivity layer -- ACX, that runs in a VM inside Nutanix. The joint solution enables the IT operations teams to leverage public cloud on-demand, as a seamless extension of the compute, storage and networking resources provisioned on premises.
ACX eliminates the complexity of securely connecting to and across public clouds. Already, the Aviatrix software is fully integrated with Amazon Web Services (AWS), with Azure and Google Cloud support to come shortly. It makes use of the public cloud providers' native APIs to configure customer's public cloud resources including routes, and security groups to allow applications running in on-premises subnets and those in AWS VPCs to securely access each other.
Key benefits of the joint solution include:
One-Click Simplicity
Streamline all hybrid cloud infrastructure provisioning and management across compute, storage, and networking through a point-and-click interface
Support multi-cloud secure connectivity from a single interface
Cloud Agility
Provision a hybrid or multi-cloud topology in minutes, create subnets in AWS VPCs as an extension of your data center network
Self-service, on-demand deployment of application blueprints across multiple clouds, without requiring any changes to the on-premises edge router
Rich APIs and Tools Integration
Comprehensive API support for end-to-end automation and operational visibility across DevOps lifecycle
How to Access the Joint Solution
The joint solution will run on Nutanix AHV and will be available as a blueprint in the Nutanix Calm Marketplace. Nutanix customers will be able to access and deploy the Aviatrix Cloud InterConnect blueprint from Nutanix Calm, and they can work with a single interface to extend their infrastructure to the public cloud, coupled with built-in application orchestration—all with a single click!
Here's the process to follow:
Download the Aviatrix Cloud InterConnect blueprint from the Nutanix Marketplace (figure 2)
Launch the blueprint from Nutanix Calm to instantiate Aviatrix Cloud InterConnect on a target Nutanix cluster (figure 3)
From the Aviatrix Calm app running on Nutanix, create and configure VPCs in AWS, which automatically configures secure connection to these VPCs with a few simple clicks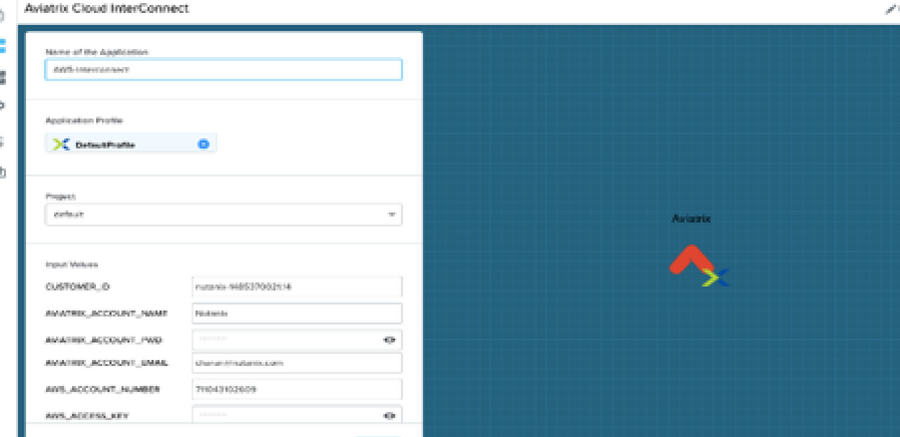 Start Your Cloud Adoption Journey with Us
The enterprise cloud adoption journey is just that – a journey! Existing solutions fall short in paving the path to hybrid cloud. Aviatrix, a pioneer in hybrid cloud networking, and Nutanix Inc., a leader in enterprise cloud computing, are introducing an integrated hybrid cloud solution that enables enterprises to painlessly orchestrate applications across public cloud and hyper-converged private cloud environments. Together, Nutanix and Aviatrix provide a unified hybrid cloud consumption experience. Plus, you can enjoy this unified hybrid cloud experience without opening IT tickets or even knowing the details of cloud or networking operations.
To find out how to get started, contact us at sales@nutanix.com or sales@aviatrix.com
Forward Looking Statements
This blog includes forward-looking statements concerning Nutanix's relationship with Aviatrix and the development of a joint solution. These forward-looking statements are not historical facts, and instead are based on our current expectations, estimates, opinions and beliefs. The accuracy of such forward-looking statements depends upon future events, and involves risks, uncertainties and other factors beyond our control that may cause these statements to be inaccurate and cause our actual results, performance or achievements to differ materially and adversely from those anticipated or implied by such statements, including, among others: the introduction, or acceleration of adoption of, competing solutions, including public cloud infrastructure; a shift in industry or competitive dynamics or customer demand; and other risks detailed in our quarterly report on Form 10-Q for the fiscal quarter ended April 30, 2017, filed with the Securities and Exchange Commission. These forward-looking statements speak only as of the date of this press release and, except as required by law, we assume no obligation to update forward-looking statements to reflect actual results or subsequent events or circumstances.
Disclaimer: This blog may contain links to external websites that are not part of Nutanix.com. Nutanix does not control these sites and disclaims all responsibility for the content or accuracy of any external site. Our decision to link to an external site should not be considered an endorsement of any content on such site.
2017 Nutanix, Inc. All rights reserved. Nutanix and the Nutanix logo are registered trademarks or trademarks of Nutanix, Inc. in the United States and other countries. All other brand names mentioned herein are for identification purposes only and may be the trademarks of their respective holder(s).