This is a guest post Jim Fitzgerald, Aviatrix VP of Business Development
Thanks to Nutanix, today's IT organizations expect their on-premises computing to deliver similar scale, agility and simplicity of the public cloud with even better economics. But the public cloud also has its place in organizations' IT strategy, offering additional capacity for temporary or seasonal workloads, proximity of data and applications, and cloud-centric uses. Now, Nutanix and Aviatrix are combining the best of private and public clouds to re-invent the hybrid cloud.
The biggest challenge of operating a hybrid cloud has been networking. The cost, complexity and time needed to set up or change secure networks into the public cloud has slowed adoption. In many enterprises, rogue workgroups bypass IT to set up their own public cloud environments, ignoring security and policy safeguards.
To address this problem, Nutanix and Aviatrix are re-booting the hybrid cloud. Aviatrix has pioneered a fundamentally new approach to cloud networking, offering a software-defined solution that renders hybrid cloud networking invisible. The Nutanix Calm application automation and lifecycle management product, which will be available in an upcoming release from Nutanix, allows enterprises to deploy new instances of an application — in the cloud or on-prem — invisibly as well.
Just as Nutanix eliminated the complexity of deploying cloud computing and storage, Aviatrix eliminates the complexity of creating a secure network (IPsec or SSL) into the public cloud. Aviatrix "one-click" cloud networking requires NO changes to firewalls or edge routers and no additional hardware. Aviatrix software runs on Nutanix systems in AHV, vSphere or Hyper-V VMs. A system manager can set up and manage an entire hybrid cloud network from a single Aviatrix software controller. As a result, Aviatrix eliminates the cost, complexity and time it takes to create hybrid cloud networks.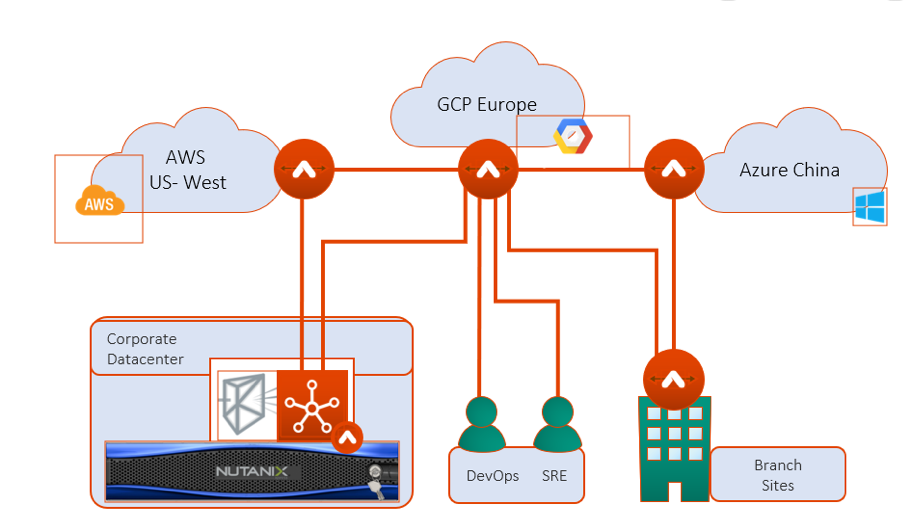 Perhaps the best way to illustrate the power of the Nutanix/Aviatrix solution is through a real user's experiences.
Ryan Kennedy, Academic Computing Team Manager at the University of Reading, was happily using Nutanix in his datacenter. But Ryan needed to address many different needs among his user base of more than 15,000 students and faculty, some of which were best suited for the public cloud. For example, the University of Reading is a leader in climate research, which requires worldwide collaboration through the public cloud. When users established their own routes to avoid networking complexity and delays, Ryan incurred uncontrolled public cloud costs.
Ryan evaluated the Aviatrix and Nutanix Calm solutions and decided it could be just what he needed. After deploying the Aviatrix solution, he found It exceeded his expectations in ease and effectiveness. Ryan tweeted: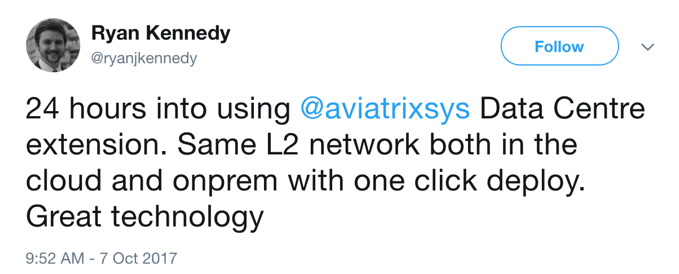 An unexpected benefit to Aviatrix of working with Ryan was greater understanding of the characteristics of networking at a large university. Universities, in contrast to commercial organizations, have plenty of externally addressable RFC1918 IP addresses and use them extensively. During the University of Reading implementation, Aviatrix quickly created a specialized way to handle externally addressable IP addresses. That feature will be added to the Aviatrix product to better address other universities' public cloud networking needs. The rapid addition of this capability illustrates the flexibility and agility of the Aviatrix solution.
Aviatrix will be demonstrating the hybrid cloud networking solution that Ryan has implemented at .NEXT Europe 2017 in Nice on November 7-9. Stop by our booth to learn more about the benefits of the Aviatrix and Nutanix re-booted hybrid cloud strategy. We look forward to seeing you in Nice!
Disclaimer: The views expressed in this blog are those of the author and not those of Nutanix, Inc. or any of its other employees or affiliates. This blog may contain links to external websites that are not part of Nutanix.com. Nutanix does not control these sites and disclaims all responsibility for the content or accuracy of any external site. Our decision to link to an external site should not be considered an endorsement of any content on such site.
2017 Nutanix, Inc. All rights reserved. Nutanix is a trademark of Nutanix, Inc., registered in the United States and other countries. All other brand names mentioned herein are for identification purposes only and may be the trademarks of their respective holder(s).