Nutanix has engineered an all-flash enterprise cloud platform, converging compute, flash storage, and virtualization into a forward-looking architecture and simplistic consumer-grade management interface, allowing enterprises to focus on driving business value.
Flash continues to evolve with NVMe and 3D XPoint technologies, significantly improving application response times, storage density, and durability. Legacy platforms built on outdated architectures are not ideally suited to take advantage of these technology enhancements.
In this post, let's take a look at how Nutanix all-flash solutions are enabling organizations to keep up with exponential data growth, always-on availability requirements, and the lightning-fast performance that today's applications demand—all without creating infrastructure silos.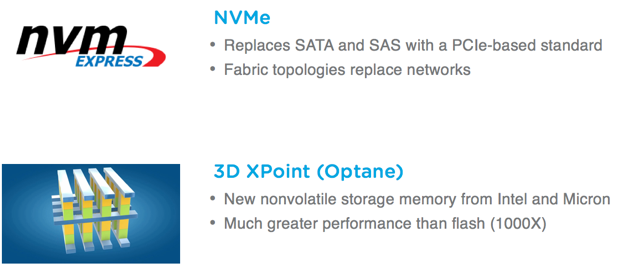 Flash and Servers Just Work Together
Over the last several years, flash prices have been on a decline, making it a more cost-effective option for enterprise storage. However, when replacing HDDs with SSDs (Solid State Drives), and creating an all-flash configuration with legacy three-tier infrastructure, there are several limitations that should be considered, including network latencies, bottlenecks, and management complexities.
This inherently limits the application from utilizing the full potential provided by flash. Another concern is network and storage controller bottlenecks, both of which can limit the performance flash can provide. All-flash storage systems typically have dual controllers, and even though they can be active at the same time, the total number of IOPS is limited.
Lastly, management of this entire three-tier infrastructure is complex, especially when working with multiple vendors for all-flash arrays, storage networks, and servers.
With hyperconverged infrastructure, flash is closer to where the virtual machines (VM) live and application latency can be significantly reduced. The Nutanix enterprise cloud platform can deliver the benefits of local flash performance without sacrificing enterprise data services (including dedupe, compression, cloning, and snapshots) through simple scalable building blocks.
As a result, infrastructure complexity is reduced and management can be significantly simplified.
But it doesn't stop there. The data locality feature that is unique to Nutanix is designed to keep network traffic minimized even as the solution scales, giving applications consistent, low latency, and predictable performance. VMs directly interact with the data without introducing network bottlenecks and without requiring any special tuning by the IT admin.
Choice with All-Flash Platforms and Powerful Software
Nutanix recently announced the availability of all-flash across the entire portfolio of Nutanix hardware platformshttps://#_ftn1. With a very modest price increase over similar capacity hybrid storage solutions, moving to a hyperconverged all-flash platform is now a simple decision.
Organizations also have a choice when considering Nutanix all-flash solutions, with Nutanix NX, Dell XC, or Lenovo HX platforms. The platforms are configured-to-order, providing choice in memory, compute, and all-flash storage capacity to meet tier 0/1 application requirements. The all-flash configurations enable you to choose up to 48TB of RAW all-flash storage capacity.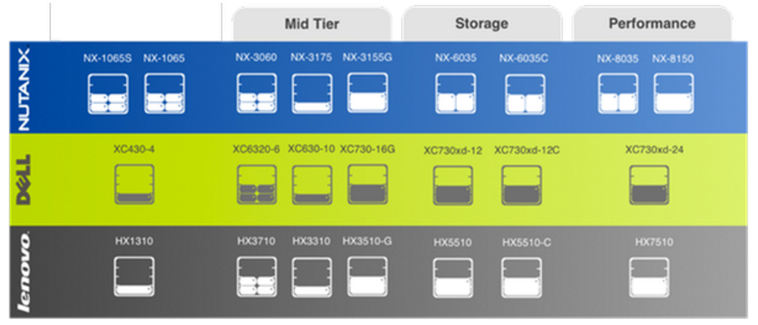 Additionally, the Nutanix platform can lead to OpEx and CapEx savings. Power, cooling, and rack space are significantly reduced as separate silo'd three-tier infrastructure is no longer required. Admins can also spend far less time managing and troubleshooting the environment with an easy to use interface.
Prism, the Nutanix consumer-grade management interface, gives administrators a simple and elegant way to manage their virtual environments. Powered by advanced data analytics and heuristics, it simplifies and streamlines common workflows with built-in automation and one-click deployments. Businesses rely on data more than ever, and with Nutanix all-flash solutions, you have the potential to drive increased business revenue and employee productivity.
Customers such as
Valpak
are benefitting from improved performance of the Nutanix all-flash solution for their high IOPS data warehousing applications and are planning to migrate their Java application servers, WordPress, SQL Server, SAP, and Sybase databases over as well.
Come See Us at VMworld 2016
Nutanix is proud to be a Gold Sponsor at VMworld 2016 at the Mandalay Bay Hotel and Convention Center in Las Vegas, August 28 – September 1, 2016. Visit us at our booth and hear how our customers are deploying large-scale environments with Nutanix all-flash solutions.
Swing by Booth # 2311 and Schedule a 1:1
If you like what you see on the show floor and want to have a more in-depth discussion about our solutions, we would love to talk to you. Visit the Nutanix booth to schedule a meeting with our engineering, product management, product marketing, or executive team.
Now for the Fun Stuff…
We have some very exciting.gifts lined up to thank you for coming and talking to us. While supplies last, every theater presentation attendee will receive our very popular water bottle to help stay hydrated in Las Vegas. One lucky winner will go home with a prize after every theater presentation (every 30 minutes). Raffle drawings of travel.gift cards will be held daily.
But the best of all is the grand prize drawing for a trip to an exciting destination ($5,000 value). The final drawing will be on August 29th, 2016 and you must be present to win. More details will be available at our booth.
Also, get ready to be ThunDRstuck with Nutanix, and AC/DShe at the House of Blues in the Mandalay Bay Casino. Join us for a night of drinks, nibbles, and rock n' roll on August 29th, 2016, from 8:00-11:00 pm. The party will be rocking.
Let's Get Social!
You can stay connected with Nutanix throughout the entire VMworld 2016 event by following
@nutanix
on twitter, and tagging your photos and tweets with #nutanixatvmworld. Also, you can connect with us on the Nutanix Next Community (https:///).
We look forward to meeting you at our
booth #2311
at
VMworld
in Las Vegas where we will show you how to deliver mission-critical business applications securely and reliably, all while reducing your TCO at scale. Your IT organization will truly be elevated to focus on delivering core business value and innovation by making your infrastructure invisible with the Nutanix enterprise cloud platform.
This post is authored by Rohit Goyal, Product Marketing Manager at Nutanix