This post was authored by Marc Trouard-Riolle Sr. Product Marketing Manager Nutanix
Today we proudly announce the general availability of
Nutanix X-Ray
3.0, offering organizations the simplest way in which to test, analyze and report on the architectural, performance and scalability differences between a wide variety of hyperconverged infrastructure (HCI) vendor platforms.
Businesses face a challenge carrying out infrastructure testing, often resulting in them not performing comprehensive testing, or only completing performance analysis, such as the four-corners test (micro-benchmark tests, referring to the pure I/O performance tests performed to understand the extremes for inputs and outputs). The infrastructure world we live in is complex, with many competing vendors and solution abstraction layers, and rarely do organizations run single application siloed infrastructure stacks without any shared resources.
Ultimately, organizations require the ability to understand the impact to consistent application performance from common data-center tasks. Developed since 2016, Nutanix X-Ray provides this scenario testing capability. This different testing methodology can be better understood in the recent
Chaos Monkey for the Enterprise Cloud
blog.
Building on prior X-Ray releases, X-Ray 3.0 brings product enhancements to several key areas:
X-Ray testing code has now been made open-source
Test scenario improvements for network bandwidth evaluations
Usability enhancements including test pre-checks, a direct UI feedback option and improved reporting
X-Ray Open-Source
Announced in this
recent blog
, the X-Ray code component, Curie, which interprets and executes test scenarios has been made
open source on GitLab
under the
MIT license
.
During the first half of 2018, Nutanix enabled the downloading, modification and sharing of X-Ray test scenarios, effectively allowing organizations to create their own scenarios better fitting to their particular needs. By open sourcing X-Ray, everyone is entitled to download the source code to examine its behavior, opening up the potential for organizations and individual coders to contribute back to the product with
merge requests
, enabling them to shape future versions of the product.
Network Utilization Statistics
A new feature of scenario tests enables organizations to evaluate the effect on network utilisation for workloads running on different hyperconverged platforms. Leveraging ESXi's native hypervisor-level network statistics, it is now possible to evaluate how HCI features such as Nutanix Data Locality benefit the overall solution.
In the below graphic, we see that for target 'N', there is no network bandwidth utilisation for reads, due to Data Locality ensuring a copy of the VM's data is held locally. When businesses architect hyperconverged infrastructures, an important design consideration is to ensure sufficient network bandwidth to handle local and remote replication requirements. In this instance, we see that the Nutanix solution uses no bandwidth for network reads, and network writes are also lower due to the way in which data is written back to the cluster. This test scenario example demonstrates the HCI architecture benefit with Data Locality.

Usability Enhancements
Based on X-Ray user feedback, some usability enhancements have been added, including making it even easier to provide feedback directly to the Engineering and Product Management team, with the inclusion of a 'feedback' button directly in the UI.
Test pre-checks are improved when adding a new target, verifying connectivity between components, and also reporting on bad IPMI passwords. Together with improved error messages being reported on first failure, diagnosing target connectivity issues is simpler than ever.
X-Ray reports have been improved to include new test summary information and how they relate to different parts of the infrastructure lifecycle, as can be seen in the below sample: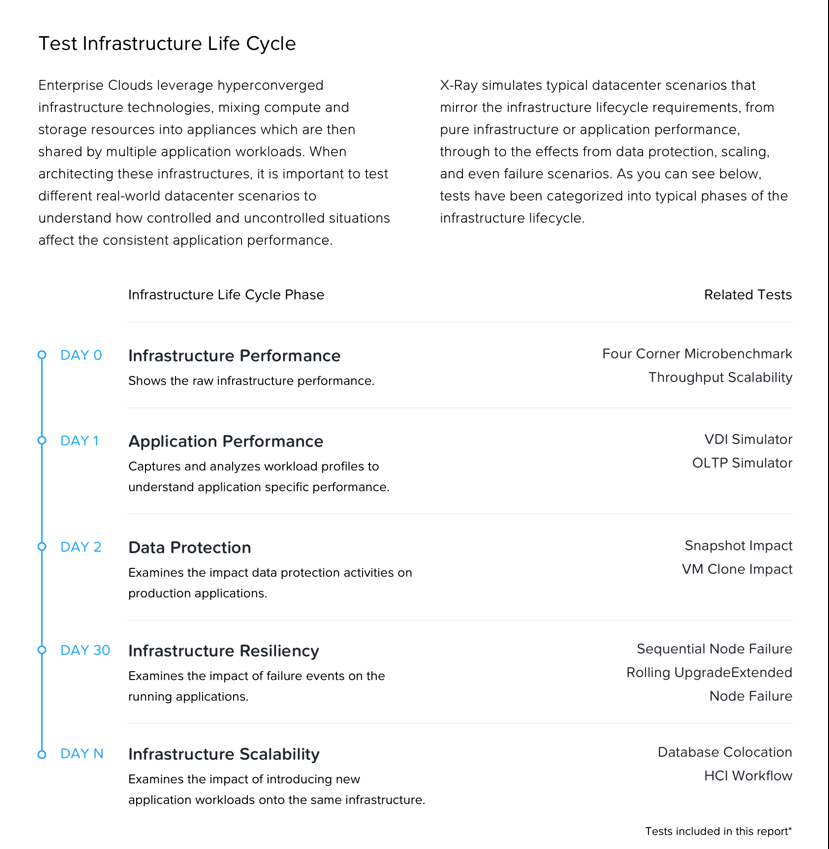 With the general availability of X-Ray 3.0, organizations can now easily test the complete hyperconverged infrastructure lifecycle, analyzing and comparing vendors' performance, scalability and architectural differences.
Take a look at Nutanix X-Ray now for your HCI testing. Further details and registration can be found at
www.nutanix.com/xray
. A one-time registration is required, and all downloads, including documentation URLs can be found
here
.
2018 Nutanix, Inc. All rights reserved. Nutanix, the Nutanix logo and the other Nutanix products and features mentioned herein are registered trademarks or trademarks of Nutanix, Inc. in the United States and other countries. All other brand names mentioned herein are for identification purposes only and may be the trademarks of their respective holder(s).