This post was authored by Marc Trouard-Riolle and Chris Wilson
The holiday season is here, yet the Nutanix X-Ray development team has been busy pushing forward unabated, and we are now proud to announce this next release aimed at providing greater customer flexibility, enabling users to create and modify their own test scenarios.
As adoption of hyperconverged and hybrid cloud infrastructures continues to grow, Nutanix created the X-Ray tool to provide customers with an agnostic method for evaluating the strengths and weaknesses of potential HCI solutions, through real-world platform performance and stability testing.
X-Ray release 2.2 significantly increases product functionality and customer value introducing:
"Bring Your Own Workloads" - User-Definable Test Scenarios.
A Linked Clone test variant enabling customers to assess the impact of introducing these workloads across any targeted platform.
Compatibility with the newly introduced Nutanix AOS 5.5 software.
Compatibility with HPE's IPMI-based iLO management interface.
In this blog we focus on X-Ray's new ability to handle user-definable test scenarios.
Bring Your Own Workloads
Scenarios are the combination of workloads as implemented in a standard FIO configuration file and a workflow as implemented in an X-Ray YAML file. Prior to this release, all X-Ray scenarios were packaged and provided by Nutanix as a part of a particular release, however, all this changes in 2.2 as not only are there some new ones, but we've answered customer requests for greater testing flexibility by enabling them to create and modify their own scenarios. This is an important step for two key reasons:
1. Enabling customer created scenarios enables them to test environments that better reflect their production infrastructures and workloads, all of which will serve to produce more accurate results.
2. It underscores Nutanix's commitment to providing an HCI benchmarking tool that is open to running all kinds of workloads.
X-Ray 2.2 allows users to not only create and modify workloads, but to also share them with colleagues or industry peers. Create, edit, share and import. Users have the choice of basing a custom configuration on a pre-existing test, or writing one from scratch. Needless to say leveraging an already written test will be simpler to get started, particularly if only subtle changes are required, as shown in the following example:
► Exporting an existing scenario from X-Ray
Scroll through existing tests to find one matching requirements
Select the test that matches requirements, then select 'export' from the 'Actions' menu.
► Unpack and modify the scenario as desired

Open the '.yml' file in any appropriate text editor.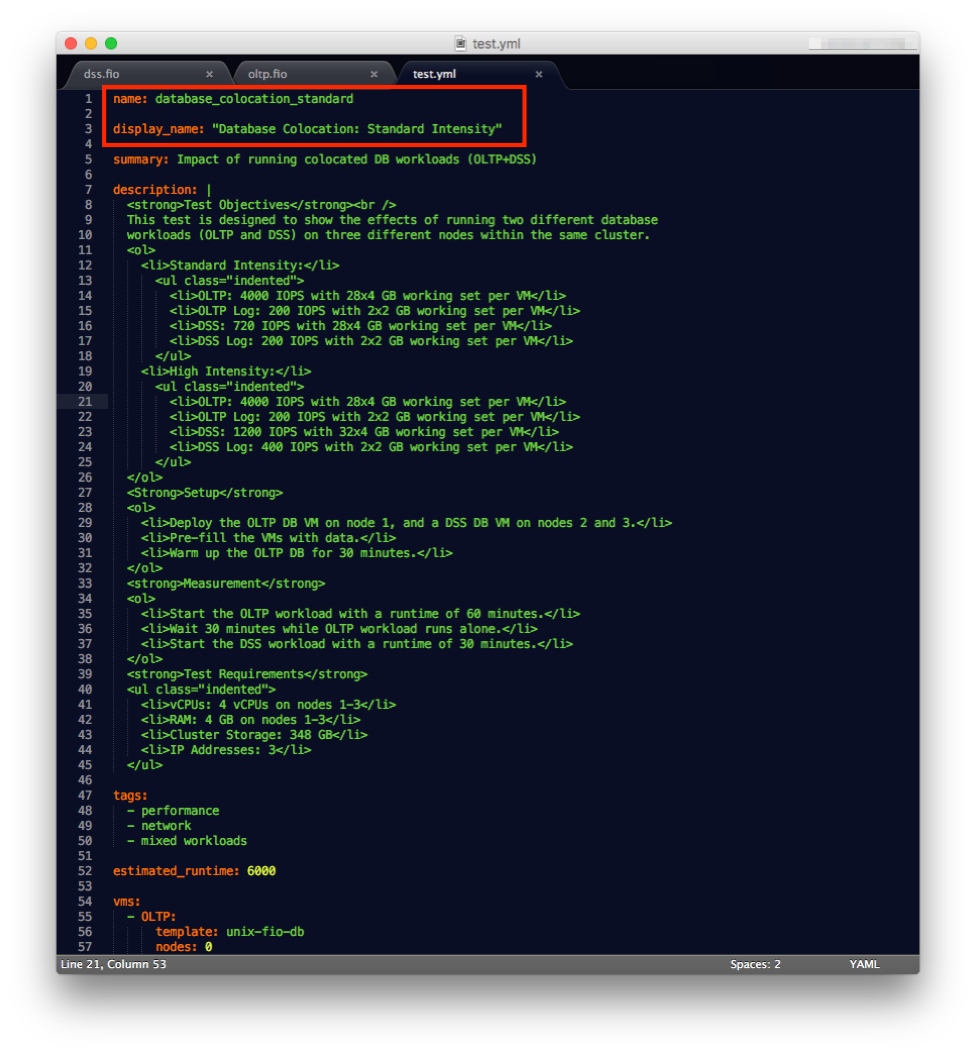 Modify the '.yml' file as required to reflect the desired workload(s) changes.
When modifying existing scenarios, it is important to remember that they all must have a unique 'name' and 'display_name' in the '.yml' file for a successful import, otherwise a duplicate name will be spotted and the file will not get imported. Repacking of the files is also not required prior to import.
► Import new scenario
Importing a new or customized scenario is as simple as selecting 'Add Custom Scenario' from the menu, selecting the applicable scenario files and selecting 'Save':
► Running a new scenario
As a part of the scenario importing process, the scenario is discovered and added to the list. Benchmark tests can then be run against these custom scenarios in the same manner as for any other test.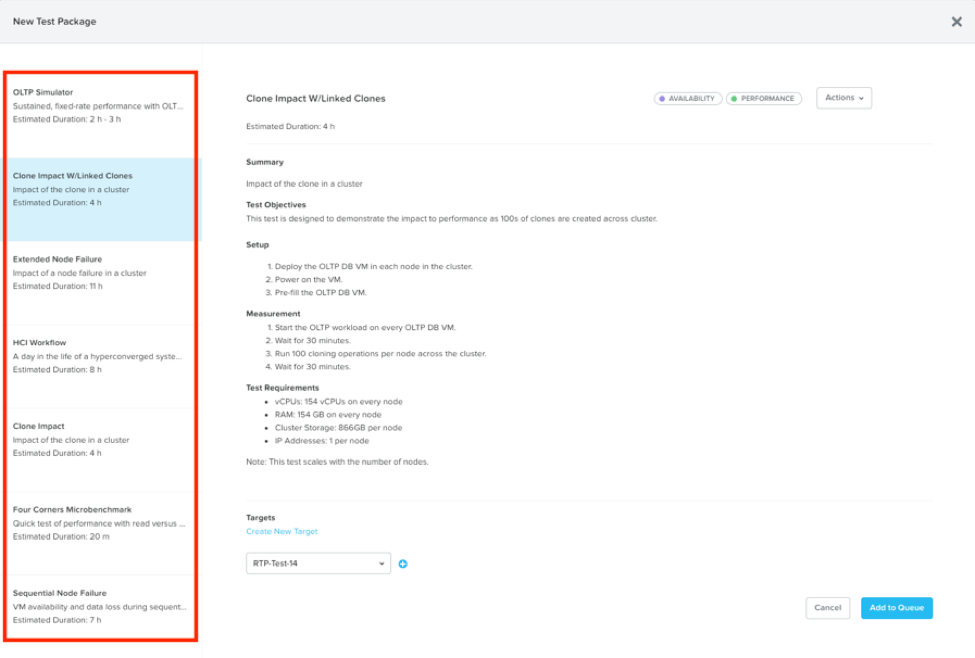 ► Deleting a custom scenario
Should you wish to delete a scenario, simply select it from the list, then under 'Actions', select the 'Delete' option.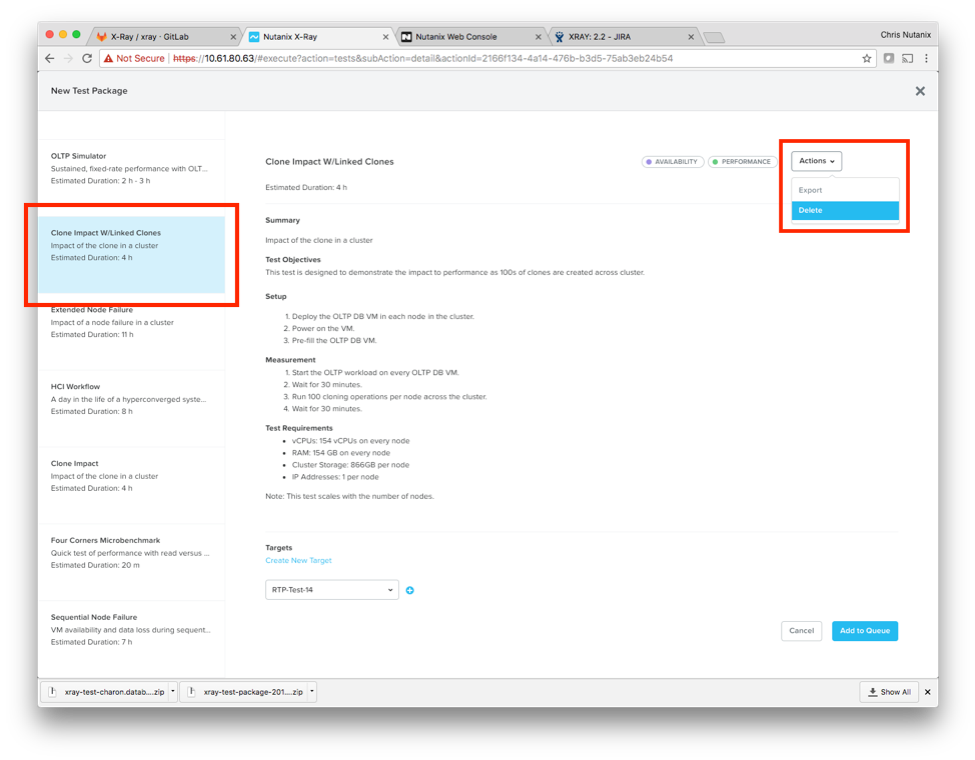 What next?
X-Ray 2.2 is available to everyone, with the product binaries available at the following Nutanix portal URLs:
► QCOW2 (AHV) -
http://download.nutanix.com/x-ray/2.2.0/xray-2.2.qcow2
► OVA (ESXi) -
http://download.nutanix.com/x-ray/2.2.0/xray-2.2.ova
If you are new to X-Ray, then a prerequisite is to complete the Nutanix registration page at
www.nutanix.com/xray
, upon completion of which you will also be provided download URLs.
Please also take time to read some of the related X-Ray blogs, and engage with the X-Ray community forum.
X-Ray 2.2 documentation can be found at
https://portal.nutanix.com/#/page/docs/details?targetId=X-Ray-Guide-v22:X-Ray-Guide-v22
© 2017 Nutanix, Inc. All rights reserved. Nutanix and the Nutanix logo are registered trademarks or trademarks of Nutanix, Inc. in the United States and other countries. All other brand names mentioned herein are for identification purposes only and may be the trademarks of their respective holder(s).