This post was authored by Priyadarshi Prasad, Principal Product Manager and Gary Little, Sr. Manager Solution & Performance Engineering
The adage - reward for good work is more work – is as much true for successful products as it is for individuals. Invariably as customers like what a product does, they start pushing the boundaries (as they should). In the realm of IT infrastructure, here are some examples of use case extensions:
If product A solves my VDI problems, can it address my mission critical application workloads as well?
Is product B just a one-trick all-flash pony, or could I possibly extend it as my main workhorse supporting my data center?
If product C helps me converge compute and storage stacks, can it help me avoid the virtualization tax and silo as well?
In other words, customers try to figure out if the product is "a phone" (a point product) OR "a platform" on which the phone is merely an app!
Gimme More, But No Hangovers Please
As customers look to solve their adjacent problems effectively driving consolidation, they invariably demand more & more capabilities in the product. E.g. while native replication & DR might be a nice to have for end-user computing deployments, it is absolutely critical when supporting business critical applications such as SAP, and Oracle. However, while adding new features, one mustn't lose sight of the most fundamental expectation from the product - performance, and associated user experience, should never go down even with all the new capabilities.
Allow us to explain in slightly more technical terms with a simple example - as features get added, the "data path" - the path between applications issuing an I/O request to the I/O getting acknowledged from the system - gets more complex. E.g. data path of a new product in the market might look like this: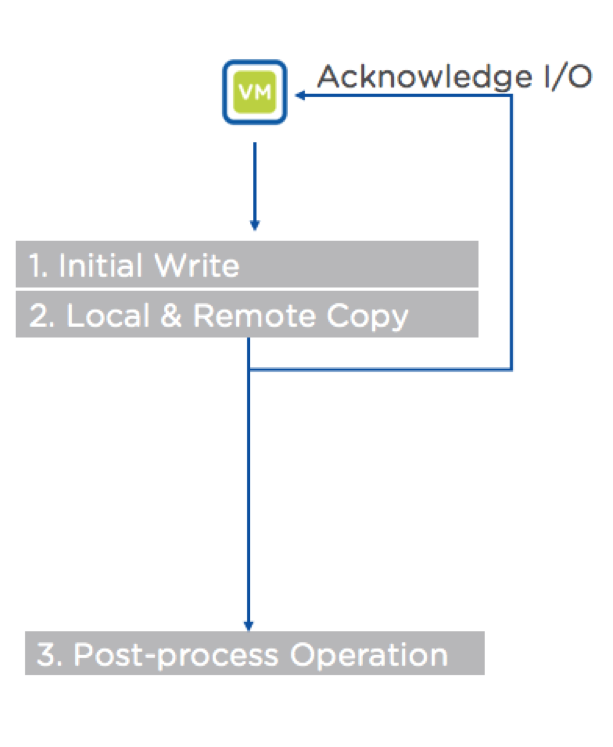 As more capabilities get added, the same data path might look like this: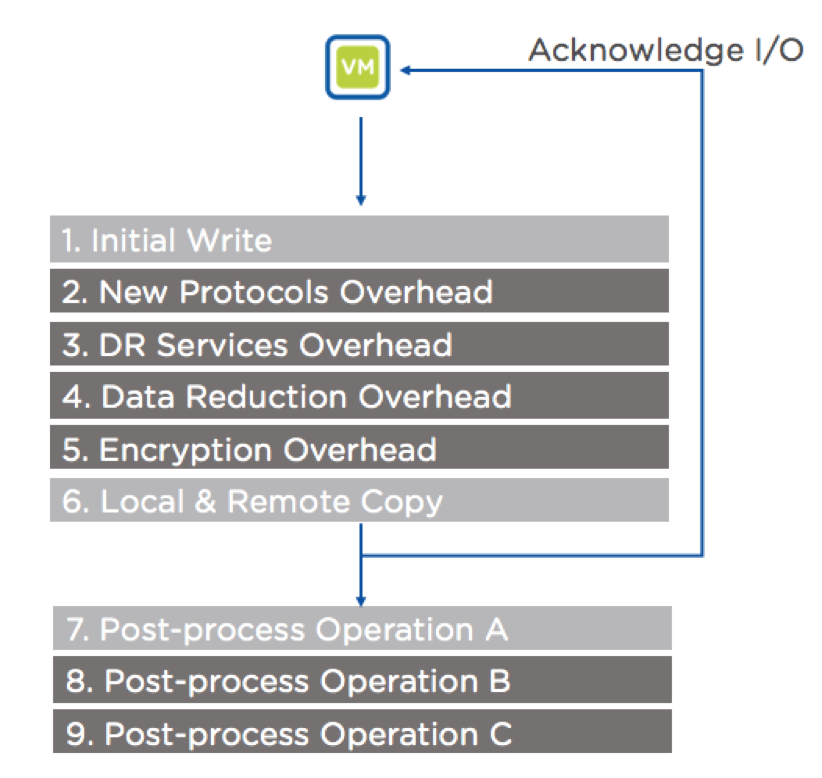 As products get mainstream traction addressing more use cases, richer feature sets get added that can potentially get in the way of performance. The trick then is to manage feature/capability growth while maintaining performance, or better still, improving performance. How do we, Nutanix, fare on this - read on.
The Nutanix Wine
Enterprise clouds, like public cloud services, need to pass value back to customers on an ongoing basis through continuous innovation. The Nutanix engineering team has delivered on this commitment through steady software releases since inception that are packed with new features and functionality, as illustrated by the image below: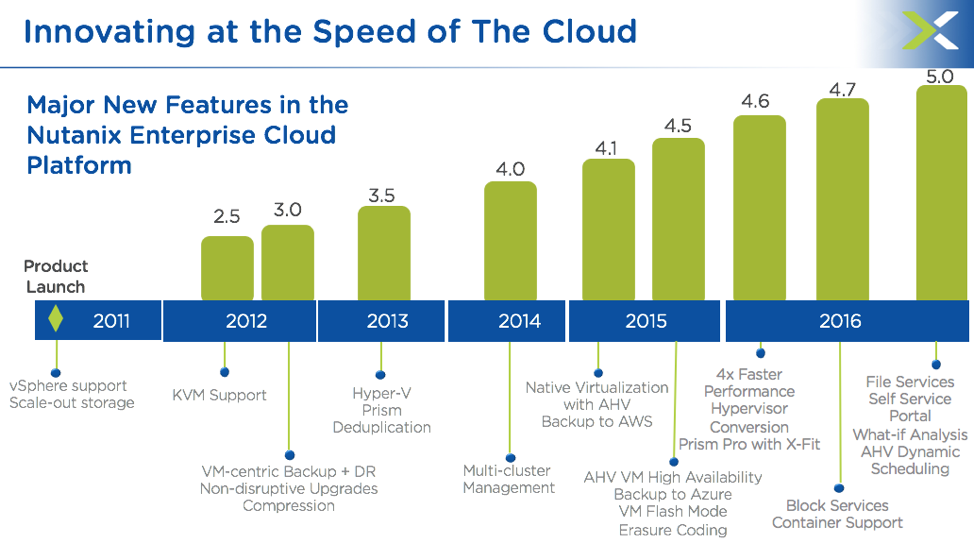 With increased features/capability support, the workloads that run on Nutanix have also evolved rapidly, from being VDI-heavy in the early days to now a much more diverse workload set, as illustrated in the image below.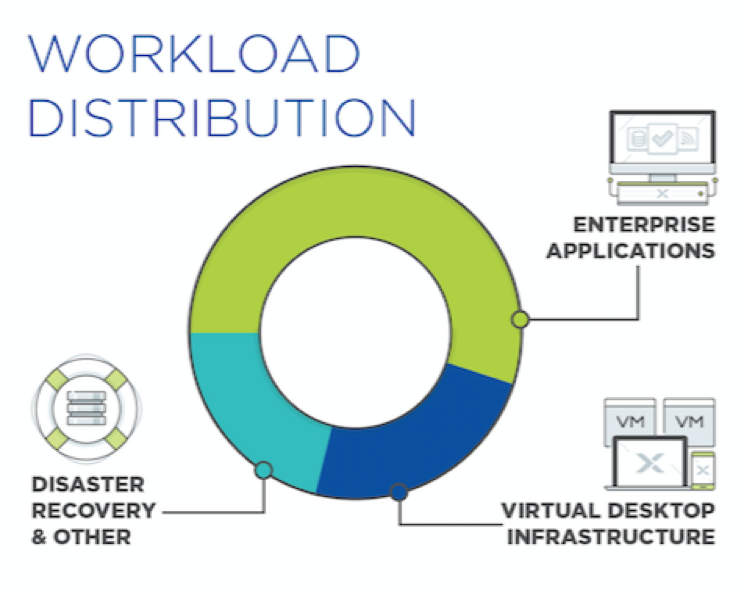 However, the story gets even better when you consider our maniacal focus on maintaining an efficient data path even with newer capabilities getting added in the platform. The right architecture enables us to often deliver more performance on the same hardware even as we continued adding capabilities. Let's look at some examples.
We ran multiple tests on AOS 4.7 and AOS 5.0 on the same Nutanix cluster (3060 G5 All Flash). E.g. against an 8K Random Read workload, AOS 5.0 delivers over 150K IOPS per node, 16% more than the last AOS 4.7 release! What is even more compelling is that we lowered the peak latency as well by as much as 14%.
Similarly, for a mixed 70:30 8K Random Read/Write workload, AOS 5.0 delivers 14% more performance than AOS 4.7, again at approximately 12% lower latency!
TL;DR → Get more work done, faster, with the same Nutanix cluster, simply with a 1-click software upgrade!
The test results above are micro-benchmarks highlighting just how we are able to not only maintain but improve performance release over release. There are also other SLOB numbers, comparing AOS 5.0 with AOS 4.7, that you can read about
here
.
It Only Gets Better With Time
This is an extremely exciting time to be in the performance space, with new technologies such as NVMe, RDMA, 3DXpoint, newer CPU refreshes etc. all in the visible horizon. However, unlike the traditional model where productization of new hardware components was the be all and end all of infrastructure products, for us at Nutanix, new components are just a starting point. With our focus on software innovations, Nutanix customers can rest assured that we will keep working diligently to bring accelerated and augmented returns on their investments with every software release, either in the form on new capabilities, or greater performance or both. Enjoy the fine Nutanix wine!
Discussing Performance at Nutanix .NEXT DC
Nutanix .NEXT Washington DC
is coming up soon (June 28-30th). We are happy to announce that we will continuing the performance tradition with the return of the hugely popular Performance Deep Dive session in the Application and Workload track. See you there!
Disclaimer: This blog may contain links to external websites that are not part of Nutanix.com. Nutanix does not control these sites and disclaims all responsibility for the content or accuracy of any external site. Our decision to link to an external site should not be considered an endorsement of any content on such site.
2017 Nutanix, Inc. All rights reserved. Nutanix is a trademark of Nutanix, Inc., registered in the United States and other countries. All other brand names mentioned herein are for identification purposes only and may be the trademarks of their respective holder(s).