This post was authored by Mark Andreopoulos, Nutanix System Architect
When discussing Nutanix as an HCI solution, I often find myself steering conversations with my customers toward the power of the platform. Make no mistake about it, Nutanix provides a comprehensive platform (a full stack) for not only deploying and managing HCI, but also automating both application deployments, and mundane, manual operational tasks.
The benefits of automation to an IT organization are undeniable, however to fully maximize the ROI, one might say that you are only as good as your lowest common denominator. If you are only able to automate one small step in a very large workflow, then how can you ensure the benefits are realized by the consumer and customers of said platform?
This is where the power of the Nutanix platform really comes into play. Nutanix Calm provides an elegant way to model and deploy complex, multi-tier applications for various types of consumers. Couple this with Nutanix Prism Pro, which provides operational automation, using policies, trends, and triggers, and you have an extremely rich and capable, end-to-end platform for automating nearly anything in an IT environment.
In our example, we have deployed a 3-tier web application that is being supported by an operations team. They would like to have more visibility and control in terms of how the applications are supported across their tenants and business units. Calm allows a user to easily scale out a web-tier architecture at the click of a button in Prism, however, the requirement here is the ability to auto-scale out based on application load.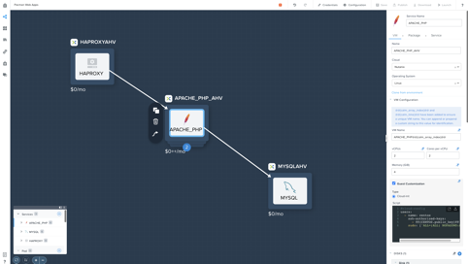 We have removed the need for manual, operational intervention by creating a trigger in a Prism Pro playbook (X-Play) that will both alert the operations team via Slack, and scale out the Web-tier for our example application using the Calm API. In our example, we can see that the web services were being highly taxed, thus the need to scale out and provide additional resources.
Once Prism Pro playbooks are enabled, they automatically run when an alert is triggered. We can see that our application has begun a scale-out operation based on the defined trigger, and there was no manual intervention required from the operations team.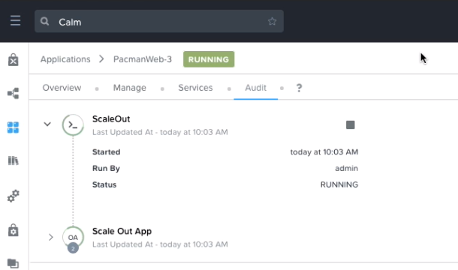 We have defined an alert policy in Prism Pro and used this as a trigger for our playbook. Of course, one might argue that the definition and management of alert policies may be cumbersome at scale. The beauty of Prism Pro's X-Play is the ability to utilize behavioral anomalies that do not require static values, as triggers for our Playbooks.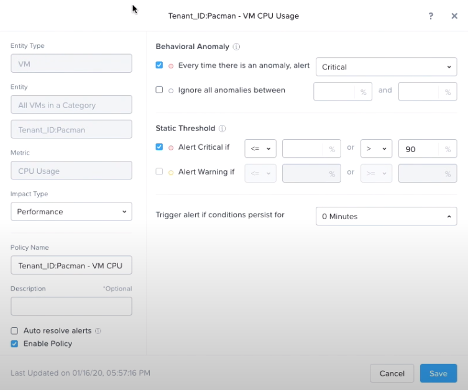 In summary, the combination of Calm + Prism Pro might be considered the killer app for engineering, operations, and devops teams, as they continue their journey toward end-to-end automation for their complex IT environments. Be sure to watch the video demonstration below to see the use case in action.
Continue the conversation on our Calm community forum, also check out our product pages for  Calm and Prism Pro to download resources and learn more.
---
© 2020 Nutanix, Inc. All rights reserved. Nutanix, the Nutanix logo and all Nutanix product and service names mentioned herein are registered trademarks or trademarks of Nutanix, Inc. in the United States and other countries. All other brand names mentioned herein are for identification purposes only and may be the trademarks of their respective holder(s). This press release may contain links to external websites that are not part of Nutanix.com. Nutanix does not control these sites and disclaims all responsibility for the content or accuracy of any external site. Our decision to link to an external site should not be considered an endorsement of any content on such a site. Certain information contained in this post may relate to or be based on studies, publications, surveys and other data obtained from third-party sources and our own internal estimates and research. While we believe these third-party studies, publications, surveys and other data are reliable as of the date of this post, they have not independently verified, and we make no representation as to the adequacy, fairness, accuracy, or completeness of any information obtained from third-party sources.
This post may contain express and implied forward-looking statements, which are not historical facts and are instead based on our current expectations, estimates and beliefs. The accuracy of such statements involves risks and uncertainties and depends upon future events, including those that may be beyond our control, and actual results may differ materially and adversely from those anticipated or implied by such statements. Any forward-looking statements included herein speak only as of the date hereof and, except as required by law, we assume no obligation to update or otherwise revise any of such forward-looking statements to reflect subsequent events or circumstances.