This post was written by Kees Baggerman
With .Next behind us and all of the announcements have made their impact, we now can take a look at how to extend the Acropolis capabilities to other workloads. One of those obvious workloads is application and desktop virtualization (also referred to as SBC/VDI). We are proud to say that Acropolis and Acropolis Hypervisor were awarded Citrix Ready certification for Citrix XenDesktop and XenApp 7.6.
Citrix XenApp and XenDesktop have always worked very well on Nutanix systems running Hyper-V or ESXi with several Citrix Ready certifications. The Aug 12th announcement brings the Nutanix Xtreme Computing Platform running
Acropolis Hypervisor
into the
Citrix Ready family for Citrix XenDesktop/XenApp
in addition to the already certified Citrix NetScaler VPX and ShareFile.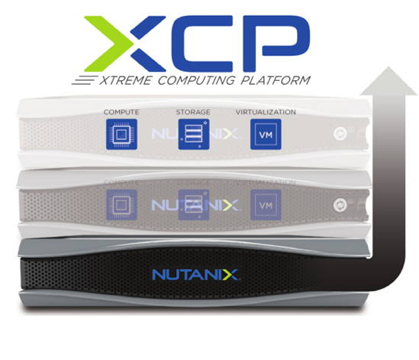 Customer Value
What Is the Nutanix Architecture
The Nutanix Xtreme Computing Platform is a scaled-out cluster of high-performance nodes, or servers, each running a standard hypervisor and containing processors, memory, and local storage, consisting of SSD Flash and high capacity SATA disk drives. Each node runs virtual machines just like a standard virtual machine host.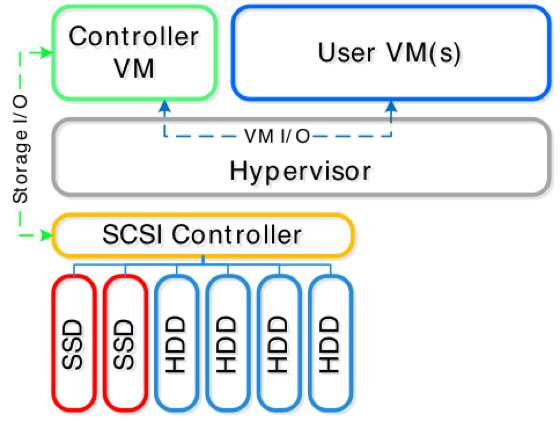 In addition, the Nutanix Distributed Storage Fabric (DSF – formerly called Nutanix Distributed File System) virtualizes local storage from all nodes into a unified pool. Virtual machines running on the cluster write data to DSF as if they are writing to shared storage.
DSF is VM-centric and provides advanced data management features. It brings data closer to virtual machines by storing the data locally on the system, resulting in higher performance at a lower cost. Nutanix web-scale hyperconverged infrastructure can horizontally scale from as few as three nodes to a large number of nodes, enabling organizations to scale their infrastructure as their needs grow.
Nutanix Acropolis and DSF deliver a unified pool of storage from all nodes across the cluster, using techniques that including striping, replication, auto-tiering, error detection, failover, and automatic recovery. This pool is then presented as shared storage resources to Nutanix nodes or hypervisor hosts for seamless support of features, including VM migration, HA, and DRS, along with industry-leading data management features. Additional nodes can be added in a plug-and-play manner in this high-performance scale-out architecture to build a cluster that adapts to meet the needs of the business.
The Nutanix Elastic Deduplication Engine is a software-driven, highly scalable, and intelligent data reduction technology. It increases the effective capacity in the disk tier, as well as the RAM and flash cache tiers of the system by eliminating duplicate data.
This substantially increases storage efficiency while improving performance due to larger effective cache capacity in RAM and flash. Deduplication is performed by each node individually in the cluster, allowing for efficient and uniform deduplication at scale. This technology is increasingly effective with full/persistent clones or P2V migrations.
The DSF Shadow Clones feature enables distributed caching of vDisks or VM data, which is in a 'multi-reader' scenario. This allows VMs on each node to read the base VM's vDisk locally instead of forwarding read requests to a master 'Base VM'. In the case of VDI, this means the base disk can be cached by each node and all read requests for the base will be served locally. If the base VM is modified, the Shadow Clones will be dropped and the process will start over. In Nutanix testing, Shadow Clones helped cut down boot times by as much as 50% vs. normal scenarios where it was not turned on.

What Is the Nutanix Acropolis Hypervisor (AHV)
Nutanix Acropolis is our turnkey infrastructure platform that delivers enterprise-class storage, compute, and virtualization services for any application. Acropolis offers IT professionals uncompromising flexibility of where to run their applications, providing a path to freely choose the best virtualization technology for their organization – whether it is traditional hypervisors, emerging hypervisors, or containers.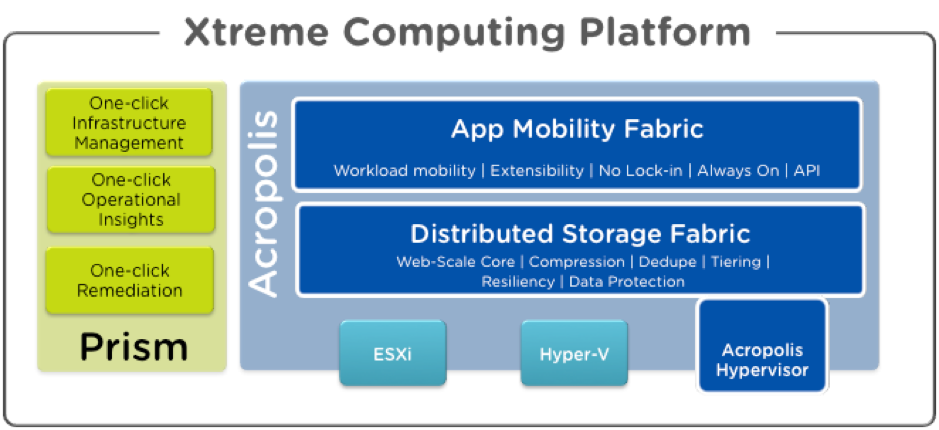 For the first time, infrastructure decisions can be made entirely based on the performance, economics, scalability, and resiliency requirements of the application, while allowing workloads to move seamlessly without penalty.
The three foundational components of Nutanix Acropolis are shown in the following table:
Component
Explanation
Distributed Storage Fabric
Enterprise data storage delivered as an on-demand service by employing a highly distributed software architecture. Nutanix eliminates the need for traditional SAN and NAS solutions, and delivers a rich set of VM-centric, software-defined services, including snapshots, clones, high availability, disaster recovery, deduplication, compression, erasure coding storage optimization, and more.
App Mobility Fabric
A newly designed open environment capable of delivering intelligent VM placement, VM migration, and VM conversion across hypervisors and clouds, as well as cross-hypervisor high availability and integrated disaster recovery. Acropolis supports all virtualized applications and will provide a seamless path to containers and hybrid cloud computing.
Acropolis Hypervisor
While the Distributed Storage Fabric fully supports traditional hypervisors such as VMware
ESXi and Microsoft
Hyper-V, Acropolis also includes a native hypervisor based on the proven KVM hypervisor. With enterprise-grade VM management and more , the Acropolis Hypervisor delivers the best overall user experience at the lowest TCO and will be the first hypervisor to plug into the App Mobility Fabric.
What Is the Citrix XenDesktop Architecture
Citrix XenDesktop provides a complete virtual desktop delivery system by integrating several distributed components with advanced configuration tools that simplify the creation and real-time management of the virtual desktop infrastructure. With XenDesktop, you can deliver individual Windows, web, and SaaS applications, or full virtual desktops, to PCs, Macs, tablets, smartphones, laptops, and thin clients with a high-definition user experience.
The core components of XenDesktop related to the announced Citrix Ready solution include:
Desktop Delivery Controller: Installed on servers in the datacenter, the controller authenticates users, manages the assembly of users' virtual desktop environments, and brokers connections between users and their virtual desktops. It controls the state of the desktops, starting and stopping them based on demand and administrative configuration. The Citrix license needed to run XenDesktop also includes Profile Management in some editions, to manage user personalization settings in virtualized or physical Windows environments.
Studio: Citrix Studio is the management console that will allow you to configure and manage your Citrix XenDesktop environment. It provides different wizard-based deployment or configuration scenarios to publish resources using desktops or applications.
Virtual Desktop Agent: Installed on virtual desktops and application servers, the agent enables direct FMA (FlexCast Management Architecture) connections between the either app servers or virtual desktop and the user devices.
Citrix FlexCast: Citrix XenDesktop with FlexCast delivery technology lets you deliver virtual desktops and applications tailored to meet the diverse performance, security, and flexibility requirements of every worker in your organization through a single solution. Centralized, single-instance management helps you deploy, manage, and secure user desktops more easily and efficiently.
Citrix Receiver: Installed on user devices, the Citrix Desktop Receiver enables direct ICA connections from user devices to virtual desktops.
Architectural Summary
With Citrix Ready certification from Citrix for XenDesktop on Acropolis Hypervisor, we can deploy VMs hosted on Acropolis Hypervisor with the Citrix VDA installed. Combining that with an intelligent script framework based on PowerShell, we're able to deploy VDI or RDSH-based VMs that are ready to provide desktops and/or applications to your users.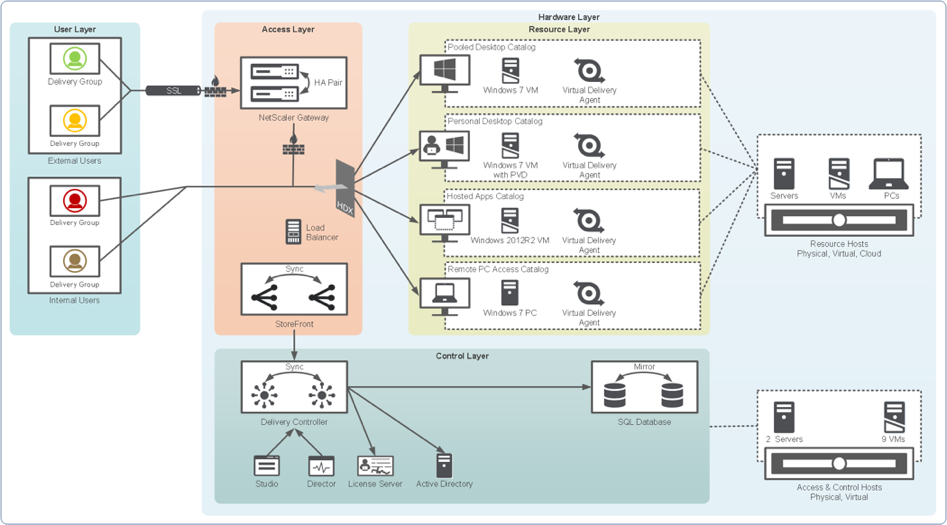 Running Citrix XenDesktop on Nutanix will provide you with a linearly scalable and predictable infrastructure based on a pay-as-you-grow model, while providing the performance that is needed for the mission-critical interface to your enterprise application landscape. For example, if you need to double the number of desktops you support, you can just double your Nutanix infrastructure. Or, if you need to support a few additional users, you can just add the appropriate number of Nutanix hosts determined by our sizer tool adding both memory and compute.
The next phase will be to provide an integrated deployment method that will support automated machine catalog management on MCS.
Read more about this announcement on the Nutanix site and bookmark this page to get your copy of the
Nutanix XenDesktop on AHV solution note
once it's available! Until then, drop us a note at
info@nutanix.com
if you are interested in learning how can you run your Citrix stack on Nutanix AHV.
Credits for the images regarding the Nutanix infrastructure go to
the Nutanix Bible
Follow Nutanix on
Twitter
for the latest news and announcements. Become a member of the NEXT community and continue the conversation with IT pros from the community.