This guest post was authored by Donna Brasure Principal Product Marketing Manager at Dell EMC
When it comes to HCI, saying that software matters is an understatement. Often times, it is the software itself that is the driving force behind why a specific solution is selected. Software usually takes the spotlight because its capabilities to manage data, maintain performance and ensure availability are the critical IT objectives that companies are looking to achieve.
But to focus on software alone would be short-sighted and the complexity of researching and testing different features, vendors and products grows exponentially when you take into account the entire ecosystem. Of the many different technology components to consider in your HCI, I believe that these four are of utmost importance: hardware, data protection, licensing and support, and commitment to innovation and R&D.
Hardware is usually overlooked because x86 hardware is considered the standard and a widely acceptable and economical option. However, commodity x86 servers should not be treated as a catch-all, especially if you're using HCI for your mission critical apps and workloads.
In a recent
ESG report
, the analyst summarizes the significance of hardware for HCI:
"Commodity x86 servers are built for general purpose computing, not for storage tasks that put different stresses on the system… they were not designed for the levels of performance and reliability an HCI platform should deliver… If you're consolidating workloads onto a single platform, make that platform a robust, purpose-built workhorse, not a generic work bench. Hardware needs to be designed and configured with software nuances and limitations in mind..."
The foundation of the hardware will influence the overall efficiency, reliability and manageability of your HCI infrastructure. Get it right, and you'll be firing on all cylinders. Get it wrong, and you may never run at peak performance no matter how stellar the software.
For Nutanix software, this means selecting a hardware platform and partner that has a completely validated and integrated ecosystem. Historically, more customers have chosen the
Dell EMC XC Series
than any other Nutanix OEM partner. As shown in the diagram, all systems are not created equal. With Dell EMC, it starts with factory installation of the software stack (and hypervisor of choice) and pre-configuration of system settings to maximize performance of the Nutanix software.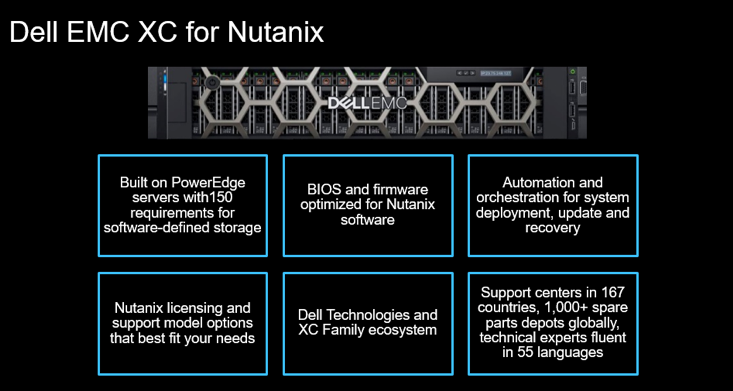 Data Protection is another feature that not all vendors offer but is critical to the ongoing success of your HCI system and overall datacenter. The XC Family brings solution level integration between the XC Series and Dell EMC data protection solutions. Deployed, managed and supported as a single solution, this integration extends the turnkey experience of the XC Series while providing complete data protection capabilities to the XC Series' virtual environment without the complexity of piecing together multiple solutions from different vendors in a DIY fashion.
Another component to consider that will impact daily administration and operations is the licensing and support piece. Do you want to purchase your software licensing from the hardware vendor or from Nutanix directly? What about support? Do you want to receive support for your software and hardware separately from each vendor or is a combined support system your preference? Regardless of which way you sway, don't you want to have the option to select the model that best fits your business needs?
Recently, Dell EMC recently announced
XC Core
, a new offering that gives customers the flexibility to acquire term-based software licenses separately and receive software support directly from Nutanix. This enables license portability across infrastructure components and separate management and support of hardware and software throughout their lifecycles. Or, for customers who prefer to acquire their licensing and support all from one place, the classic XC Series appliance provides that option.
And lastly, ongoing commitment to R&D. With so many vendors out in the market claiming to help you achieve the same business outcome, how can you tell who is really at the forefront of innovation, and who will deliver on the latest and greatest technological advancements to benefit your data center?
Roadmap delivery is a strong indicator, and, in addition to the new XC Core offering mentioned above, Dell EMC XC Series has been consistently meeting customer and market demands.
In November 2017, XC Series with Nutanix software integrated Dell EMC 14th generation PowerEdge servers to offer one of the industry's most versatile and scalable HCI platforms. This
latest release
delivers:
51% less time for ongoing management
61% lower cost of operations
99% less unplanned downtime
Dell EMC is a Platinum sponsor at .NEXT and will be located in the Solutions Expo at Booth P2. Stop by to experience a live demo, meet the XC team and learn more about why the XC Family is the ideal platform for Nutanix.
Disclaimer: The views expressed in this blog are those of the author and not those of Nutanix, Inc. or any of its other employees or affiliates. This blog may contain links to external websites that are not part of Nutanix.com. Nutanix does not control these sites and disclaims all responsibility for the content or accuracy of any external site. Our decision to link to an external site should not be considered an endorsement of any content on such site.
2018 Nutanix, Inc. All rights reserved. Nutanix, the Enterprise Cloud Platform, the Nutanix logo and the other Nutanix products and features mentioned herein are registered trademarks or trademarks of Nutanix, Inc. in the United States and other countries. All other brand names mentioned herein are for identification purposes only and may be the trademarks of their respective holder(s).