Welcome back to our Service Provide focused blog series!
Last time
we covered why you should be considering an enterprise cloud for your services in general. Today we'll be diving deep in a particular service offering – Desktop as a Service (DaaS). DaaS has been growing driven by various factors including the rise of mobile users, need for dev/test environments (particularly in a moment's notice), and need for desktops for temp workers and lab/conference/training environments.
DaaS providers face many challenges in today's shifting IT landscape. At the forefront of any DaaS provider's mind is profitability – if a service isn't profitable, then it's not worth running. The agility of the infrastructure directly affects this – what happens if one data center grows much faster than another? Without an agile infrastructure, the only option is to buy more hardware in the over-utilized infrastructure, leaving the under-provisioned investment waiting for a workload.
Also, lower costs are always needed. Margins are razor thin, and money spent on CapEx and OpEx directly affect the bottom line. Finally, keeping up with updates and hardware advances is always a challenge. With traditional clouds these are massive undertakings, leaving you on older HW/SW revisions for longer. In
today's world of massive hacks
, it's important to keep your customer's data as safe as possible, and part of that is to be running the least vulnerable code across the system.
In light of all this, how can a Nutanix enterprise cloud help you navigate these turbulent waters and deliver unprecedented value and support for your customers? And why customers such as
BAE
has chosen Nutanix for their DaaS infrastructure?
A Nutanix enterprise cloud brings
many benefits
to the table. One of the greatest of these advantages is our simplicity first design and our goal to make infrastructure invisible. Things such as growing your cluster, upgrading software, and maintaining a secure baseline should be effortless. Your IT teams have better things to spend their time and OpEx on other than planning and executing (or outsourcing) upgrading your software. Acropolis and Prism enable one-click upgrades for everything in your stack – storage, out-of-band management, BIOS and even your hypervisor of choice.
[
Click to Tweet
, Share on
LinkedIn
, Post on
Facebook
or
Google+
]
There are built-in pre-upgrade checks for each of these to ensure that there won't be any issues. They're no complicated HCLs to navigate, and our
support team helps updates/patches immediately
with a short lead time for major releases. This allows you always to have the latest and greatest features and security fixes, protecting your customer's data and continuously improving your investment. Also, our comprehensive RAs - both for
XenDesktop
and
Horizon View
- and
case studies
allow you to deploy your DaaS without risk.
SLAs are a huge impact to the bottom-line as well. Outages don't just cost productivity, and they also cost you money reimbursing customers for missed SLAs. Nutanix offers many powerful tools to avoid these painful scenarios. Cluster Health and Nutanix Cluster Check proactively monitor your infrastructure for issues, giving you an advanced warning about problem areas. In the case of a failure, the system automatically brings itself back into a redundant state rather than running at risk. This gives you and your teams the freedom to replace the failed hardware on your schedule, without leaving you open to future failures.
Bottlenecks are a concern in any infrastructure but are especially critical to avoid for any Service Provider. The last thing you want is one customer's workload (such as a boot storm) affecting another client. Nutanix's webscale DNA is a massive benefit here. With our long history with VDI, we have solved these problems directly in the architecture, with technology such as data locality and shadow clones, with no need for additional configuration or add-ons. For a sample of this, refer to the following chart. In this graph we see that Tenant B, running a SQL workload, doesn't affect Tenant A, running a LoginVSI workload of 300 desktops: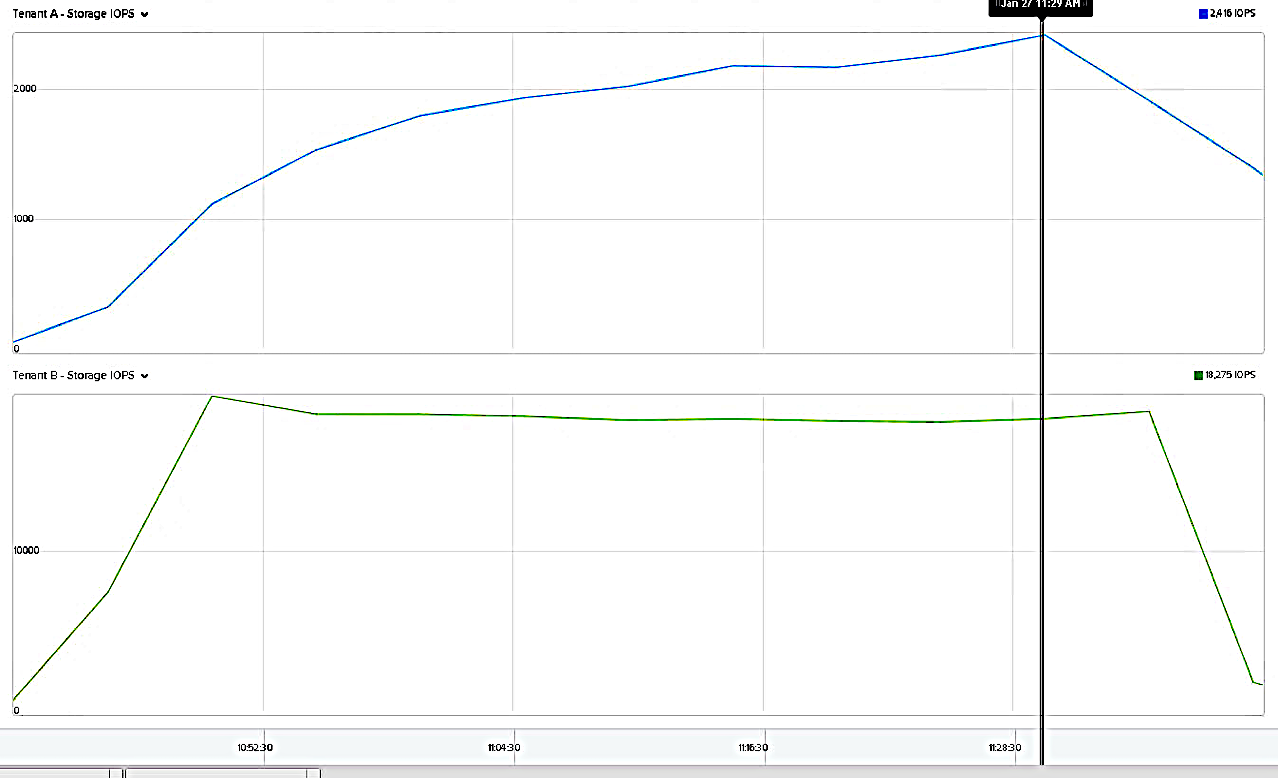 Tenant B, turning on SQL workload at 18k IOPS, has no effect on Tenant A's VDI workload
We also offer robust predictive analysis for what will be your future bottlenecks. Using the
Capacity Behavior Trends
available in Prism Pro, you can easily see how long different aspects of your infrastructure will last at your current growth rates. Using intelligent machine-learning algorithms, this tool can determine what a spike may have been from (end of the quarter, end of the month, onboarding new customers, etc.) and can differentiate this from healthy growth.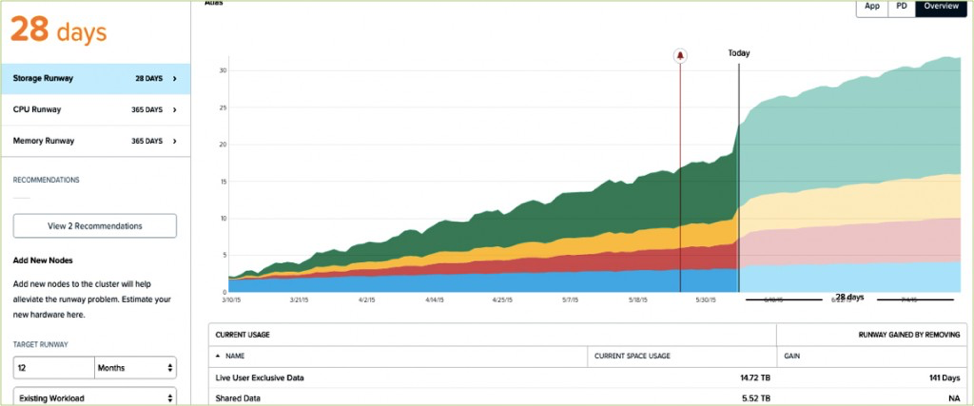 Finally, when it comes to expanding the cluster our turnkey solutions make it easy. Each node offers a known VDI density, based on the sizes you choose to provide. Need to customize a particular load for a customer? No problem! You can easily change these defaults to match your client's needs, including varied features such as adding a GPU-enabled the system, without changing your entire model.
As you can see, we have many benefits for DaaS providers – make sure to follow
Nutanix
on Twitter or
reach out to us directly
to get a demo and a deep dive into all of our technology. Also, continue to watch this space as we add to this series, continuing the coverage of samples of the services that a Nutanix enterprise cloud enables.
As always you can continue the conversation in the community forums, share your experiences, best practices, and outlook.
This post is authored by Chris Brown, Solutions Marketing Manager at Nutanix