The latest release of the Nutanix enterprise cloud platform, Acropolis 4.6 and Prism 4.6, include more than two dozen new features and enhancements that boost system performance by up to 4x, and also deliver meaningful benefits, such as operation simplicity and flexibility.
In addition to offering built-in enterprise-class virtualization capabilities with Nutanix AHV, the Nutanix solution continues to support popular virtualization solutions including VMware vSphere and Microsoft Hyper-V. Multi-hypervisor support combined with powerful application mobility features allow applications and data to be easily moved between different hypervisors, giving customers the flexibility and freedom to choose the best runtime environment for their business applications and workloads.
If a customer decides to use VMware vSphere and ESXi, then VMware Storage Certification is critical. VMware has a number of product and solution certification programs; the main objective is to guarantee the compatibility and interoperability of 3rd party products and solutions with various versions of ESXi, vSphere, and other VMware products.
VMware Storage Certification is important because of two reasons:
It establishes the compatibility of 3rd party products with ESXi and vSphere.
It is a pre-requisite for several other VMware certification programs such as, SRM Certification.
As with previous releases of the software, Acropolis 4.6 passed the VMware Storage Certification shortly after its official release. As a VMware certified solution, it is listed on the VMware Compatibility Guide (vCG) website at the following link [
go
]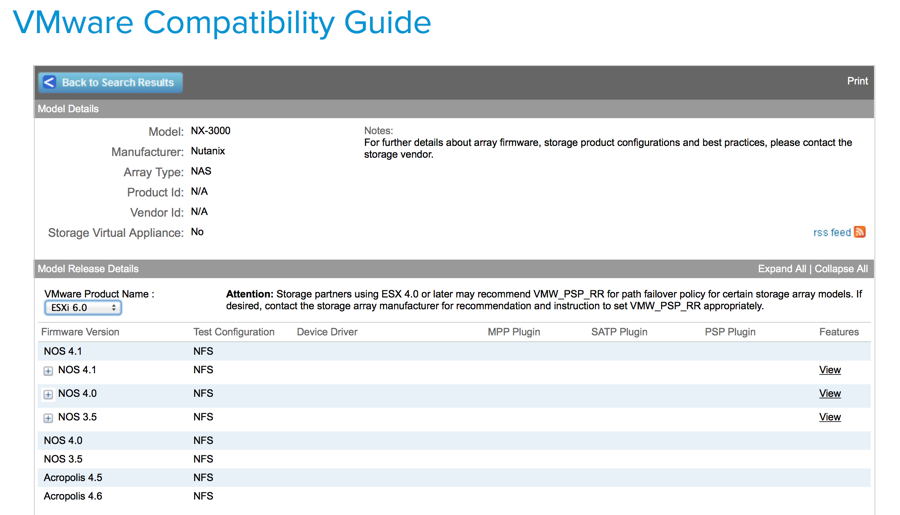 Figure 1
. Acropolis on VMware vCG.
The table below shows the compatibility matrix of Acropolis with various versions of VMware ESXi, as of this writing (May, 2016).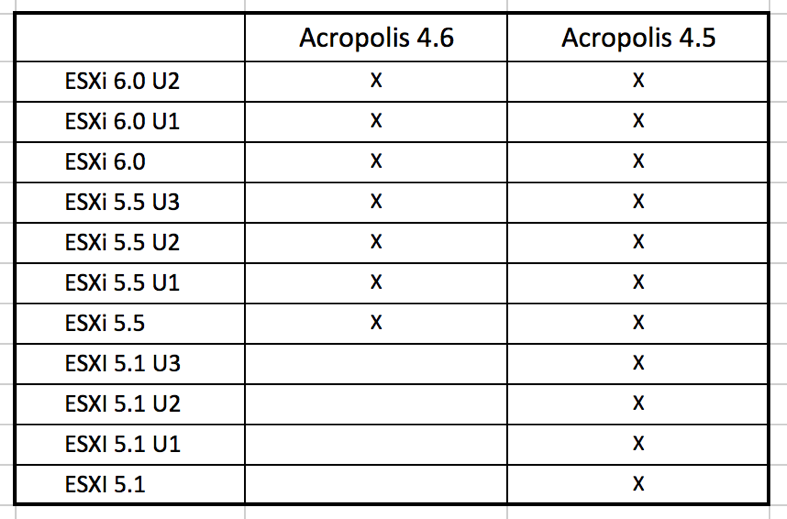 Continue the conversation in our community forums [go] also follow
Nutanix
on Twitter for the latest news and announcements.
This post was authored by Wei Liu, Sr. Solutions & Performance Engineer at Nutanix