This blog was authored by Amit Jain, Principal Product Manager at Nutanix.
"Diamond is forever"! The brilliance of this
slogan
lies in its emphasis on both eternity and the sentiment, whether you wish one for yourself or for your loved ones.
Likewise, "
D
ata is forever
"! We at Nutanix understand how critical the data is for your business and how important it is for us to provide the comprehensive
Data Protection
. So, if you engage us, we promise to keep that part of the bargain. Not only that, we make the
ROBO (Remote/Branch Office)
Backup provisioning and management both simple and convenient, so you can get your weekend back to have fun with your loved ones and truly enjoy the sentiment!
Full Stack ROBO Solution
Data Protection is one of the top business challenges for ROBO admins (
ESG Report
). You often have to deal with different solutions for compute, storage, backup, and disaster recovery, increasing both CapEx and OpEx. Now, while that variance can perhaps be handled for the Enterprise datacenter but not for ROBO, as typically there is no IT staff on site. ROBO sites could constitute multiple retail locations or insurance/sales offices or oil rigs or large manufacturing plants etc.
You may have to manage 10s, 100s or perhaps 1000s of such ROBO sites remotely from the centralized datacenter. So, Simplicity is the key, and here is the cost-effective, Full Stack ROBO solution from Nutanix - we cover Physical Compute/Storage infrastructure (
choice of NX, Lenovo HX, Dell XC
platform), Virtual infrastructure (Nutanix native hypervisor,
AHV
) and
Data Protection
solutions, all managed through our consumer-grade
Prism Central
.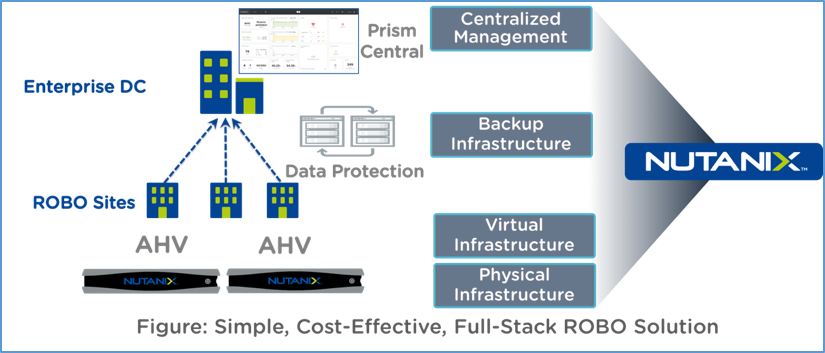 Integrated ROBO Data Protection: Over-the-WAN, On-Prem
Over the WAN, you can replicate snapshots of virtual disks and VMs from the ROBO sites to the Nutanix cluster in the centralized Enterprise Data Center. Using Nutanix Cloud Connect, you can create long-term backups from ROBO to public cloud services –
Amazon Web Services
or
Microsoft Azure
. The functionality is seamlessly integrated into Nutanix data protection capabilities, allowing you to backup to and recover from the cloud with just a few clicks – just as you would with a remote Nutanix cluster.
You can dramatically improve RTO (Recovery Time Objective) and backup storage efficiency with the industry's first redirect-on-write algorithm for Enterprise Cloud Platforms based on hyperconvergence.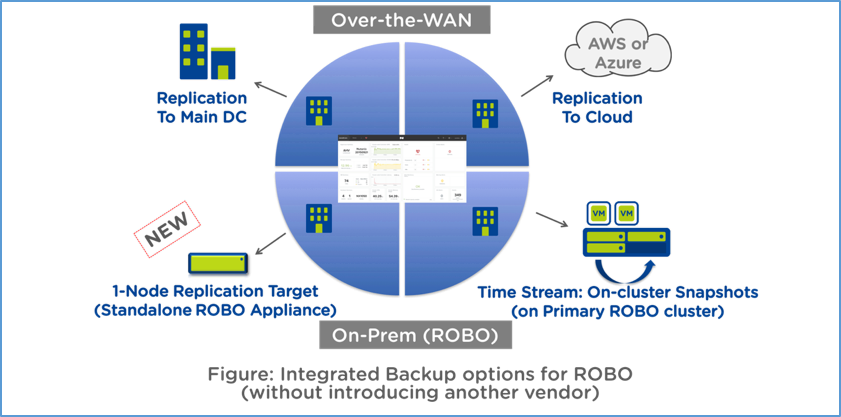 We understand that WAN bandwidth is typically limited and could be very expensive as well at the ROBO sites, so you may also want a
local, on-prem
backup solution at ROBO for faster recovery. There is an option of leveraging Nutanix TimeStream feature, which enables on-cluster (on the Primary ROBO cluster) snapshots to provide easier, faster restores in case of software misconfigurations or virus attacks.
You may also feel the need for an additional
local backup appliance
with a separate failure domain. So, you can now leverage our
newly introduced 1-Node Replication Target
, which can take Nutanix native snapshots and is designed specifically for ROBO environments. It is very cost effective with built-in resiliency and provides upto 40TB raw capacity. It runs Nutanix native Hypervisor (AHV) and is ready to be fired up as shipped from the factory. Leveraging the Foundation tool, the cluster association and container mappings between the Primary ROBO cluster and 1-Node Target are set up automatically, thus making the provisioning simpler for you!
So, aforementioned choices from Nutanix allow you to effectively and efficiently protect your data
without
introducing another backup vendor, either software or hardware, and increasing the complexity of your ROBO environment!
Backup/DR Nutanix Cluster in the Enterprise datacenter
Backup/DR (Disaster Recovery) cluster in the Enterprise datacenter is required to consolidate the replicated snapshots sent over WAN from multiple ROBO sites. If needed, you can add the $/GB optimized, capacity-heavy Nutanix nodes to your existing web-scale Nutanix systems in the datacenter to support nearly unlimited retention of snapshots. We understand that the long term retention may require integration with other software as well, so we do support VADP (VMware vStorage API for Data Protection) and application-level consistent snapshots using Microsoft Volume Shadow Services (VSS).
Global Distributed De-duplication
The Global Distributed De-duplication feature will ensure that if one of the ROBO site has already sent a data block (say 'A', as in the figure below) to the Nutanix Backup/DR cluster in the Enterprise datacenter, then any other ROBO sites having the same data block ('A') will not be sent over the WAN for backup again.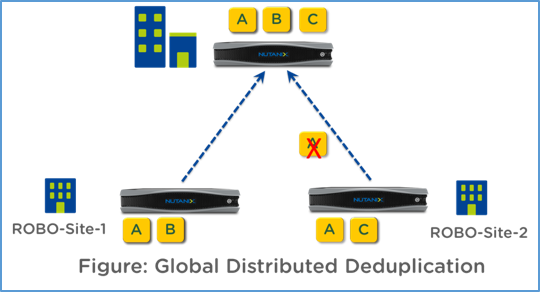 This is ensured by doing fingerprinting check over the wire before the data is exchanged between two Nutanix clusters. Now, such a feature reduces backup traffic sent over WAN, thus efficiently utilizing the already bandwidth-constrained WAN links at ROBO. Moreover, this feature reduces the storage requirement in the Data center and thus can be very cost-effective for you.
File-Level Restores
An interesting aspect is that with this feature you can recover independent files inside a VM without having to recover the entire VM. This makes the recovery process extremely efficient without any need for a backup administrator intervention.
Prism Central: 1-Click Centralized Management

You can conveniently manage all the branch or retail or regional locations and the corresponding Data Protection policies from a single pane of glass using the simple and intuitive Nutanix Prism Central. It provides centralized infrastructure management, one-click simplicity and intelligence for everyday operations and insights into Capacity planning and forecast.

In a nutshell, when it comes to Data Protection and a simple, cost-effective, Full-stack ROBO solution, we are the "
diamond standard
" and your data is simply protected on Nutanix!
Disclaimer]: This blog contains links to external websites that are not part of Nutanix.com. Nutanix does not control these sites and disclaims all responsibility for the content or accuracy of any external site. Our decision to link to an external site should not be considered an endorsement of any content on such site.