This post was authored by Mike McGhee, Technical Marketing Engineer at Nutanix
So you have some virtual machines you'd like to migrate from ESXi to Nutanix AHV… In
Nutanix Xtract Introduces VM Migration Simplicity to Hyperconverged Infrastructures
we announced the release of Nutanix Xtract for virtual machines, a free, agentless tool for quickly and easily moving VMs from ESXi to Nutanix AHV. In this post we're going to step through an example of moving a tiered application with Xtract for VMs while providing more detail on how Xtract works behind the scenes.
To get started, Xtract for VMs is deployed as a virtual machine into your AHV environment. You simply access the Xtract QCOW2 based disk image from our
portal
in the Downloads menu and deploy the image to your AHV cluster. The image is under 1GB in size, so deployment only takes a few minutes. You can do this manually by uploading the file to the AHV image service and then creating the virtual machine with the appropriate resources. You can also automatically perform these steps using a simple Xtract CLI utility from an OSX, Linux or Windows based client. Automated deployment with the CLI is the preferred installation method.

The Xtract CLI utility can be used for other purposes such as querying the source and target environments or taking actions against migration plans, but the necessary functions of Xtract are easily managed from its HTML 5 based interface. So once deployed you will manage Xtract through your web browser by connecting to the name or IP address defined for the Xtract VM.
Upon logging in the first step is to add your source and target environment. Source environments are registered by connecting to your vCenter instance and supplying the name or IP and the appropriate credentials. Target AHV environments are similarly registered by pointing Xtract either directly to the AHV cluster or to a Prism Central instance.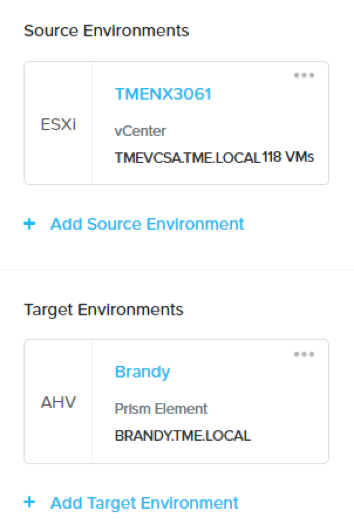 Once your sources and targets are defined you will create migration plans. Plans enable migrations to target a subset of virtual machines within a source vCenter. In our example we will create a plan and add the VMs associated with a three tier application.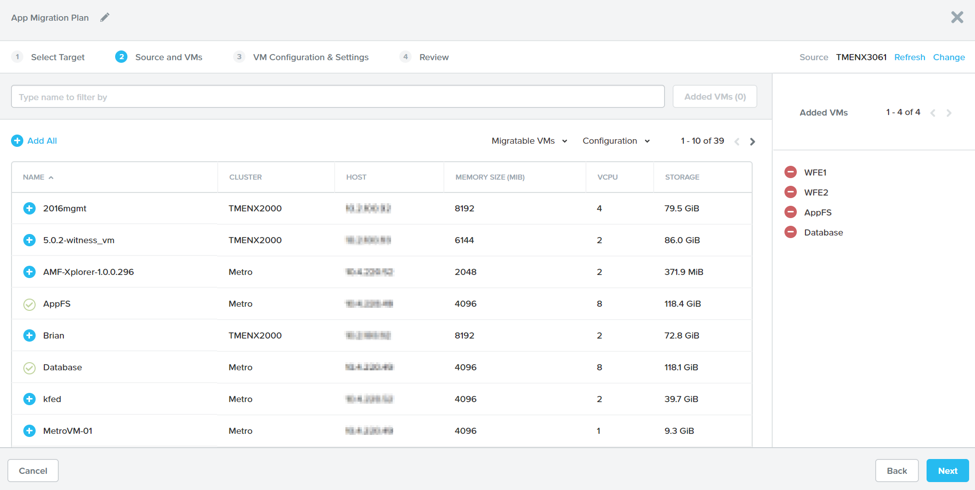 Checks are performed to ensure the target environment has enough compute and storage resources to support the VMs added to a migration plan. Xtract can sort by migratable and non-migratable VMs and will provide a summary to indicate why certain VMs cannot be migrated, such as needing to install VMware tools or virtual hardware version level minimums, among other requirements. From a virtual guest operating system perspective, all operating systems supported by AHV are also supported by Xtract for VMs. A full list of operating systems supported by Xtract can be found in our
portal
.
Xtract uses VMware vStorage API for Data Protection (VADP) to manage the replication process, so no agents are required to be installed within the virtual machines or the ESXi hosts. You can optionally allow Xtract to connect to VMs directly in order to install device drivers compatible with AHV, and to capture network settings so they can be carried over to the target environment. Credentials to connect to the virtual machines selected within a plan can be specified for all VMs, or individually as needed. Network mappings are also specified to match the source and destination networks for the VMs. Additionally a migration schedule can be defined so that data seeding can start within a predetermined window.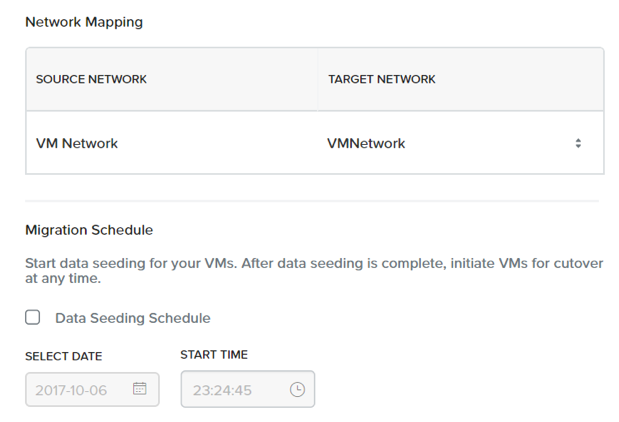 Once the above options are set the migration can begin. As previously mentioned VADP is used to perform the seeding of data to the AHV cluster. This entails creating ESXi based snapshots for each VM followed by replicating the virtual disks to the specified AHV container. Running migrations can be paused or aborted at any time.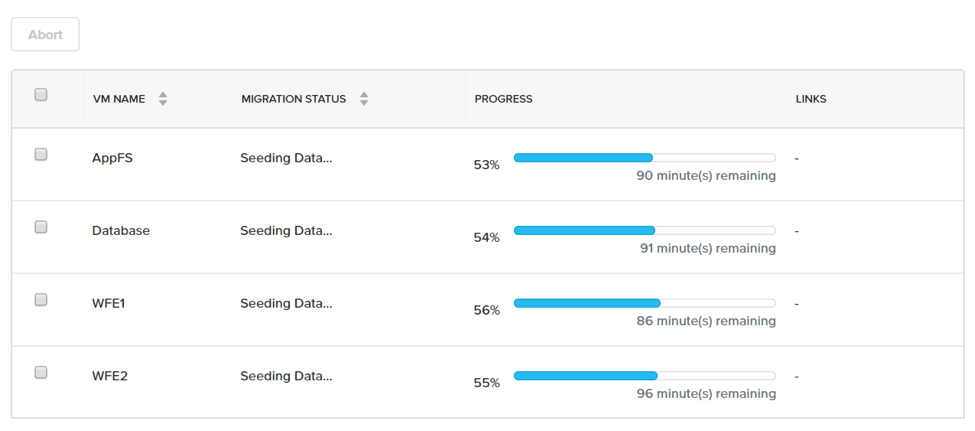 The vmdk files for the migrating VMs are stored in a temporary folder and kept up to date incrementally by using change block tracking (CBT) APIs and continued snapshot operations.
When it's time to cut over and complete the migration, Xtract will power off the source VMs and disconnect the virtual NICs. Incremental data will then be synchronized over to the AHV cluster. Once all data is replicated, the vmdk files are converted using the AHV image service to the native RAW format used by AHV. Conversion is extremely fast when moving from a vmdk file to RAW as the disk formats are the same, so each disk is converted in just a few seconds, limiting down time. Xtract will also provide an estimated cutover time so any maintenance window can be determined.

Virtual machines within a plan can be cutover together or separately. For a multi-tiered application cutover can begin with the database VMs, followed by any business intelligence or application VMs and finally the presentation or web front end VMs. To complete the migration VMs are powered on and all temporary vmdk files and converted images within the AHV image service are removed. The source VMs while powered off and disconnected from their networks will persist in case they are needed for any reason. Each migrated VM includes an annotation which mentions when the VM was migrated, where it was migrated, and which version of Xtract was used.
Your migrated VMs can now be managed and Xtract provides links so you can verify your operating systems and applications are ready for use. Xtract keeps track of the VMs you've migrated and which ones remain to be moved, so if you create additional migration plans it's easy to know what's left to be done.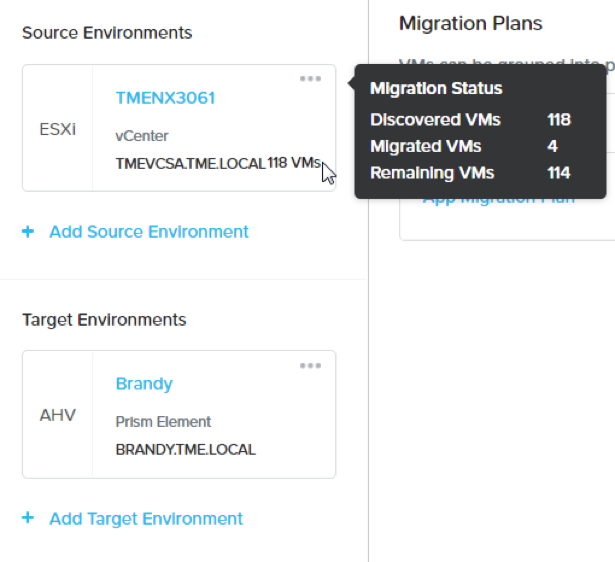 And that's really all it takes, easy enough right? Xtract was designed to be intuitive, simple and fast while reducing the risk and cost of migrations. We encourage you to give Xtract a try and join us on the .Next community site to let us know what you think.
2017 Nutanix, Inc. All rights reserved. Nutanix, AHV, and the Nutanix logo are registered trademarks or trademarks of Nutanix, Inc. in the United States and other countries. All other brand names mentioned herein are for identification purposes only and may be the trademarks of their respective holder(s).