This post was authored by John Williamson, Kevin Lash, and Sachin Chheda, Nutanix
No one in the financial services industry needs to be convinced of the importance of digital transformation and
hybrid cloud adoption
. Nearly every day we hear about major financial institutions like
JPMorgan
,
Santander Group
, or
SunTrust and BB&T
investing billions--even 10s of billions--in digital initiatives. These companies have an array of objectives, including:
Enhancing customer experiences by embracing the customer-centric practices of fintech and insurtech.
Leveraging emerging technologies such as blockchain to facilitate new services and capture unprecedented opportunities.
Accelerating time to market by empowering DevOps teams with self service and a path to continuous innovation.
Increasing employee productivity with responsive digital workspaces that enable secure access to critical applications and data from anywhere.
Slashing costs through operational efficiencies.
To make these digital enterprise initiatives succeed, however, enterprises must have clear business priorities and a strong collaboration between the lines of business and IT.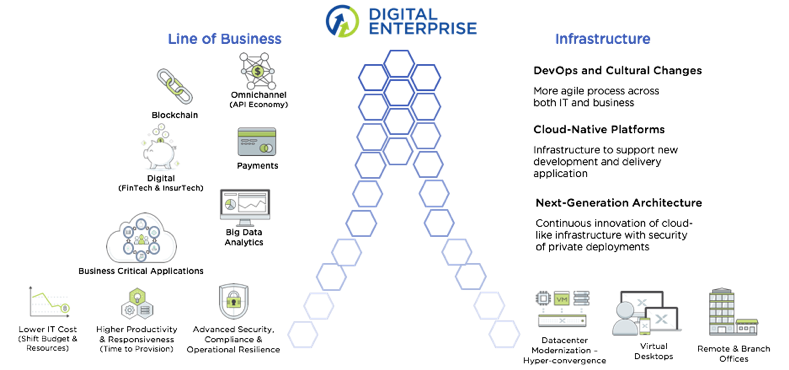 With these criteria in mind, enterprises can work toward developing a hybrid-cloud digital enterprise architecture that delivers agility and innovation, even while improving availability and security to meet increasingly strict regulatory requirements. The architectural building blocks include infrastructure services, data platform services, application services, and customer touchpoints:
Infrastructure services:
These services support the enterprise's storage and compute needs, including the performance, resiliency, uptime, data protection, DR, and service levels organizations require. Nutanix hyperconverged infrastructure also lets you extend the infrastructure stack over multiple clouds (for example, a hosted private cloud and on-prem private cloud) with the same management layer, gaining flexibility without multiple management silos.
Data platform services:
Persistent storage services, including relational and NoSQL databases and unstructured data (such as files and objects). A digital enterprise architecture should also provide services such as copy data management and protection for database transaction-level data.
Application services:
A platform to develop, test, and run applications in virtual machines and containers, including providing lifecycle management services, self service, and automation.
Distribution and Customer Touchpoints:
The front-end services, ranging from end-user computing (VDI and DaaS), to web front end, to mobile applications, connecting applications and data to the consumers.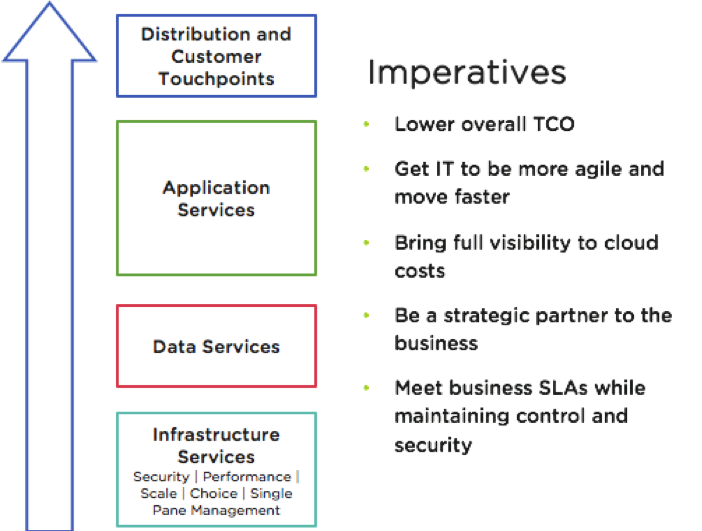 A digital enterprise architecture elevates IT to become a true partner to the business, injecting speed and agility into digitizing key business functions such as:
Sales and services: Go beyond vanilla CRM to drive initiatives like omnichannel and hyper-personalization.
Business operations: Help traditional business functions like Financial Planning and Control (FP&C) become more agile.
Business insights: Provide the front-end better and more actionable customer insights for their initiatives.
Technical operations: Improve digital services delivery, including better capacity planning for those digital services.
Nutanix understands the move to being a digital enterprise is a journey, not a single investment. It is not necessary to re-develop all your legacy applications or rip out every datacenter to get the benefits. Quite the contrary. This approach allows enterprises to keep exploiting the strengths of heritage technologies while simultaneously building a bridge to new cloud technologies--both private and public cloud. Nutanix Enterprise Cloud provides the technological foundation for customers to become digital enterprises, one workload at a time.
At .NEXT, Kevin Lash, Nutanix Head of Financial Services Strategy and Solutions, and our customers will be discussing the Digital Enterprise concept during the session -- Running Business Critical and High Performance Financial Services Workloads on Wednesday, May 8th, 2:10pm – 3:10pm PST (North 258). Sachin Chheda will also touch on the digital enterprise concept in his presentation for the Global System Integrator partner track.
Even if you are not attending .NEXT, you can request the report, "Architecting the Financial Services Digital Enterprise: A Nutanix Perspective," by email at
info@nutanix.com
. You can also visit the Nutanix Financial Services industry page at
www.nutanix.com/finserv
. If you are ready to engage the experts, then take advantage of Nutanix's customized workshops to qualified organizations where we walk through your existing environment, provide a digital maturity assessment, and help build out a roadmap for becoming a digital enterprise.
Disclaimer: This blog may contain links to external websites that are not part of Nutanix.com. Nutanix does not control these sites and disclaims all responsibility for the content or accuracy of any external site. Our decision to link to an external site should not be considered an endorsement of any content on such sites.
2019 Nutanix, Inc. All rights reserved. Nutanix, the Nutanix logo and the other Nutanix products and features mentioned herein are registered trademarks or trademarks of Nutanix, Inc. in the United States and other countries. All other brand names mentioned herein are for identification purposes only and may be the trademarks of their respective holder(s).