This is a guest post by Bala Ramachandran, Director of Product Management, Big Switch Networks
Nutanix Hyperconverged systems natively offer converged compute, storage and virtualization for all enterprise workloads at any scale by leveraging a distributed, scale-out architecture. Through software innovation, Nutanix solutions aggregate storage capacity across multiple servers and present them as a single logical disk to applications.
When using Big Cloud Fabric (BCF) as the networking fabric in this hyper converged environment, it creates a very synergistic logical abstraction for the physical network by leveraging software-defined networking (SDN) principles to present the scale-out network fabric as a single logical switch to the applications.
BCF is the ideal SDN fabric for Nutanix hyper converged DC built with open networking (brite-box/white-box) switch hardware. It delivers the next-generation data center switching architecture offering unprecedented operational velocity, network automation at VM speed and end-to-end visibility for software-defined, hyper converged data centers and cloud-native applications.
BCF provides these modern benefits while offering dramatic CapEx reduction and enabling hardware vendor choice versus legacy box-based solutions that are proprietary and expensive.
Nutanix + Big Cloud Fabric: Joint HCI Solution
Solution Synergies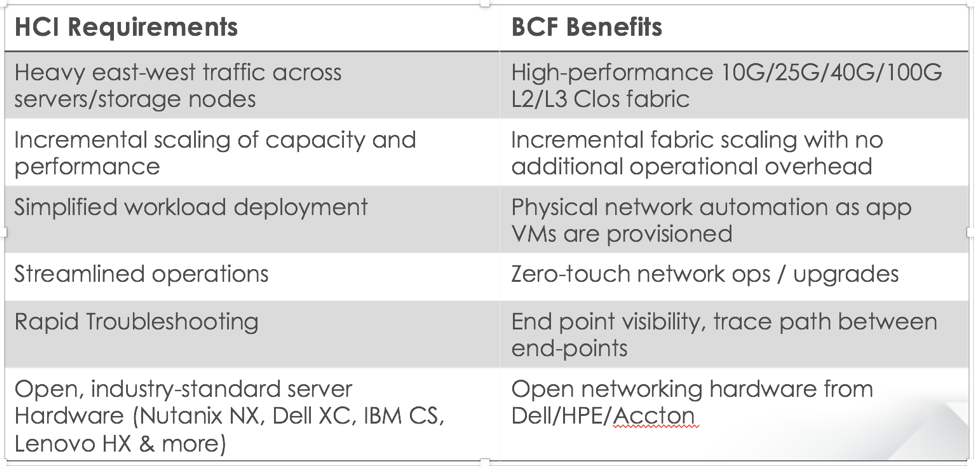 Built-in Network Automation
The solution streamlines application deployment workflows by automating the physical network configuration for the VM workloads. There are several Fabric automation benefits:
1) Auto Host Detection and Link Aggregation
Nutanix ESXi nodes connected to BCF are automatically discovered by BCF controller. The BCF controller then automatically creates link aggregation groups (LAGs) with the leaf switches making this a zero-touch operation. Server/storage team can now add/move/replace Nutanix nodes at will without ever interacting with the networking team -- network is no longer a barrier to scalable HCI deployment. Simultaneously, network team has full visibility to Nutanix nodes attached to the Big Cloud Fabric.

2) Auto L2 Network Creation
As the virtual switch port-groups are created, modified, or deleted as part of application deployment process, BCF controller gets notified of these events and automatically creates, modifies or deletes the corresponding BCF Layer-2 network segments. Even physical network changes during vMotion are automatically provisioned. Net-net, BCF enables physical fabric to operate at the speed of VMs.

End-to-End Visibility & Troubleshooting Benefits
Due to single pane of glass visibility via the BCF controller, the solution provides unprecedented end-to-end visibility and troubleshooting benefits to Network admins.
1) VM-level Visibility
BCF provides both VM-level and host-level visibility, including:
Host names, host vmNICs, and the physical fabric interfaces to which the hosts are connected.
VM names, VM Mac & IP addresses, VM description
Such granular visibility of virtualization domain enables the network admin to have a consistent view and help resolve issues rapidly during troubleshooting session with HCI/virtualization team.
2) VM-to-VM Fabric Trace
VM-to-VM traffic visibility across the entire leaf-spine fabric can be visually displayed on the BCF controller between any two VMs, as shown below. This level of visibility to traffic on a single-pane of glass just cannot be achieved with box-by-box networking and offers tremendous operational savings.
3) Fabric Analytics
BCF provides advanced fabric analytics which captures VM-related information (name, creation time, pNIC info, port-groups), and time-series of events related to VMs. An example of vMotion event is replayed in the diagram below.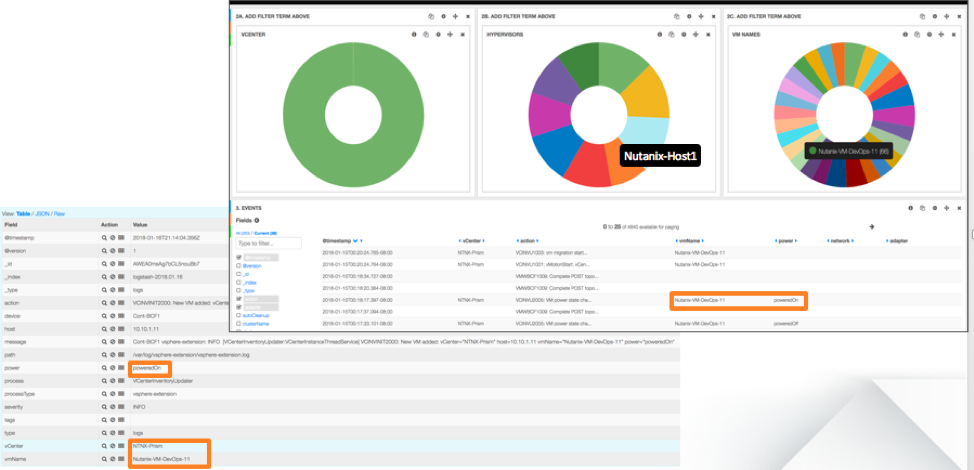 Such historical event repository integrated with multi-vector analytics engine become extremely useful tools and can save operators several hours in configuration, troubleshooting
BCF Nutanix Ready Validation
Big Switch Networks is a member of the Nutanix technology alliance partner program, Nutanix Elevate and Big Cloud Fabric (BCF) is now validated Nutanix Ready Core for networking. Validated solution components consist of: Big Cloud Fabric Version 4.2, Nutanix AOS 5.1.0.3, and VMware vSphere ESXi 6.5b.
Multiple customers have already deployed this joint solution across different verticals and geographies.

For further technical details of the joint solution, please check out the
demo video
and the
joint webinar
.
Disclaimer: The views expressed in this blog are those of the author and not those of Nutanix, Inc. or any of its other employees or affiliates. This blog may contain links to external websites that are not part of Nutanix.com. Nutanix does not control these sites and disclaims all responsibility for the content or accuracy of any external site. Our decision to link to an external site should not be considered an endorsement of any content on such site.
2018 Nutanix, Inc. All rights reserved. Nutanix is a trademark of Nutanix, Inc., registered in the United States and other countries. All other brand names mentioned herein are for identification purposes only and may be the trademarks of their respective holder(s).