Hello All,
We recently deployed ESXi Nutanix Clusters in 2 locations, site "A", and site "B". We have setup a Nutanix Protection Domain, and are replicating VM's from site "B" to "A".
We have a requirement to backup several replicated VM's from site "B", to tape, with CommVault for long term retention,
at
site "A". While I have been able to accomplish this by "manually" browsing the datastore, and sifting through the .snapshot folder, and adding the VM(s) to inventory, I was wondering if this process could be automated or even simplified?
Does anyone know if the numbered folders inside the .snapshot folder change regularly? If they do not, then I could possibly automate with a script.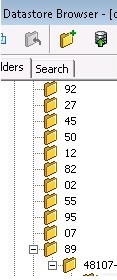 Thanks in Advance!
Tim