This post was authored by Laura Jordana, Global Sales Enablement - Systems Engineering at Nutanix
It was a warm August day in 2011. For 2 weeks I had been ignoring the recruiter's LinkedIn messages and phone calls. I had no idea how he got my work number, but there it was on my caller ID. I was fairly happy in my current position at a small software company in Sunnyvale doing technical support, and I had no reason to leave. Nutanix? What was that, a high fiber biscuit? My co-workers were skeptical, but one did admit that "data storage is where it's at."
The recruiter's persistence paid off, and I ended up calling him back, and on that warm August day I found myself in their office interviewing for a position on their support (SRE) team. I was attempting to write a Python script on a whiteboard. I got as far as writing #!/usr/bin/python and then nearly froze up. I contemplated running out to my car and never looking back.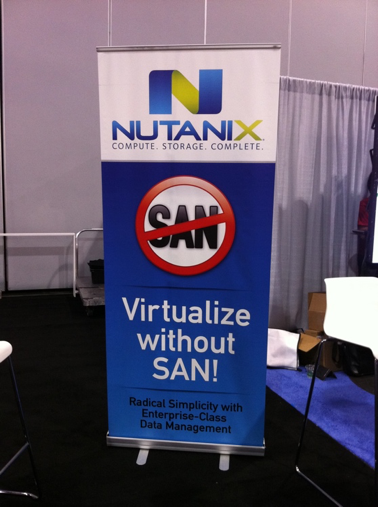 Our booth sign at VMworld 2011
I interviewed with 4 total people that day, including the CEO, Dheeraj Pandey, who talked about channel partners and series B funding, which I didn't know hardly anything about at the time. They were just about to launch the product.
Now, this might have been a red flag for some people. Leaving a secure, comfortable job to work at a company that doesn't even have a product yet? But something about the team and the product showed promise and gave me confidence that this was a good decision.
Everyone I had met so far was extremely passionate about the work they were doing. Despite my mediocre Python skills, I was offered a position on the SRE team. I tried to negotiate my start date so that I could have a week off between jobs.
However, that particular week happened to coincide with VMworld 2011 in Las Vegas, and Nutanix was inviting the entire forty-person company to join and celebrate the launch of the product. So it didn't take much to convince me to move my start date up by a week. Monday, August 29, 2011, was my first day at Nutanix, and my first morning was spent by the pool.
My first couple of days as a Nutanix employee—aside from yard-long margaritas and trying to stay cool in the 110 degree heat—were spent walking around the expo hall in my NoSAN shirt trying to drive traffic to our tiny booth in the corner.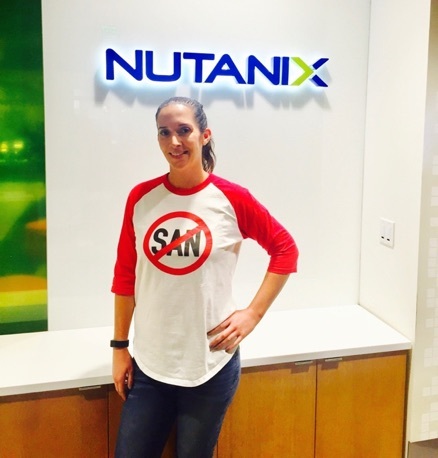 On my 5 year Nutanix anniversary, modeling the now vintage VMworld 2011 shirt
Back in the office later that week, the real work started. We didn't have any kind of orientation or new-hire training, but we did have a trainer, Meghan Myers, and I sat at her desk with a notebook learning about the product.
I was technically a member of the SRE team, but we had no actual team and no paying customers yet. We had 4 customers who were trying out the product, who I introduced myself to over e-mail and offered support to if needed.
I helped them create VMs on ESXi using Nutanix storage, helped internally with the build process and QA, learned how to build a cluster from scratch, developed the first iteration of hardware replacement documentation, and improved my Python skills. It was a ton of work but also a lot of fun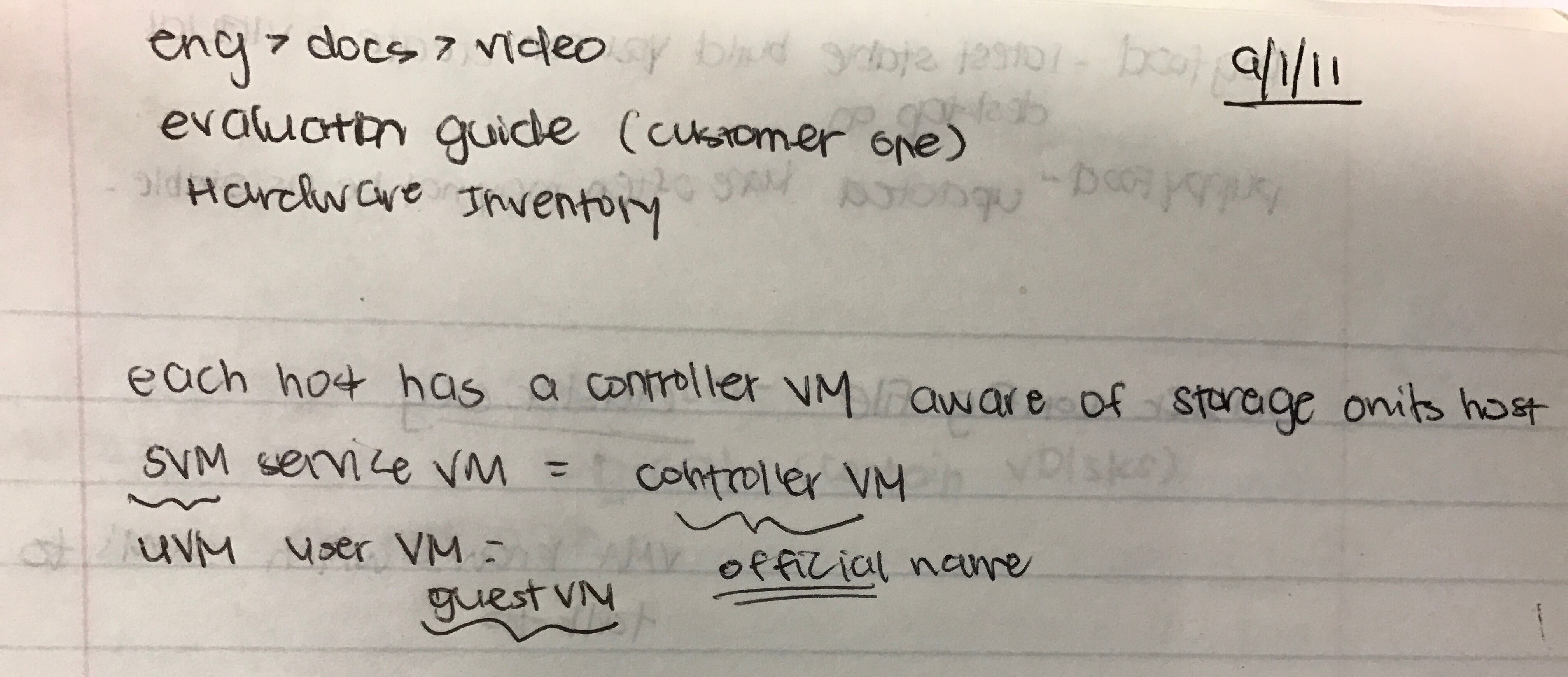 Ancient artifact from 2011
A month passed and I watched as our first PO come in. I watched as the team and the software continued to get better, and the booth at VMworld get bigger. Several months passed and we outgrew our single suite and took over the two other suites on our floor, and then finally moved across the street and had an entire floor to ourselves, eventually occupying most of the building.
Two years later, we had an SRE team of around 15 people, most of them based in our headquarters in San Jose. We were ready to open our first office in North Carolina, and I flew out there to train the first 3 SREs there. From there, the North Carolina SRE team grew and we also started offices in Sydney, Amsterdam, and several other locations.
A couple of months later I got the opportunity to move into a Sales role as a Corporate SE (Systems Engineer). At first it was a bit daunting. When you're in support, you're generally not receiving calls from customers who just want to tell you how happy they are that they found Nutanix.
You tend to only see the negative aspects of the product, whether someone is using it in a way that it wasn't intended to be used, or that there's an actual software bug that needs to be addressed.
One thing I can say about being a Nutanix SRE is that I always felt like the team had my back. Whether it was other SREs, engineering, or even the exec staff, no one would let you fail and everyone always put the customer first. It's the same in sales, but now as a Corporate SE, I had to learn how to stop looking at solving technical problems and start looking at the product from a fresh, different perspective.
It was exciting, because I could see how eager these customers were talking about Nutanix and how they could use it in their environments. I could see firsthand the impact a simple Prism demo had.
From there, I moved onto a Technical Sales Enablement role. I've spent the last 9 months developing and delivering technical training on various topics for our internal teams, which I love because it allows me to interact with our SEs from all over the world, and I still get to be technical and work closely with our product and other technologies.
The product and software is amazing but even more valuable are the people at Nutanix that inspire me every day. The programs such as Web Scale Women and Nutanix .heart that encourage giving back to the community. The willingness of people to help out.
The transparency and the humbleness of our CEO. When most companies IPO, they bring a select few to come on stage for the bell ringing. Dheeraj wanted as many people as possible, the whole Nutanix family. But the Nasdaq stage can only fit so many, so he ended up bringing as many as he could, about 100 employees, many of which were our first employees.
It was one of the most memorable experiences of my life. It's been an amazing ride the last 5 years, going from being a scrappy, little company to seeing our name in lights in Times Square and NTNX on my stock app.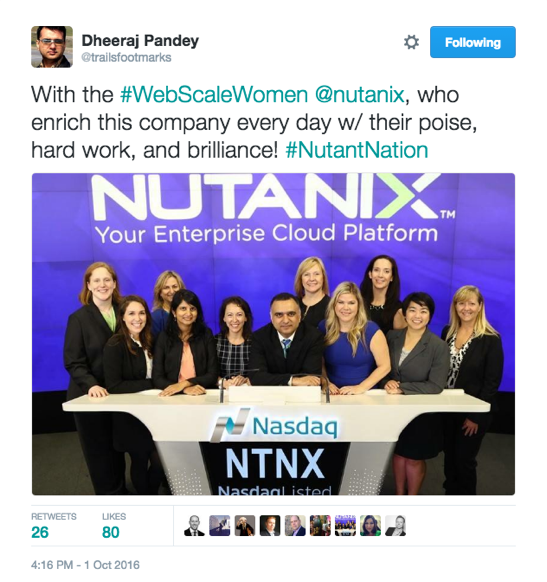 $NTNX IPO day with our fearless leader
I am grateful I didn't completely freeze up when I didn't write the perfect Python code on the whiteboard during that interview back in 2011. I managed to squeak out a few lines of code and, even though I knew it probably wouldn't actually run correctly if someone typed it in a terminal.
I kept a positive attitude and was able to convey my thought process and answer several follow-up questions about technology and my experience in QA and support, and was given a chance to contribute to this fast growing company while improving my Python skills in the process.
My advice to other women in tech: Be fearless, take risks, keep a positive attitude and whatever you do make sure you're having fun doing it, because at the end of the day that's what really matters. Being a hard core coder isn't the only way to have a successful career in tech.
If you enjoy coding then that's great, if you're like me and usually can't write a decent script without using Google a few (hundred) times, that's great too, there are a lot of opportunities out there that don't directly involve coding.
For more info on me, my journey at Nutanix and most importantly what my favorite kind of beer is, check out the latest episode of Beers With Engineers:
Disclaimer: This blog contains links to external websites that are not part of Nutanix.com. Nutanix does not control these sites, and disclaims all responsibility for the content or accuracy of any external site. Our decision to link to an external site should not be considered an endorsement of any content on such site.