We introduced AHV drivers for OpenStack in the recently released AOS 4.6 to build further out on our
Enterprise cloud strategy
. A key pillar of our vision is to provide choice to customers when deciding how to build a cloud to meet their business SLAs.
OpenStack is widely considered by many enterprises as an open source option to create their AWS-like private cloud. Often the goal is to achieve higher agility and lower the total cost of IT infrastructure ownership while also avoiding lock-in to any cloud management /hypervisor vendor. In the past 6-9 months alone, we have received several queries from prospects looking for an OpenStack solution integrated with best in class hyper-converged infrastructure (HCI) from Nutanix.
But why are these companies seeking to use AHV-based Nutanix HCI with OpenStack? A closer look at how enterprises are using OpenStack for building clouds provides some insights.
We see two distinct approaches to infrastructure when building clouds using OpenStack:
1) DIY Approach to OpenStack Cloud
Some enterprises are building an OpenStack-based cloud by assembling commodity hardware components into compute, storage and network infrastructure. The table below captures the pros and cons of DIY.

In our experience, not all enterprises find DIY appealing, and it is preferred mostly by firms that have high competency in software development - for example,
PayPal, has chosen to go down this path.
Still, many early adopters of OpenStack have realized that the current set of tools available for day-to-day management of a cloud assembled from nuts and bolts
have not matured yet
.
2) Traditional infrastructure Approach to OpenStack cloud
Many enterprises are building an OpenStack-based cloud backed by legacy 3-tier infrastructure (discrete storage, Server, and Virtualization components). These firms have concluded that the DIY approach is not optimal for them, but they desire to leverage OpenStack's open APIs for provisioning.
Often such clouds are built by "stitching together" legacy 3-tier infrastructure from multiple vendors behind a unifying provisioning API. Even though this approach promises to preserve customers' existing investments, keeping such a cloud operational and running is challenging and costly.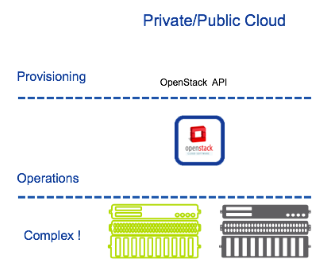 This is due to the complexity of managing legacy 3-tier infrastructure on a day to day basis. Unlike public clouds that have built a sophisticated infrastructure and custom tools to operate it, OpenStack clouds using legacy infrastructure lack commercially available mature operational tools and automation that can work reliably across multiple vendor solutions.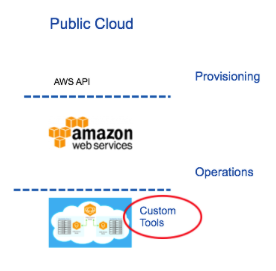 To give you a recent real world example, a Fortune 500 company in the consumer goods vertical was using OpenStack with 3-tier infrastructure on ESXi. It was facing a lot of issues around manageability due to stability and performance of drivers and immaturity of tools for capacity planning, troubleshooting, upgrades, etc.
The ecosystem for such open source tools for OpenStack is still in its infancy. Without an additional investment in custom automation by a user, OpenStack-based clouds built on top of legacy infrastructure often are not able to deliver on the promise of low total cost of ownership.
Both of the above infrastructure approaches have resulted in many failed OpenStack projects. As per a
recent survey by SUSE
, "Half of all enterprises that tried to implement an OpenStack cloud have failed."
The Nutanix way:
A combined approach of using OpenStack with Nutanix Acropolis offers the best of both worlds:
OpenStack's open API for provisioning automation
Ease of operations provided by the best of breed hyper-converged infrastructure.
It enables users to build a private or public cloud that delivers both agility and lower cost, without requiring users to spend time and money on developing software for custom tools.
After evaluating the Nutanix solution, the company referenced above decided to forego their legacy 3-tier infrastructure and instead run OpenStack on the Nutanix hyper-converged infrastructure using AHV as the hypervisor. The enhanced value for them was the management capabilities in Prism (single pane of glass for end-to-end troubleshooting, 1-click controller software/hypervisor/BIOS and firmware upgrades, predictive capacity forecasting, high availability/DR management) and accelerated time to value.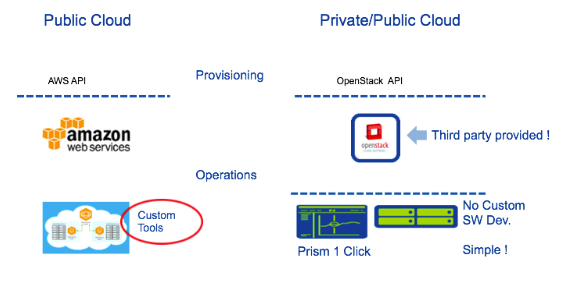 Nutanix AHV drivers for OpenStack in AOS release 4.6 enable customers to use OpenStack with Nutanix HCI on the AHV hypervisor. We are providing drivers for:
Nova-compute
Cinder-volume
Glance-Image
Neutron-network
While users can also use other OpenStack services - e.g. swift, HEAT, etc. - in their overall solution. The drivers are packaged as a VM disk image (qcow2 format) for ease of deployment.
Conclusions:
Nutanix Acropolis provides a superior alternative to building an OpenStack-based cloud than alternative approaches.
It is incredibly easy to get started with Nutanix and OpenStack. If you already have an existing OpenStack controller, then you can just use the driver package to add Nutanix clusters as OpenStack resources without making any change to your OpenStack controller code. If you do not yet have an OpenStack controller, you can use the pre-packaged open source OpenStack with the driver distribution for quick evaluation.
For detailed solution architecture and deployment considerations, you may refer to the
Nutanix Bible.
, also, continue the conversation on the Nutanix NEXT community and follow
Nutanix
on Twitter for the latest news and announcements.
Related
:
Nutanix's Acropolis solution with an OpenStack cloud deployment, Video
This post was authored by Manish Lohani, Director of Product Management Nutanix