This blog is authored by Harry Yang, Principal Product Manager at Nutanix
Among the many reasons that enterprises choose the public cloud, there is one that stands out universally. The cloud enables IT to become a business driver by closely matching and aligning IT resources, including infrastructure and services, with business agility. As an Enterprise Cloud Platform, Nutanix is bringing this benefit to on-premises data centers through Acropolis and Prism.
Just-in-Time Forecast is a new feature that was just introduced in Prism Pro 5.0. It will enable you to analyze, plan, and optimize your infrastructure resources based on workload growth. Just-in-Time Forecast is based on X-FIT machine learning technology and is designed with unprecedented simplicity. In this blog, we will share the background of Prism Pro and familiarize you with its terminologies. Part 2 will introduce the new features and enhancements in the 5.0 release of Prism Pro.
Since day one, our goal at Nutanix has been to make your IT experience easier by providing the systems and tools that will help you better manage your infrastructure, without introducing additional complexity. Simplicity is our guiding design principal, and Prism was created as the result of that thinking. Prism's goal is to eliminate the "management" from data center operations.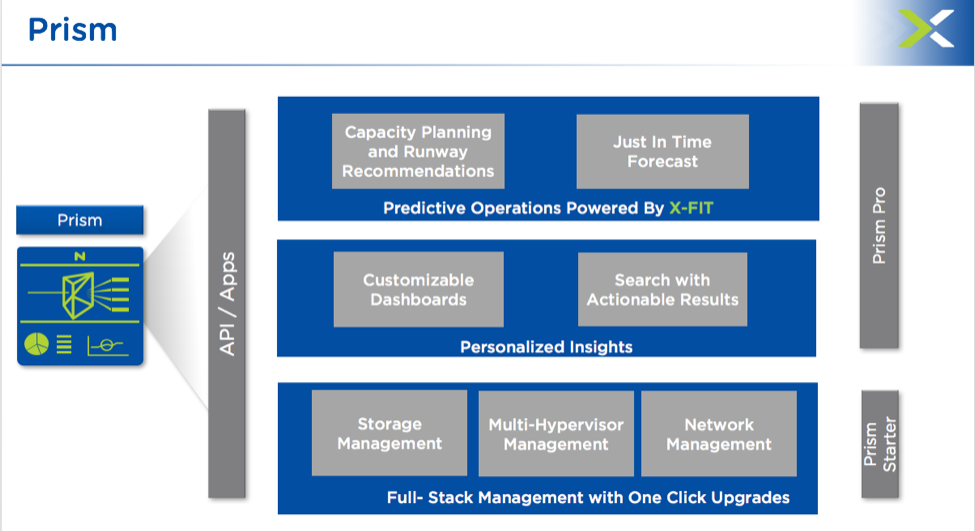 Prism Starter
Nutanix has spent the last six years building the solid, distributed, and easy-to-use Prism platform layer. This layer started with full-stack cluster management and later expanded to multi-cluster view and control. Along the way, the one-click upgrades that were built into this platform became very popular. With the one-click upgrades, customers finally have the freedom to enjoy all of the performance improvements and new features offered in each release, without the fear of business interruption or involving the difficult upgrade processes of previous enterprise software platforms. We called this Prism platform layer the Prism Starter. Any time you buy a Nutanix solution, Prism Starter is included with it.
In Prism Starter's 5.0 release, you will see a new UI that lets you run Nutanix Cluster Check within Prism, providing a new way to visualize I/O metrics, an expanded capability of VM management, a customizable explorer, network visualization, and a self-service portal.
Prism Pro
Prism collects machine data across the compute, VM, and storage layers. This data provides valuable insights that will enable you to improve the efficiency and quality of your everyday data center operations and further simplify IT.
Nutanix has also developed a
machine learning technology, X-FIT
, that brings the best machine intelligence algorithms into data center management. Prism Pro is the result of that effort, providing you with additional operational intelligence and personalized insights.
Management Interfaces
Customers can access all Prism features from two consoles: Prism Element and Prism Central. (The following diagram illustrates the relationship between these two consoles.) Prism Element is a distributed console that is built into the cluster, and serves as the management console for a single cluster. The Prism Central console is used for managing multiple clusters, providing a centralized view and configuration across clusters. Customers who have Prism Pro can access all of its features in Prism Central.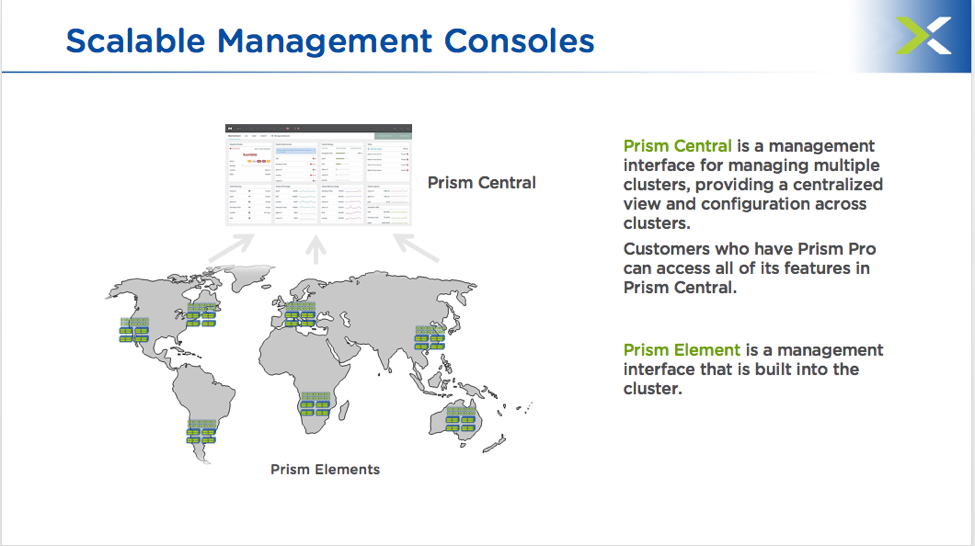 Over the last six years, Prism has evolved from a single cluster management front end, to a complete infrastructure management solution. In each release, we strive to provide more value and accelerate this evolution.
Part 2
will explain the new features that we have developed for the 5.0 release. Stay tuned.
Disclaimer: This blog may contain links to external websites that are not part of Nutanix.com. Nutanix does not control these sites and disclaims all responsibility for the content or accuracy of any external site. Our decision to link to an external site should not be considered an endorsement of any content on such site.