See images below
- Site 1 VMs should be backed up at NX Site 1 Cluster and NX Site 2 Cluster
- Site 2 VMs should be backed up at NX Site 2 Cluster and NX Site 1 Cluster
- Delta changes will only pass through MPLS
- End users must be able to do Self Service File Recovery integrated with Active Directory
- Is commvault for Nutanix limited to Nutanix hosted VMs, how to add commvault licenses outside the Nutanix cluster?
- Is there a master media server to handle the two sites?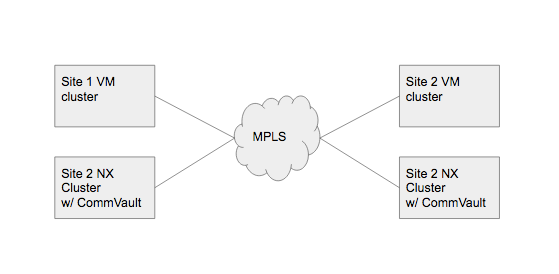 Best answer by dlink7 15 February 2017, 17:19
As of today Commvault is the only backup provider that can backup AHV without an agent. When the API are fully supported you'll get changed region tracking from the API. 1 great part is that you don't have the overhead of collapsing snapshots like you would on ESXi.



Today Commvault reads the entire vdisk and uses md5 hash to do incrementals. Soon they will just read the diffs between snapshots.
View original