This is a guest post from one of our NEXT community members, Rick Gouin who is Chief Technology Officer at Winslow Technology Group.
I created an Andriod app that interacts with the Nutanix platform, and I hope to make it available to everyone via the Google Play store soon.
I was inspired by a demo at .NEXT 2016 in Las Vegas where they used an Amazon Echo to interact with a Nutanix Cluster. I do a lot of Nutanix presentations at VTUGs, VMUGs, and other events, and I was thinking it would be cool for my sessions if I put something fun together that I could demo at these events.
While I was considering writing a skill for Amazon Alexa, I realized that more people would make use of a phone app than an Echo app. Should be pretty slick for my sessions too, so I got started.
I already had a system running Nutanix CE, so I used that to explore the REST API and perform testing. I feel like I've gotten pretty familiar with the API through this process, as well as the product in general.
I decided to try and get basic functionality into an Android app via the Nutanix REST API, with a focus on things that should apply regardless of hypervisor. There are some good technical reasons why there is no IOS version, but I won't bore you with them.
My plan from here is to continue to add functionality over time, driven by what users ask for.
I want the app to work the same regardless of license level or hypervisor – just like Prism. This is a side project that I'm working on in my spare time, but I'd like to get a good solid release out for people to use as soon as possible.
Today, my app can do a number of different tasks, including:
View your VMs, their power state, vCPU, Memory, NICs, NGT status, Current host, and more
Clone VMs
View your Storage Pools, along with free and used capacity in both HDD and SSD tiers
Check on your containers, including capacity, RF, EC, Compression, Dedupe, etc
Create new containers
List your nodes, and drill into them for status, hypervisor, VM counts, Core counts, and the like
Quick stats on: CPU Usage, Memory Usage, Average Latency, and storage capacity
View alerts on your cluster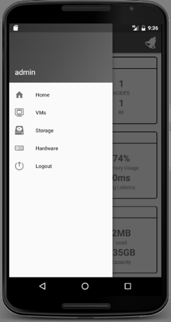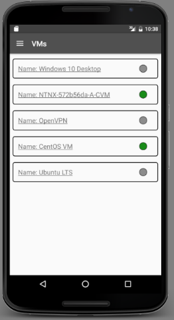 Next on my to do list? Find some beta testers! If you are interested in testing this against a multi-node CE cluster, against a licensed cluster, or have any comments, concerns or thoughts on must-have features, please drop me a note via my website:
http://www.rickgouin.com
.
Continue the conversation in our
API
community forum, follow
Nutanix
on Twitter for the latest news and announcements.
Disclaimer: This blog contains links to external websites that are not part of Nutanix.com. Nutanix does not control these sites, and disclaims all responsibility for the content or accuracy of any external site. Our decision to link to an external site should not be considered an endorsement of any content on such site. Additionally, the application referenced in this blog is not produced, developed, distributed or sold by Nutanix, and its features and functionality have not been tested or approved by Nutanix. Nutanix makes no representations as to the availability or quality of the application, and disclaims any and all liability with respect to the application or any usage thereof.