This post was authored by Rohit Goyal, Product Marketing Manager, at Nutanix. Revised on 2/17 to reflect latest functionality.
Continuing the 10 things you need to know blog series, the next step is Acropolis Block Services. We announced Acropolis Block Services (ABS) with the 4.7 release (June 2016). Since then we have continued to enhance its functionality with additional performance improvements and increased qualified client support based on customer demand. Let's uncover the "ten things you need to know" about ABS:
ABS makes it possible to implement shared infrastructure that addresses both hyperconvergence and block-level iSCSI storage for physical servers in a single solution without compromising high availability, scalability, or performance.
ABS enables IT to fully utilize existing server infrastructure even with workloads that remain on bare-metal servers due to licensing constraints, legacy application portability, or existing investments.
Utilize ABS for efficient backup and recovery techniques with simplified cloning of production databases through simplified Prism operations.
Nutanix continually seeks to add additional support for a range of operating systems and hypervisors:
Application performance seamlessly scales with the size of the Nutanix cluster, eliminating the need for fork-lift upgrades. Adding additional nodes increases performance and capacity together and doesn't require any client-side reconfiguration.
Keep operations intact while you add capacity. Online LUN resizing now available in AOS 5.0, will make it easy to increase LUN sizes as needed while minimizing disruption.
Dynamic load balancing, also available in AOS 5.0, will avoid performance bottlenecks by automatically rebalancing traffic across the cluster.
AOS 5.0 also introduces high security with CHAP authentication and IP/IQN based whitelisting designed to ensure that only authorized clients can access specific iSCSI LUNs.
High availability applications such as Microsoft Windows Server Failover Clustering can easily fail-over/fail-back iSCSI LUNs in a matter of seconds.
ABS can be used to export Nutanix storage for use with applications like Oracle databases including Oracle RAC, Microsoft SQL Server, and IBM DB2 running outside of the Nutanix cluster on bare-metal or virtualized servers. This makes it easy to take advantage of the Nutanix web-scale architecture and migrate these apps to hyperconvergence and enterprise clouds at your own pace.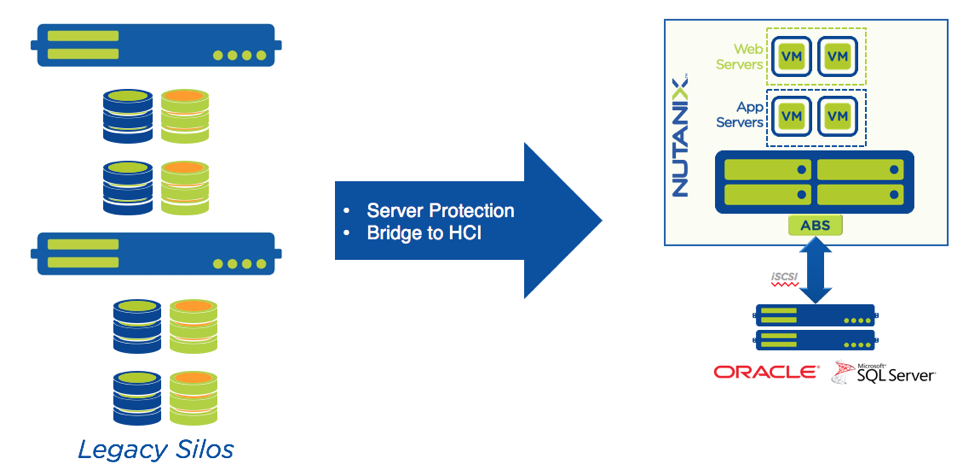 Forward-Looking Statements
This blog includes express and implied forward-looking statements concerning product features and technology that are under development or in process, capabilities of such product features and technology, and our plans to introduce product features, including support for certain third-party solutions, in a future release. These forward-looking statements are not historical facts, and instead are based on our current expectations, estimates, opinions and beliefs. The accuracy of such forward-looking statements depends upon future events, and involves risks, uncertainties and other factors beyond our control that may cause these statements to be inaccurate and cause our actual results, performance or achievements to differ materially and adversely from those anticipated or implied by such statements, including, among others: failure to develop, or unexpected difficulties or delays in developing, new product features or technology on a timely or cost-effective basis; the introduction, or acceleration of adoption of, competing solutions; a shift in industry or competitive dynamics or customer demand; and other risks detailed in our registration statement on Form S-1, as amended, filed with the Securities and Exchange Commission. These forward-looking statements speak only as of the date of this blog and, except as required by law, we assume no obligation to update forward-looking statements to reflect actual results or subsequent events or circumstances. Any future product or roadmap information is intended to outline general product directions, and is not a commitment, promise or legal obligation for Nutanix to deliver any material, code, or functionality. This information should not be used when making a purchasing decision. Further, note that Nutanix has made no determination as to if separate fees will be charged for any future product enhancements or functionality which may ultimately be made available. Nutanix may, in its own discretion, choose to charge separate fees for the delivery of any product enhancements or functionality which are ultimately made available.