This blog was authored by Amit Jain, Principal Product Manager at Nutanix.
"You can't solve a problem on the same level that it was created. You have to rise above it to the next level." – Albert Einstein
Prism
. In this blog, you will see how we have raised the bar by making ROBO management much simpler through
industry's first
1-Click Centralized Upgrades
(available with recent AOS 5.1 software release) of remote sites and with the flexibility of leveraging either the Simultaneous or Staggered mode!
In general, management is a linearly scalable function. So, if there are 'n' clusters, then the order of management is typically
Order(n)
. Those 'n' clusters could be at one site, as is typical for a large enterprise datacenter, or could be spread out at your multiple ROBO/retail sites. The number of such sites could range in number from 10s (e.g. Law firm offices) to 100s (e.g. oil rigs) or even 1000s (e.g. retail stores).
Now, we wanted to set the bar for ourselves such that the management overhead for multi-site needs to be
Order(1).
This is particularly important for your ROBO environments, where there is typically no dedicated IT staff on site and a centralized admin (in the main datacenter) is managing those ROBO sites remotely. And an important operational workflow is handling the SW upgrades.
Raising the Bar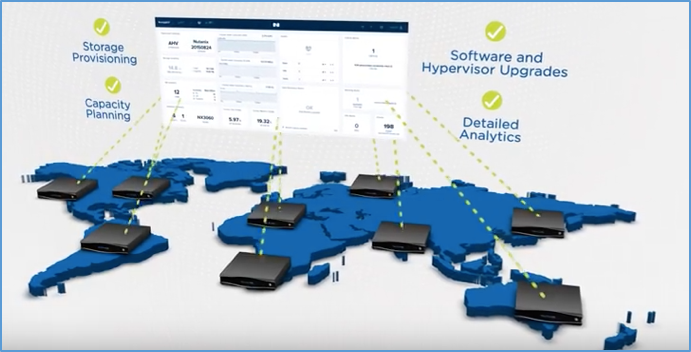 Nutanix Prism
is an end-to-end management solution for virtualized datacenter environments that streamlines and automates common workflows. Prism already offers the
1-Click non-disruptive upgrade
of a single cluster. With the new AOS 5.1 software release, Prism is now capable of creating a grouping of clusters (aka ROBO sites) through tag(s) or through any other search criteria via Entity Explorer, and firing off the AOS upgrades on those clusters with just 1-Click –
an industry-first from Nutanix!
Cluster Tagging
Prism already allowed for the tagging of entities such as VMs and what has been now introduced is the tagging of Clusters. This is important for ROBO environments, as the management is at a granularity of a Cluster [aka site].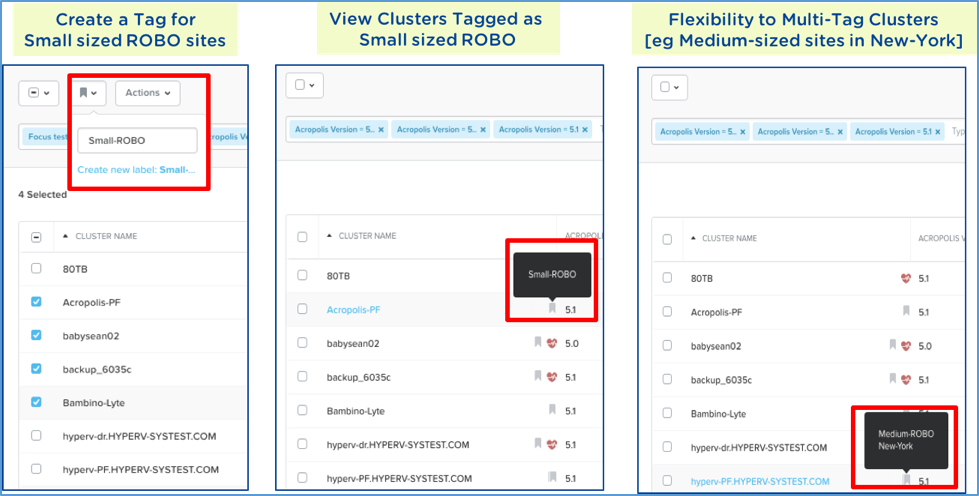 Through Entity Explorer within Prism, you can perform operations or actions on multiple entities at the same time. You can now choose a tag(s) (say for all medium ROBO sites in New York, as in the figure above) and fire off the upgrade task with just 1-Click!
For your environment specific SLAs, you can choose one of the two upgrade modes:
Simultaneous Mode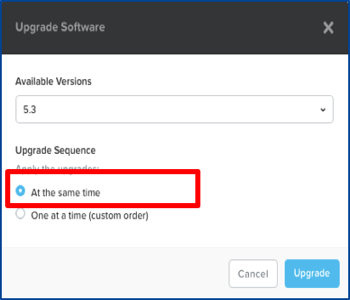 Simultaneous mode (
all-at-the-same-time
) is important when time is of essence, say a critical update or a security patch that you need to push out to all ROBO sites/clusters within a very short period of time. This ensures that all the clusters are upgraded immediately
in-parallel.
Staggered Mode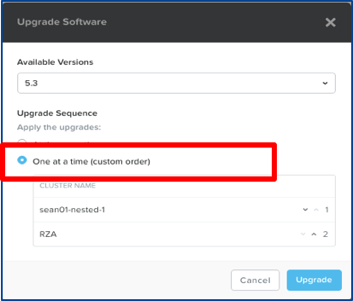 Staggered mode (
one-at-a-time
) allows rolling upgrade of ROBO sites (as a batch job, without any manual intervention) so that the next site won't be upgraded until the previous has upgraded successfully. This ensures your peace of mind so that exposure to any issue, if at all, at any time is just one site and not multiple sites, which is very important if you, as a centralized admin, are managing multiple ROBO sites. Moreover, you can also choose a
custom order
to set the sequencing of sites for the upgrades.
So, in a nutshell, the 1-Click Centralized Upgrades is an
industry-first
feature that truly raises the bar by streamlining the management of ROBO environments!
Techy Tidbit:After Dr. Thomas Harvey performed Albert Einstein's autopsy in 1955, he made off with the key body part – the brain. About 20 years later it would be "rediscovered", studied more and then would be returned to Einstein's granddaughter. The "trip" is chronicled in "
Driving Mr. Albert: A Trip Across America with Einstein's Brain
". There is yet another weird fact -
Einstein's Eyes were removed as well and remain in a safe box in New York
2017 Nutanix, Inc. All rights reserved. Nutanix is a trademark of Nutanix, Inc., registered in the United States and other countries. All other brand names mentioned herein are for identification purposes only and may be the trademarks of their respective holder(s).