Hi all, I passed the the 4.5 version of the NPP and wanted to provide some feedback as well as tips and tricks for those who may be preparing. First, hats off the Nutanix Education on the new coursework. The 4.5 coure on Mindtickle is night and day better than the 4.1 course! Much easier to navigate and digest what is being taught. Again, well done and thanks for putting in the effort.
The exam is 50 questions and you need 4000 to pass out of 5000 possible. The questions multiple choice (checkbox
adio button type). I didn't receive any drag and drop or true or false. Now that's not to say the pool of questions doesn't include these. Each question is worth 100 points. I appreciated that on the checkbox type questions you actually get partial credit for any portion of the question you got right. Each question shows you how many right answers there are. So on a four point multiple choose question with two right answers, you will see two checkboxes and an X. Again, getting one of the two options right nets you partial credit. I believe 40 points. Based on the questions I received, I would focus on:
-Log file types and format
-Data protection (CGs, PD, replication etc.)
-Various dashboards
-Readwrite
-Storage Managment
-Cluster Config and Troubleshooting
-nCLI
-Foundation
Remember to read each question carefully as there are some trick ones in there. I actually failed the exam the first time around with a 3910.. yep one question! Argh! Second time around I was able to get a 4400 with a mostly new pool of questions. I actually received the same question twice in the same sitting which I thought was funny. And there were a few typos on another question. So a few QA items to address which as of this writing are likely already resolved. Speaking of funny, there was one multiple choice question that had four possible answers and four options to chose from. I appreciate the easy giveaway and it made me chucklbut it put me off for a second to process that I was being given the right answer.Now granted it was pretty common sense type question.
Finally, I would not rely solely on the course to pass. I also used the resources below. Of course having the ability to get your hands on the equipment helps, but don't let that stop you. Get the Community Edition and start getting hands experience today.
-Nutanix Bible
-Nutanix DocumentationTech Notes
-nu.school YouTube Channel
-http://www.longwhiteclouds.com
If you passed, you will see an option in the upper right corner to dowload your certificate which looks like this: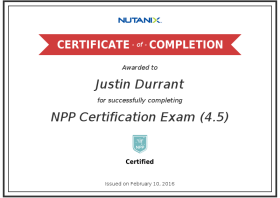 Good luck!