This blog was authored by Marc Malotke, Sr. Systems Engineer at Nutanix.
Welcome back to the installing and configuring your Nutanix CE cluster on Intel NUCs. This is the second installment where we will cover how to deploy an operating system and setup some VMs on your cluster. If you missed the first installment, please click
here
. Once the Nutanix Community Edition (CE) cluster is up and running we can set up VMs with the following steps:
Download ISOs of your favorite operating system (OS)
Upload ISOs to the Nutanix CE Cluster
Install a Windows OS (requires Fedora virtio drivers)
Create and configure a VM
Install the OS
Install the Nutanix Guest Tools (NGT)
Step 1: Download ISOs
For example: You can download the latest Ubuntu Desktop from
here
.
You can also download the Microsoft ISOs from the TechNet Evaluation Center by clicking
here
.
NOTE:
The TechNet Evaluation Center gives you 180 days on servers and 90 days for desktop. This should work fine in a home lab.
Step 2: Upload ISOs to your Nutanix CE cluster
Now that you have downloaded your ISOs, upload them to your Nutanix CE cluster using Image Configuration, which allows you to build an image store. This is a great repository of imported files. You can use it to create a CD-ROM from an ISO image or an operating system disk from a disk image - during the VM creation process.
Click on the gear, on the top right hand side of the screen
Click on Image Configuration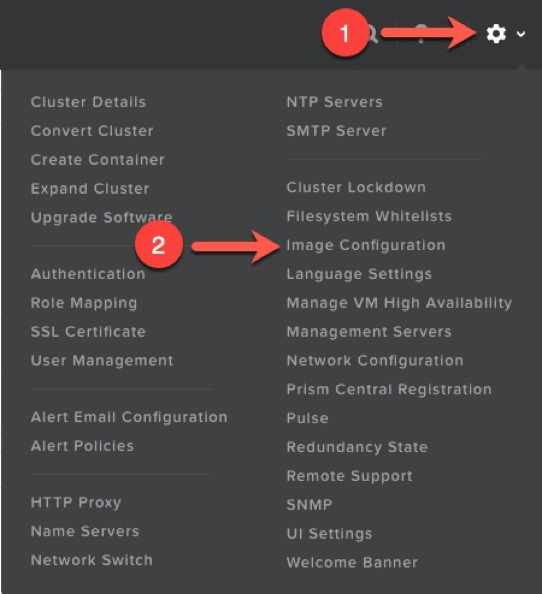 Name: Name your Image file (this doesn't have to exactly match the ISO filename)
Image Type: Select ISO
Container: Where do you want to store the ISO
Image Source: Since the ISO is on my desktop, I need to select Upload a file
Save: Click save and the upload process will start with a progress window
NOTE: While the ISO is uploading do not exit or try to close the progress window because this will cancel your upload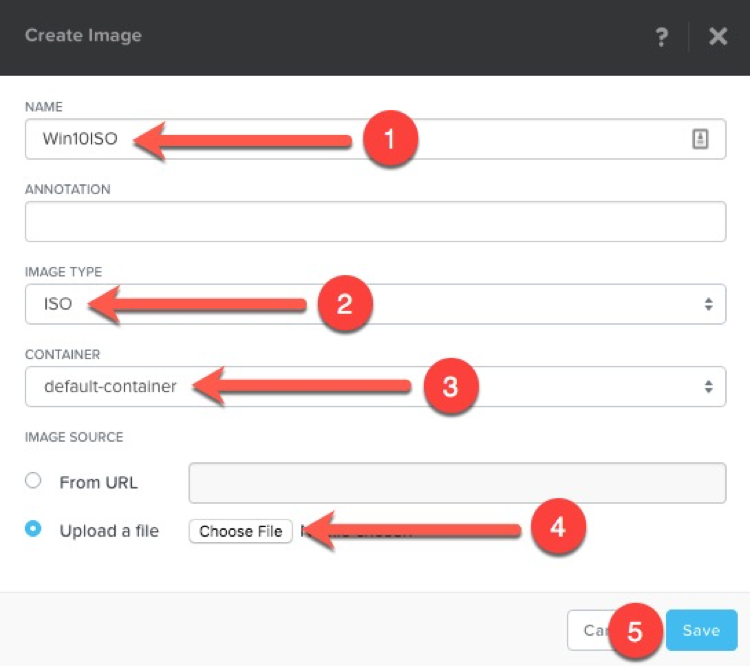 After the ISO upload is complete, it may take a couple minutes for the new Image to become "active" which means usable

Step 2.5: Install a Windows OS (requires Fedora virtio drivers)
If you are installing a flavor of Linux please continue to step 3.
OK, so you are still here which means you want to install a Windows OS.
Nutanix CE runs AHV as the hypervisor, which is based on Linux KVM and requires some additional drivers for Windows OSs.
What we need to do is download the Fedora Windows virtio drivers
https://fedoraproject.org/wiki/Windows_Virtio_Drivers
Click on 3 Direct download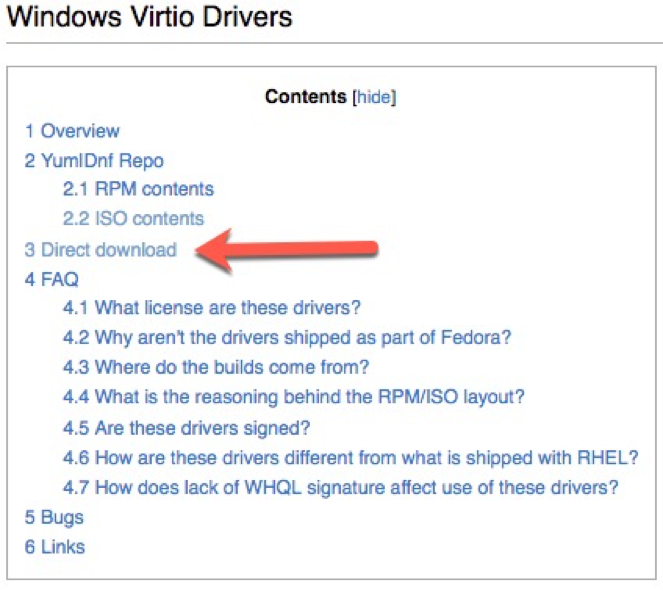 Click the "Stable virtio-win iso" link to download the latest ISO

This will download the "virtio-win-0.1.126.iso" file (this is the latest stable version)
You will have to go back to Step 2: Upload ISOs to your Nutanix CE cluster to upload this ISO to Image Configuration repository
Note:
Fedora drivers are the open source VirtIO drivers, which are slightly different than the Nutanix ones. The Nutanix VirtIO drivers are digitally signed and posted on the regular customer portal. Since Nutanix CE is available to everyone, your login doesn't provide access to the official Nutanix VirtIO drivers. Don't worry the Fedora VirtIO drivers should work just fine.
Step 3: Create and configure a VM
Alright, since I have used examples of uploading the Windows 10 ISO and how to access and upload the Fedora VirtIO drivers, I will continue on with installing Windows 10 in this section.
Now lets create and configure our first VM.
Click on Home
Click on VM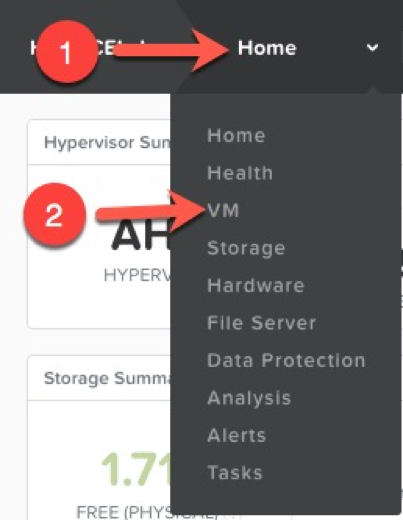 Over on the right hand side click on Create VM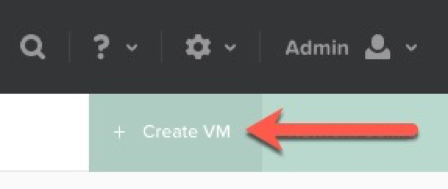 I shared a screenshot of the Create VM configuration page. Normally you have to scroll in this "window" to see all of the configuration options. Further below we will go into more detail on this configuration page.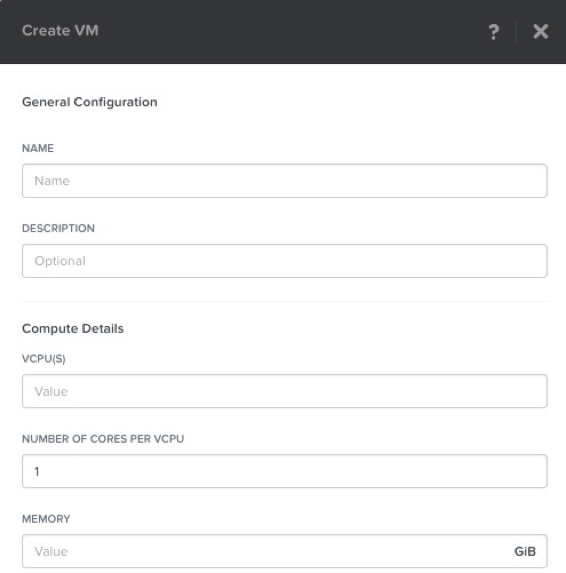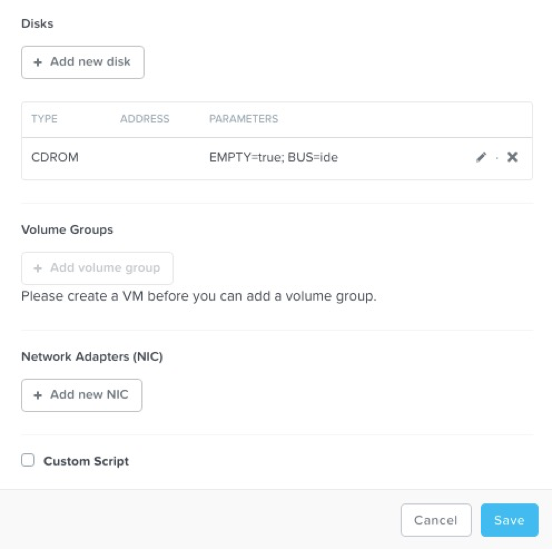 Name: Win10Desktop
vCPUs: 2
Number of Cores per vCPU: 0 (I never modify this)
Memory: 2GB (I find that no matter the OS I install, 2GB is just fine and goes a long way for a home lab)
You will notice that by default there is a CDROM under the Disks section
NOTE: Because this is a Windows OS, we actually have to add (2) CDROMs or ISOs which are (1) the Windows 10 ISO and (2) the Fedora VirtIO drivers, I want to first Delete this default CDROM by clicking on the x on the right hand side.
Make sure to delete the CDROM now

NOTE:
I do this procedure specifically for Windows 10 OS because sometimes the Fedora VirtIO drivers don't show up during installation (I will expand on this later).
Now that the CDROM is gone, we can continue
Click on Add new disk

No need to change Type, Operation, Bus Type, Container
How big do you want the vDisk? I usually use 40GB
NOTE: vDisks are thin-provisioned so the actual vDisk will not take the full 40GB
Click Add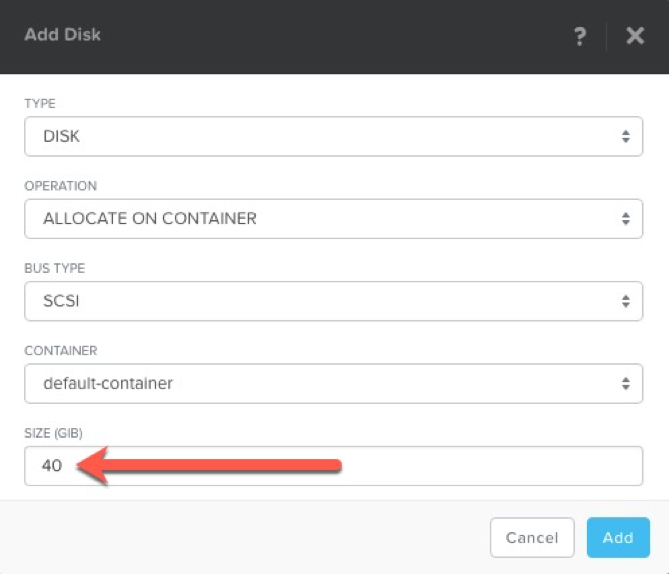 Click Add new disk again
Now we are going to add the Win10ISO from the Image Service
Type: CDROM
Operation: Clone from Image Service
Bus Type: IDE, this should be the default
Image: Select the Win10ISO
Click Add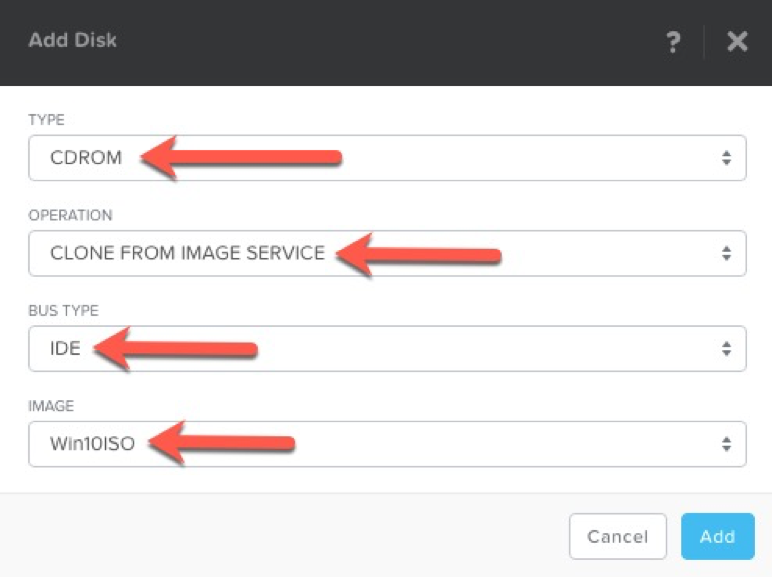 Since this is a Windows OS we need to add a second CDROM
Click Add new disk again
Type: CDROM
Operation: Clone from Image Service
Bus Type: IDE
Image: FedoraVirtISO
Click Add
NOTE: I downloaded this ISO and uploaded it to the Image Configuration as an extra step that was explained in Step 2.5.
Now under Disks, your configuration should look like this
We are almost done!
Next step is to Add new NIC under Network Adapters (NIC)
Click Add new NIC
NOTE: If this is your first VM that you created, you will be prompted that no Network Adapters exist and one must be created.

used "default-network" and set the VLAN ID to 0
Select the network you just created and click Add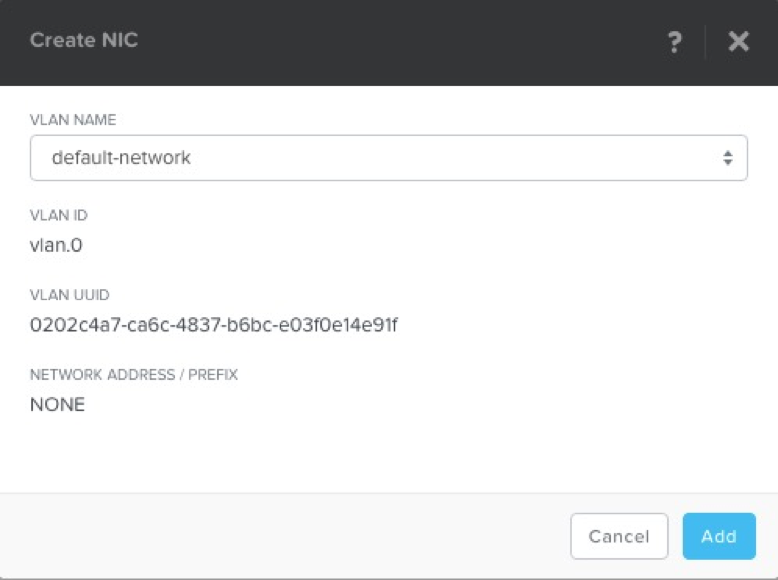 Now that everything is configured, click Save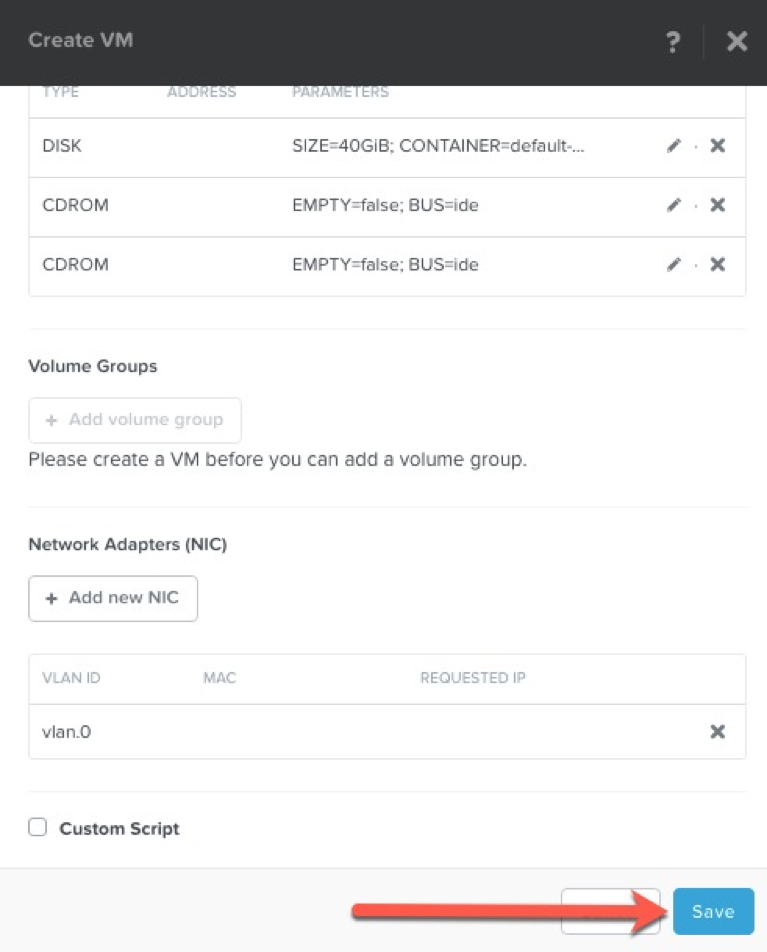 Step 4: Run the VM and Install the OS
Great! Creating and configuring your first VM should have gone without incident. Let's ensure we are good by clicking on Tasks to expand. You should see
VM Create 100%
.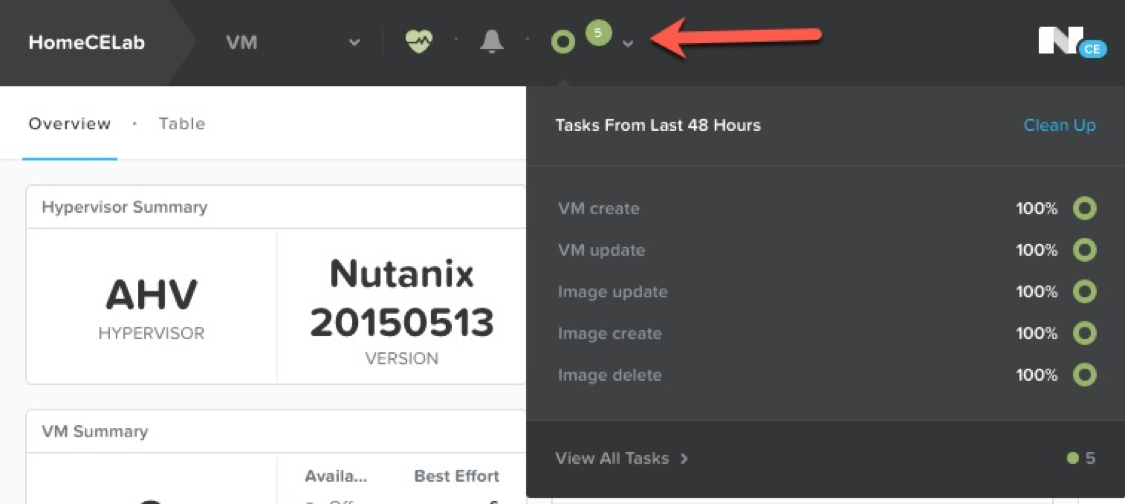 Now navigate to the VM View
Click on Table
Click on your Win10Desktop VM
Click on Power on
Once the VM starts, click on Launch Console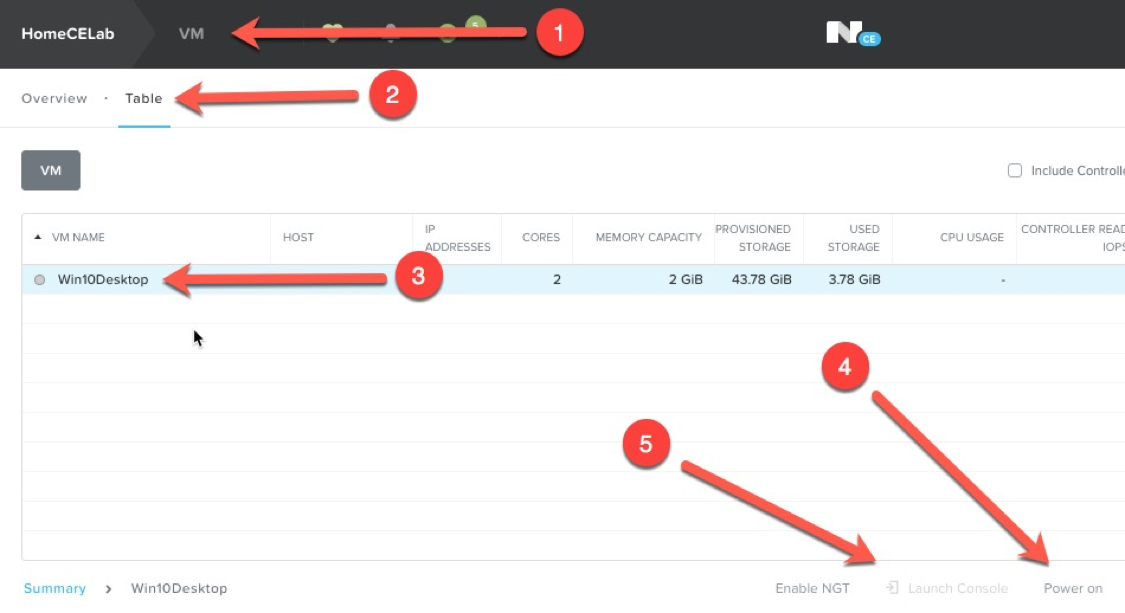 I am assuming you have installed Windows OS so I am going to focus on the main parts of the installation
Select Custom: Install Windows only (Advanced)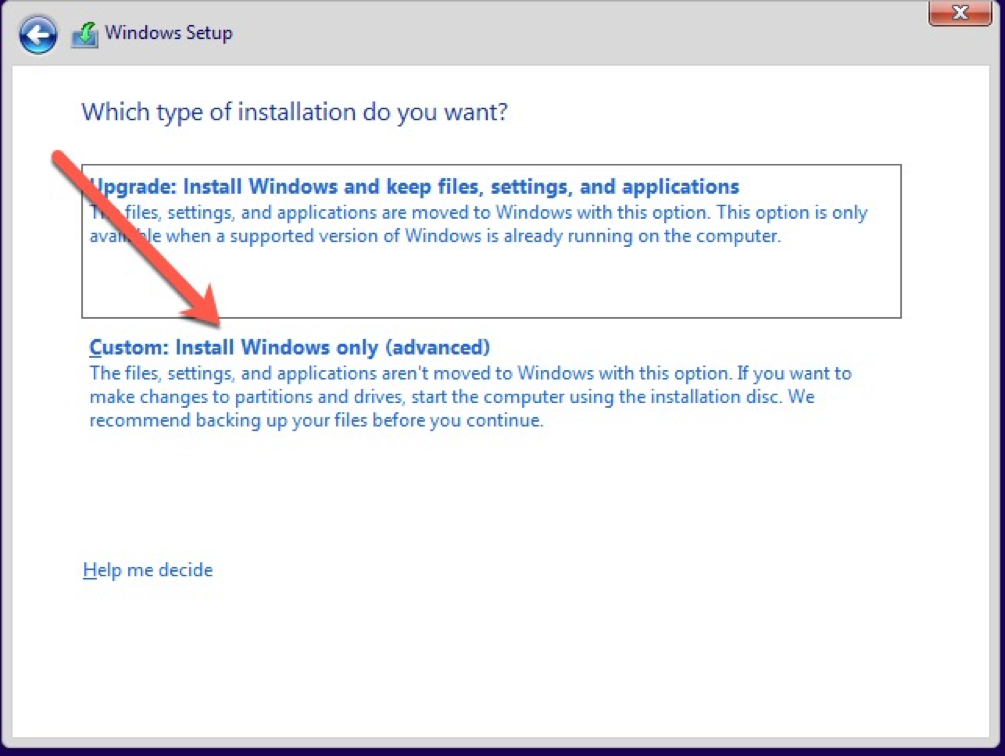 Remember when I mentioned AHV uses KVM and the Windows Installation needs additional drivers.
Click Load driver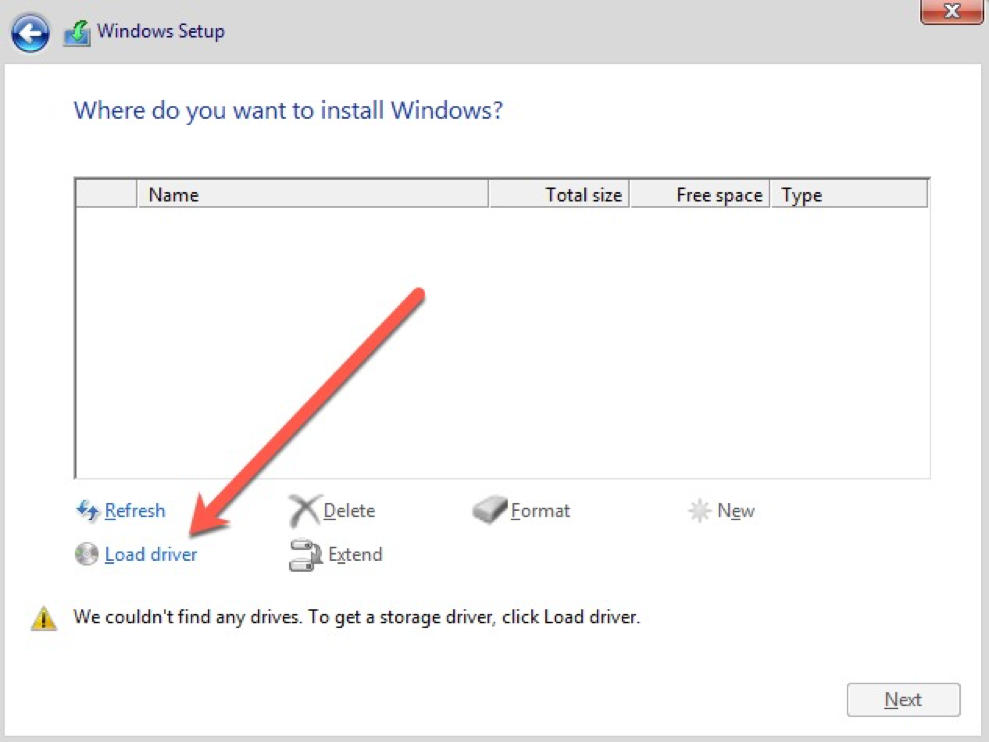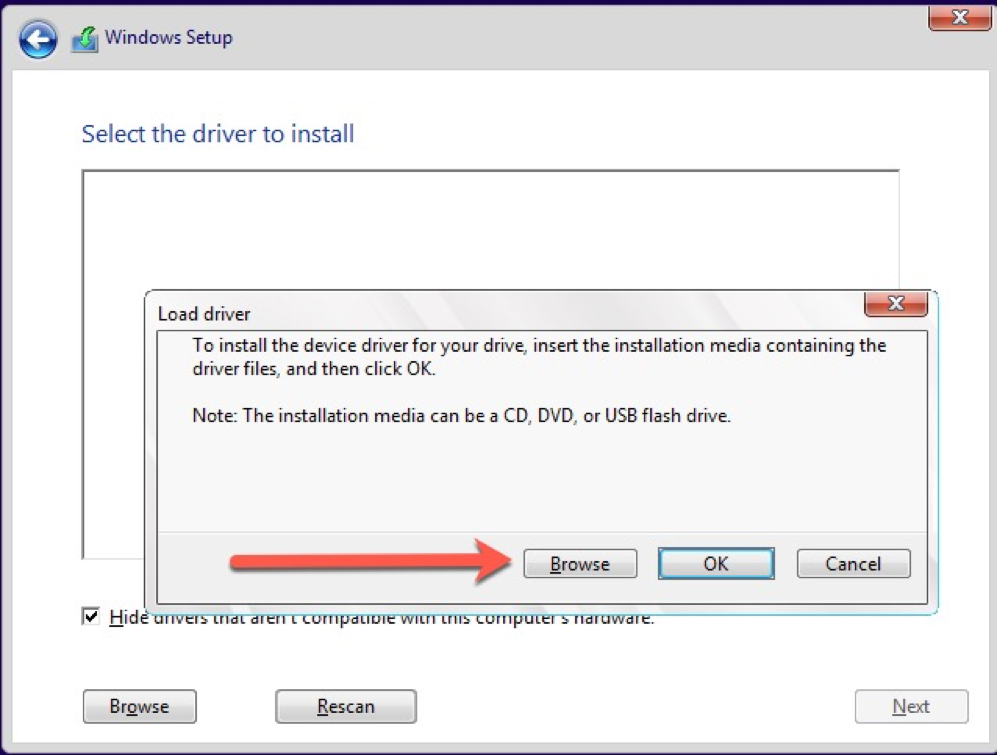 Expand Drive E: (or whatever drive letter that has the VirtIO drivers)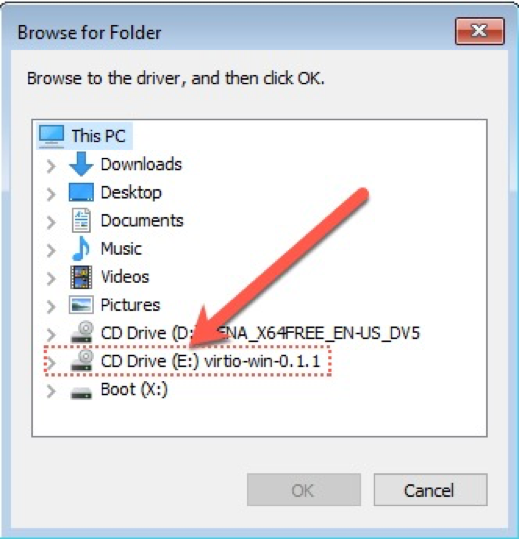 Expand the vioscsi folder
Expand the w10 folder, since we are installing Windows 10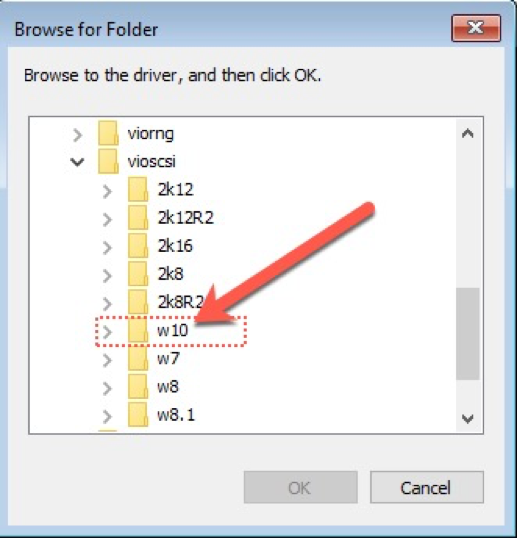 Click on the amd64 folder
Click OK
The Red Hat VirtIO SCSI driver should have been found
Click Next
Now the Windows Installation can see the 40GB vDisk that we created
Click Next to start the Windows OS installation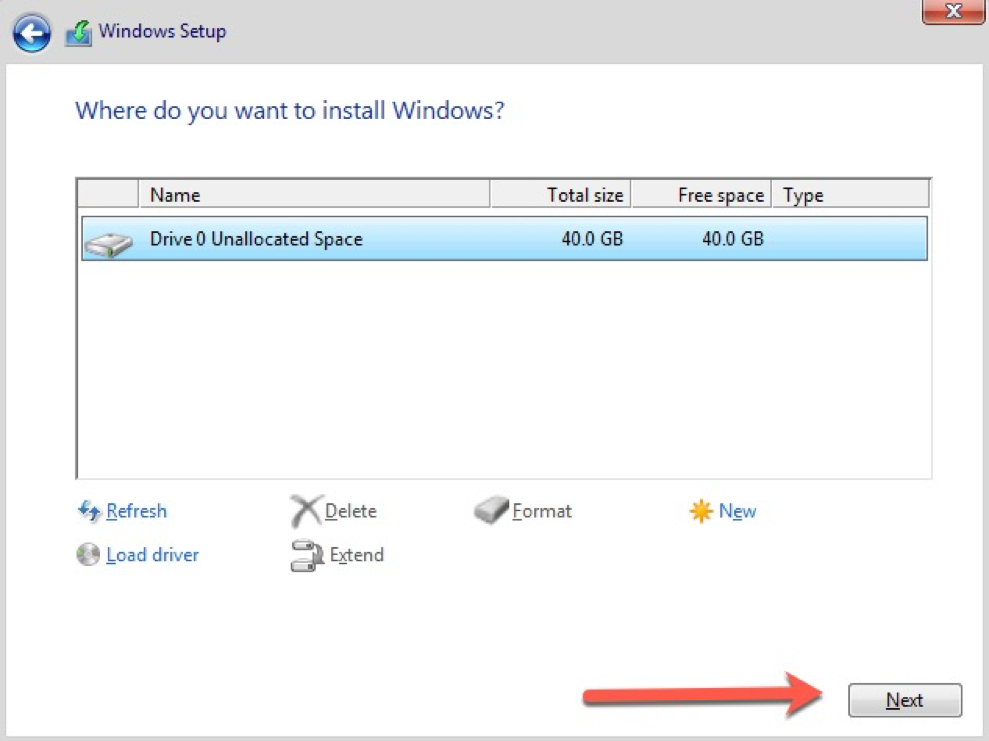 After clicking Next to install Windows 10, the process should take about 3 minutes and then Windows 10 reboots and goes through Getting Ready in about another 2 minutes. It should only take about 5 minutes to get to the Create an account for this PC screen, which is fast!
Alright, now that Windows 10 is up and running we have to install (2) additional drivers from the Fedora VirtIO ISO
Right-click the Windows Logo
Click on Device Manager
In Device Manager we need to update (2) Windows Drivers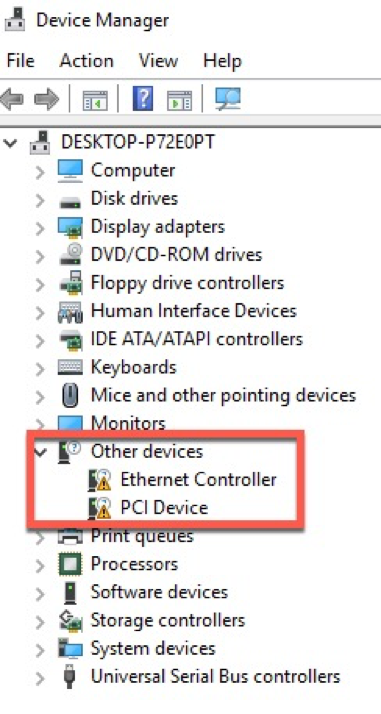 Right Click on Ethernet Controller
Click on Update Driver Software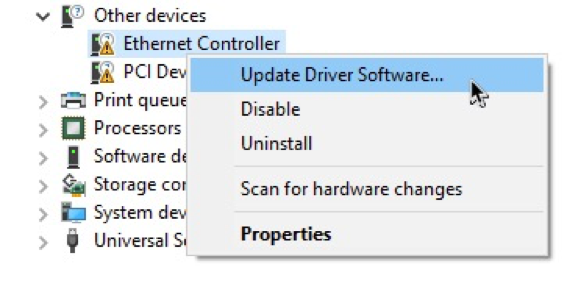 Click on Browse my computer for driver software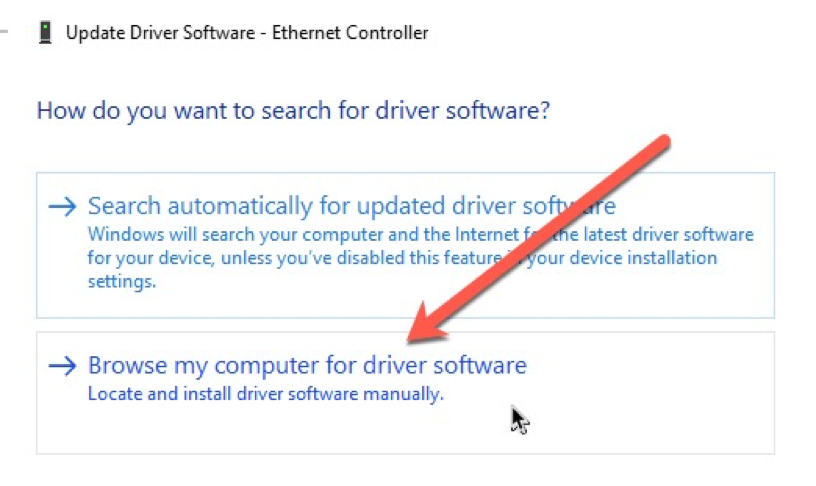 Click on Browse
Click on the correct driver that has the virtio-win-0.1.1 aka the Fedora VirtIO Drivers
Click on Next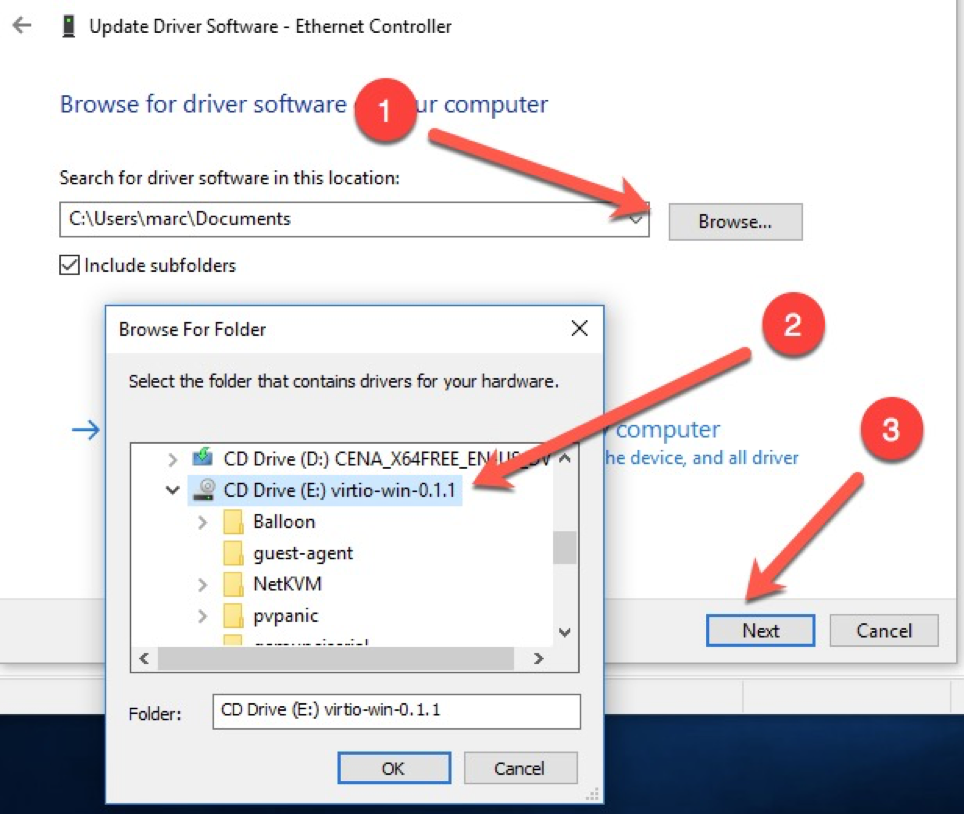 Click on Browse
Click on the correct driver that has the virtio-win-0.1.1 aka the Fedora VirtIO Drivers
Click on Next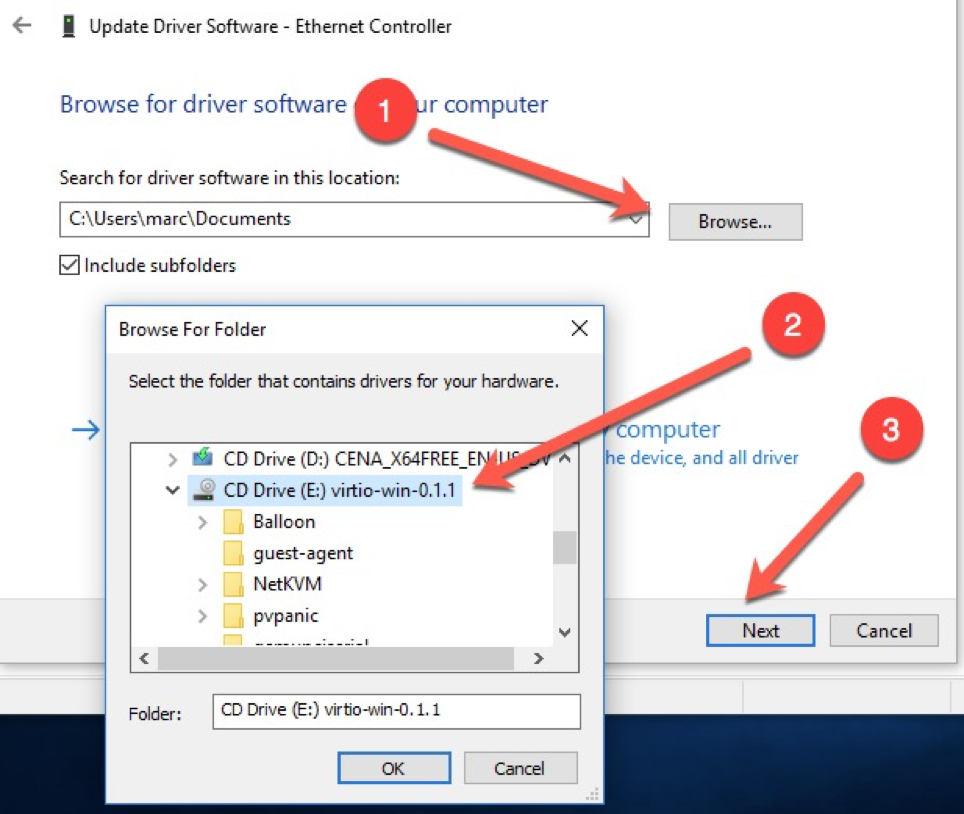 Now repeat the last couple steps above to install the driver for the PCI Device
After you are done, the drivers have been correctly installed as seen below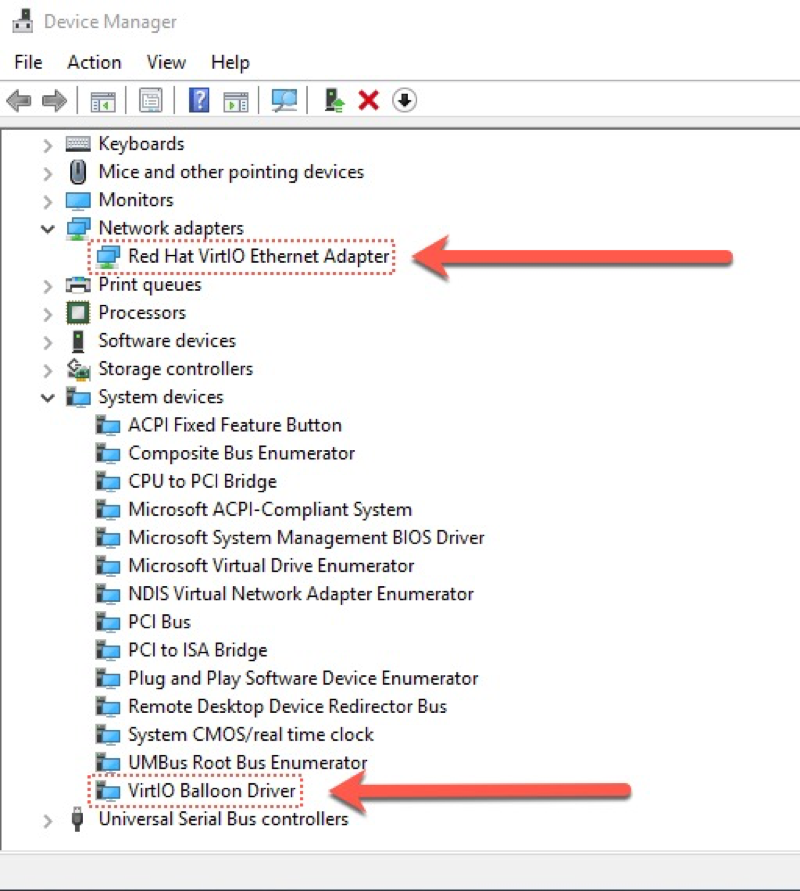 Congrats, you have successfully installed your first VM.
Step 5: Install the Nutanix Guest Tools (NGT)
Nutanix Guest Tools enable self-service restore and application-consistent snapshots with Microsoft Volume Shadow Copy Services (VSS). So let's install it!
To install NGT, make sure you are in the VM View
Click Table
Click your Win10Desktop VM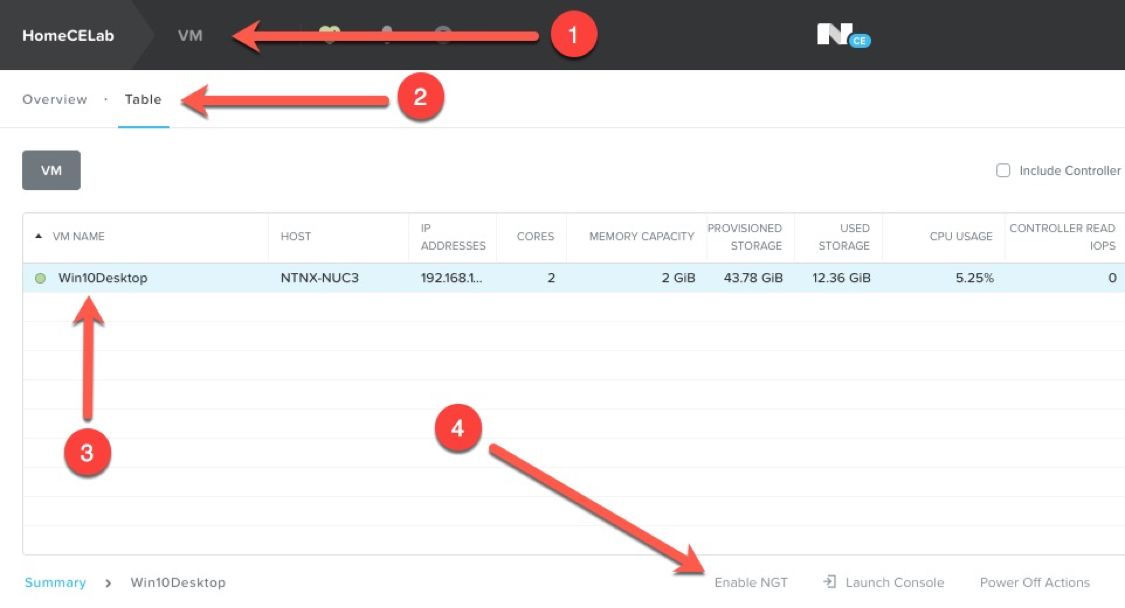 Click Enable NGT
NOTE: In order to install/enable NGT, you need to have at least a CDROM added to your VM. Since we still have (2) CDROMs added to this VM we are good to go
The following window opens for you to confirm
Click Yes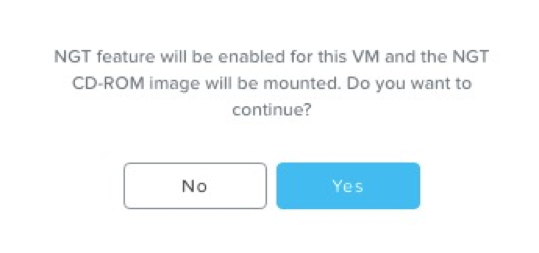 OK, I admit, I wanted you to do this step so you can experience the following error
"The VM does not have an empty CD/DVD-ROM Device" appears
Even though we have (2) CDROMs attached to this VM, they currently have the Windows 10 Installation ISO and the Fedora VirtIO ISO mounted, we don't need these anymore so let's eject them
NOTE: You cannot delete CDROMs from a powered on VM, so we will just eject the mounted ISOs.

What you need to do is make sure you have the Windows10Desktop VM selected
Click on Update

Scroll down to Disks
Click the Eject icon for both CDROMs
After you have ejected the mounted ISOs, the parameters will show empty
Make sure to click Close
Now go back and Click Enable NGT
NOTE: You may have to Click Disable NGT (Click Yes, then wait for this to change back to Enable NGT)
Now go ahead and Click Enable NGT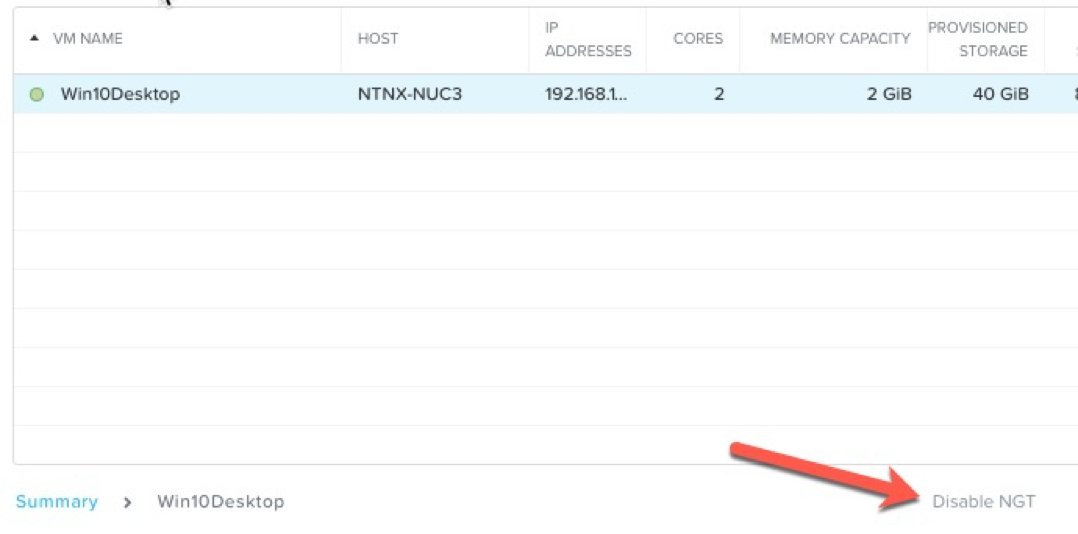 Switch back to the Console Window
Open Windows Explorer
Click on This PC
You should see the NUTANIX_TOOLS mounted on the CDROM
Double-click to run the installation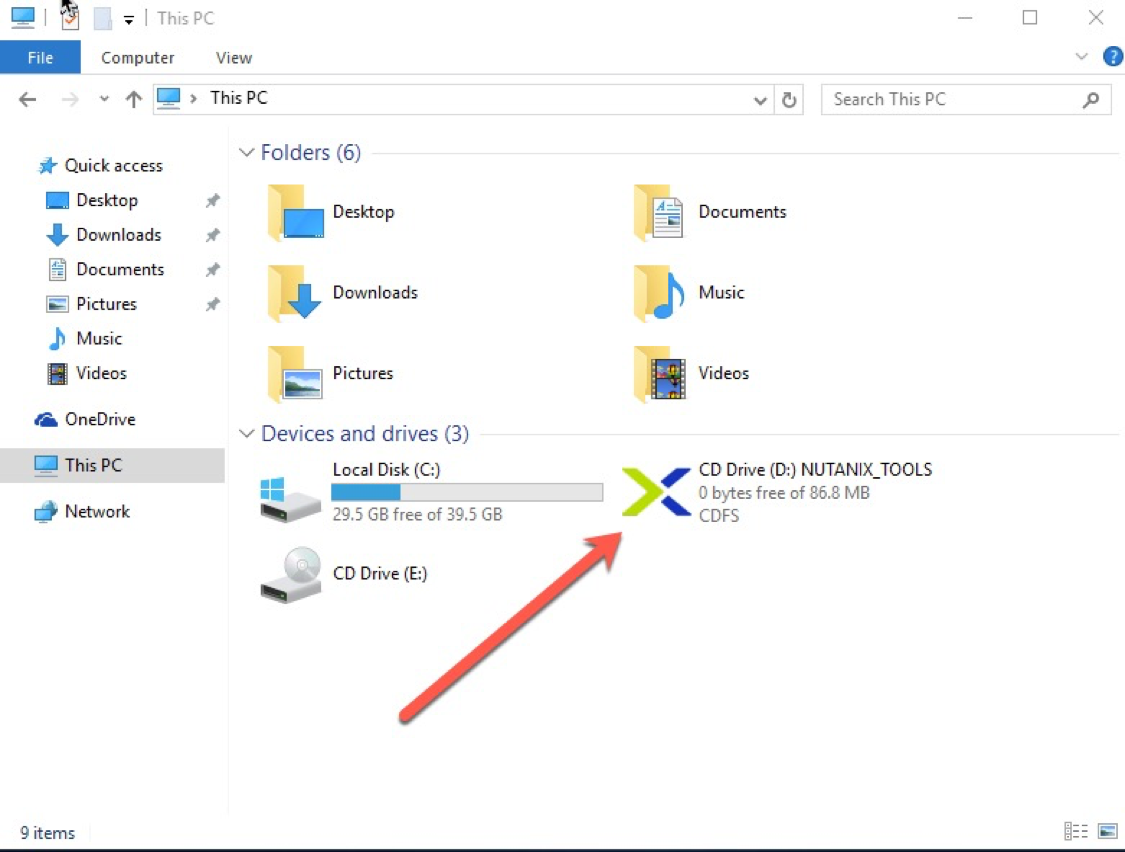 Read and accept the license, click on Install
You will be presented with a handful of additional windows, just keep clicking Next to complete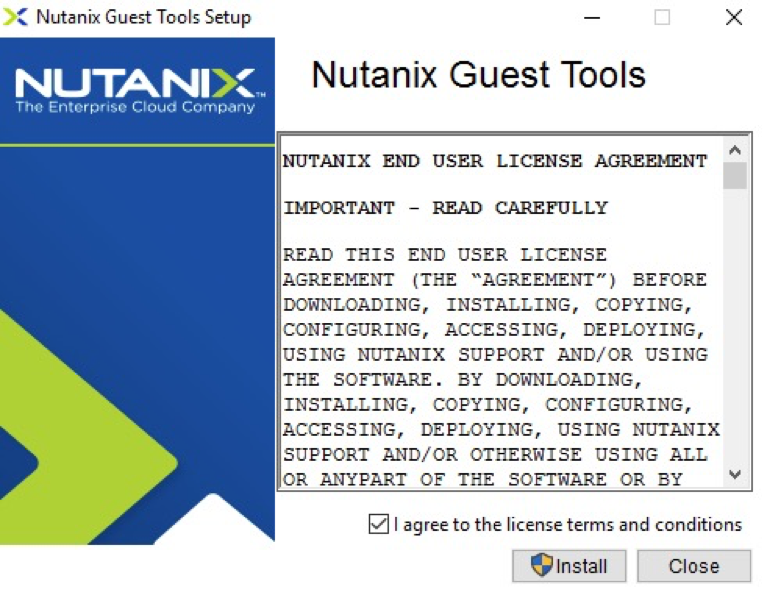 Cool, you have now installed NGT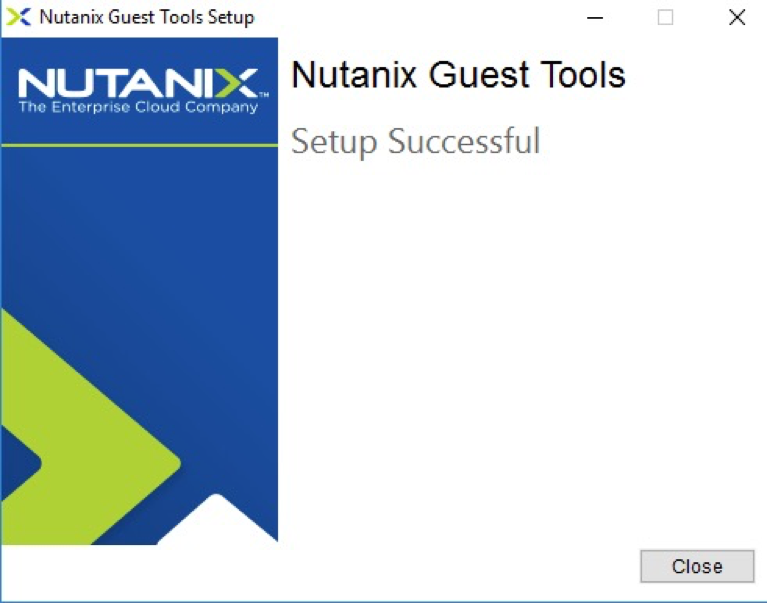 Last step just to be thorough, we want to remove (1) of the (2) CDROMs
Power down the Windows 10 VM
Go back to the VM - Table View
Click on Win10Desktop VM
Click on Update
Scroll down to Disks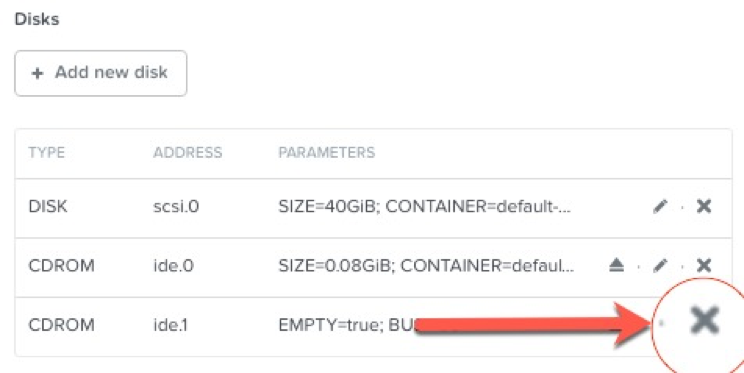 Delete CDROM ide.1 by clicking on the X
Click Yes to remove
Click on Save
Power on your Windows 10 VM, start the super cool update and patching process.
You have completed all 5 steps, great job!
Disclaimer
: This blog contains links to external websites that are not part of Nutanix.com. Nutanix does not control these sites, and disclaims all responsibility for the content or accuracy of any external site. Our decision to link to an external site should not be considered an endorsement of any content on such site.