This post was authored by Prashant Batra, Nutanix
We live in the information age! Everything around us is increasingly smarter, context aware, and designed with the clear purpose of intelligently serving us as individuals. Proliferation of these intelligent services is no more a surprise, but the norm – whether it is the social feed that's tailored towards your favorite friends and your ideologies in life, or it's the advertisements that pop up everywhere, with a knack of knowing exactly what you want or fancy these days. The world of IT is no different – every vendor is obligated to leverage the power of data, and create a more intelligent, seamless and delightful experience for its customers.
At Nutanix, we stride forward everyday with sights on one single purpose / mission – Make Infrastructure Invisible! This mission is two part:
Building industry leading products that challenge decades of assumptions in the world of IT, by enabling consumer grade design and simplicity as foundational pillars
Building a world class Support organization that's delivered NPS>= 90 for the last 5 years in a row – a feat unparalleled in the industry and a reflection of how, well engineered products combined with great support, can turn into delightful customer experiences and a winning strategy.
No wonder our customers continue to grow their Nutanix footprint and are finding more and more use cases to run on the Seamless, Scalable, Reliable and always improving Nutanix Enterprise Cloud. This does not imply that Nutanix can now rest on its laurels – on the contrary, this obligates Nutanix to take the trust its customers have placed in it, and continuously strive to innovate around better products and delightful support.
Presenting Nutanix Pulse!
What is Nutanix Pulse?
Nutanix "Pulse" is designed to be a pulse check from any/all Nutanix cluster(s) to an Insights service run by Nutanix. When enabled in a cluster, Pulse sends diagnostic system information that can be leveraged by Nutanix to proactively assess and support customer deployments.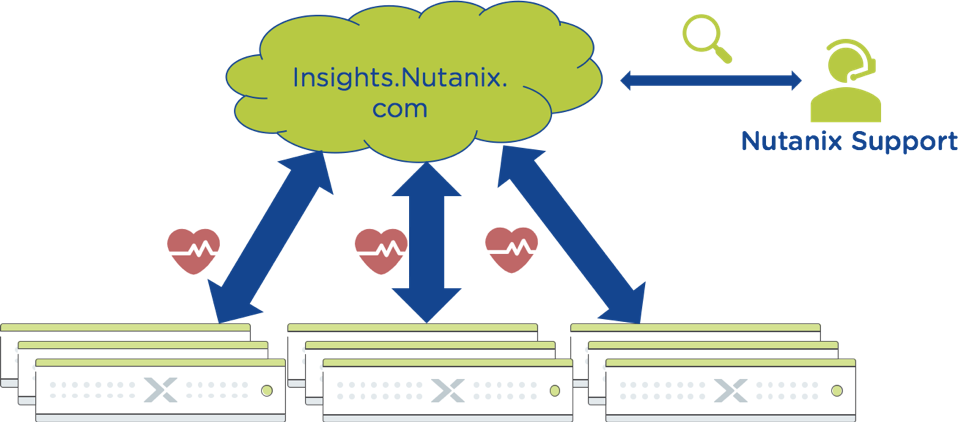 The magic isn't in sending all this diagnostic system data to Nutanix - that's the first baby step! The magic happens when the data is ingested and turned into actionable insights at insights.nutanix.com. This is where Nutanix runs a Big Data pipeline, designed to ingest, process, transform, correlate and analyze all the config, metrics, alerts, tasks, logs, and other events, and generates Insights. These Insights help deliver better products and world class Support.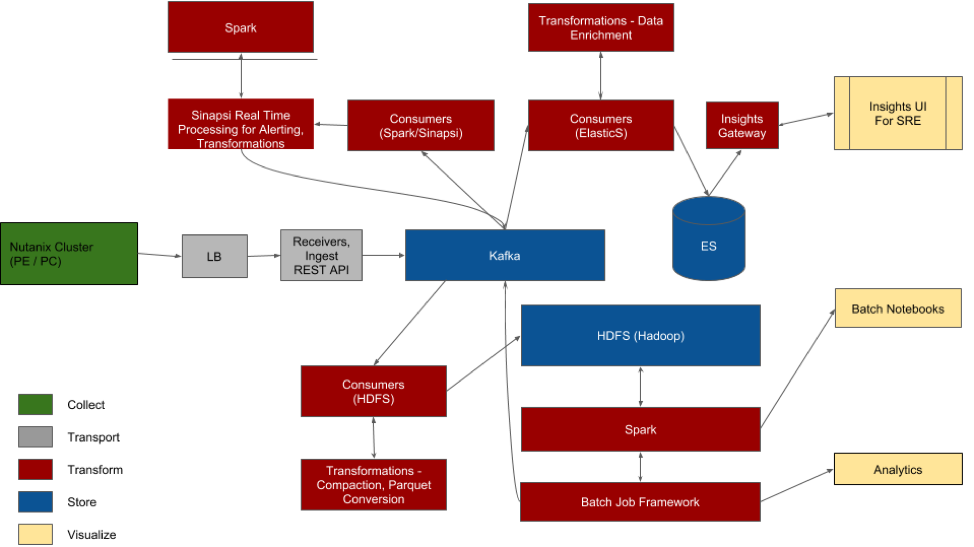 Some key ways that Nutanix leverages this Pulse data :
Nutanix Support teams can use this data to deliver pro-active, context-aware support for Nutanix solutions.
Insights / Alerts from the data can be served to Customer IT admins within the Nutanix customer portal, with actionable guidance for self-resolution
For Fatal Critical Alerts, support teams can proactively create a case, and kickstart the resolution process, even before the Customer IT teams have discovered the actual issue.
Nutanix can also use the data to analyze product / feature usage and effectiveness. Insights gained will then feed into our Product and Feature Roadmap planning, to ensure that the product development does not happen in isolation and is based on real feature usage from our real world deployments.
When Pulse is enabled, a Nutanix cluster automatically and unobtrusively collects the needed diagnostic information with no effect on system performance. Pulse sends basic system-level information that is utilized to monitor the health and status of a Nutanix cluster. This information includes the following.
System alerts
System Tasks
System Logs
System Configuration
Performance Metrics
Current Nutanix software version
Nutanix processes and Controller VM information
Hypervisor details such as type and version
All the above information is specific to the Customer's Nutanix system and is not identified to any customer workloads and applications. Furthermore, necessary steps are taken to ensure that Personally Identifiable Information (PII) is not collected by default including the anonymization of all PII strings before being sent to Nutanix Insights platform.
What benefits can I expect?
As a Nutanix Customer, enabling Pulse on your Nutanix platform will provide a better support experience for you, as well as great insights that can help you better manage your Nutanix Enterprise Cloud. Some key benefits expected are:
Every time you interact with Nutanix support, the Support teams will have the data available to provide a clear insight into your Nutanix deployment from an infrastructure standpoint. This clear assessment of your infra lets Nutanix Support teams dive straight into the issue at hand and make immediate and accurate recommendations to help resolve the issue.
For critical / fatal alerts, the Nutanix support teams may proactively create a case on your behalf, and reach out to you with details on the issue, and steps for resolution. As an example, if a disk has gone bad, this alert is visible to Nutanix Support teams. Even before you may have discovered this issue (due to the highly fault tolerant architecture of the Nutanix Enterprise Cloud platform), it is possible that the Support teams may have initiated a replacement process and sent you details.
Insights on things that need your attention will be serviced to you on the Nutanix Customer portal, with clear recommendations on how to help address the issues. These allow you to self-resolve certain non-fatal events, without the need to open a support case or reach out to contact anyone. Nutanix admins are empowered IT heroes!
You can expect Nutanix to deliver new products, new features, quality and performance improvements with great agility and relevance, based on a good understanding of how you are using the Nutanix platform. As an example, a number of features around our Data Reduction capabilities were inspired by analysis of data from Nutanix Pulse.
We note that this is Nutanix's approach to a true democratization of Customer Councils - most product vendors host customer councils with their largest accounts, to get feedback on product, which feeds strongly into Product Roadmaps. In turn, this drives product development which heavily gravitates to the top tier of customers, and comes at the cost of the much larger base below. With a true data backed holistic view from all clusters across
all customers
, Nutanix can now do away with biases and build products that fit the needs of all customers.
Overall you can expect Faster Case resolution times, less redundant information exchange for any case, and a more delightful customer experience.
How to enable Pulse?
Enabling Pulse is easy. While every node in every cluster needs to send diagnostic data to Nutanix Insights service, we allow all this data to be proxied via PC (Prism Central). This makes the deployment fairly simple and requires your Security team to only allow one outbound connection from PC.
In order to enable Pulse, do the following:
1. On PC (Prism Central), enable Pulse by finding Settings (Gear icon) -> Pulse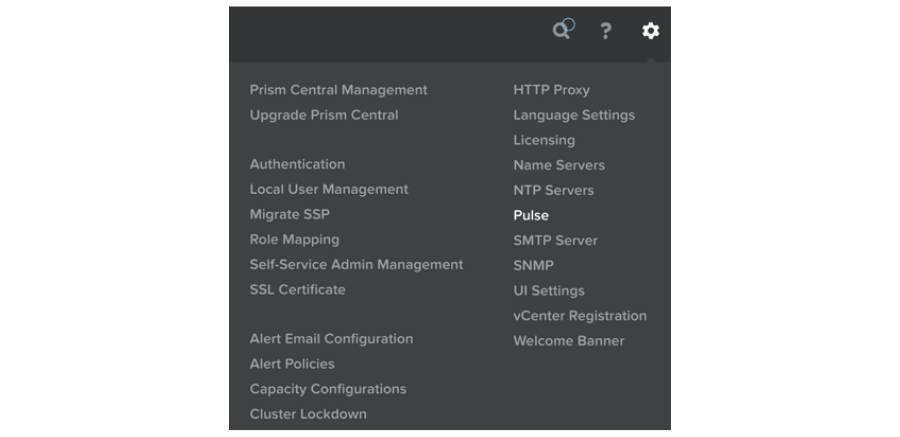 Just in case you don't have PC deployed today, or a certain cluster is not under PC management, you can find the same Pulse setting on PE (Prism Element) as well. Though we highly encourage doing this via PC, for a simpler deployment.
2. This brings up a pop-up which details some info on Pulse and presents you with a checkbox to enable Pulse. Simply check this 'Enable' checkbox and Save the setting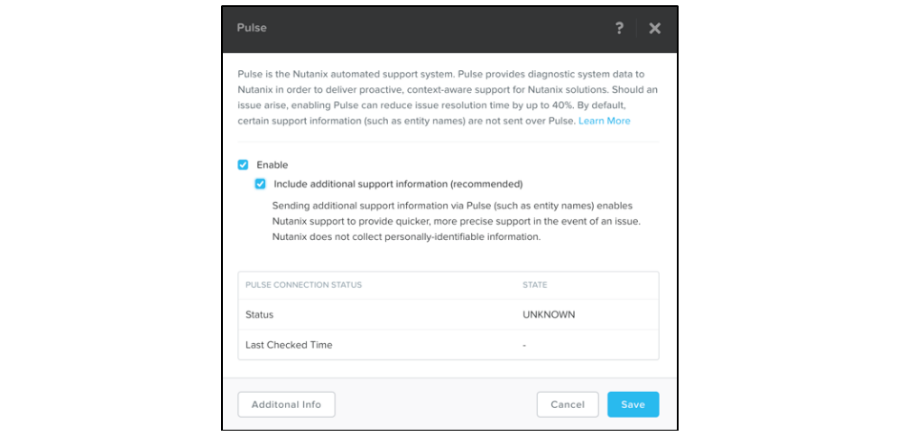 It is further recommended that you also enable the second checkbox – 'Include additional support information'. By default all strings representing entity names and addresses are anonymized at collection time. While this is a good practice, it does make it slightly harder for Nutanix Support teams to pinpoint what VM, what IP, what Disk is having an issue, since the entity name is now garbled! Enabling this checkbox, allows Entity names to flow to Nutanix, making the support experience for you better.
3. Once successfully enabled, you can see the Connectivity Status in the 'Pulse Connection Status' box

NOTE
: Both PE and PC support Network Proxies, and can be configured to route all Pulse data via such an outbound Proxy.
NOTE
: All traffic for Pulse is outbound. No connection is ever made in-bound to your clusters.
NOTE
: It is also recommended that you set up Alert emails, for pro-active support and case creation, by following the instructions in
Configuring Alert Emails
in Prism Web Console Guide.
Recommended Software Versions
There are two key components that enable Pulse to function
NCC – Latest (at the time of publishing this blog, latest NCC version is v3.6.1.1)
PC > 5.8 (when using PC, you will need at least NCC v3.5)
Next Steps
Go ahead and enable Pulse. You can find more information on Pulse at:
You can always talk to the awesome
Nutanix Support
for more in-depth details as well.
© 2018 Nutanix, Inc. All rights reserved. Nutanix, the Nutanix logo and the other Nutanix products and features mentioned herein are registered trademarks or trademarks of Nutanix, Inc. in the United States and other countries. All other brand names mentioned herein are for identification purposes only and may be the trademarks of their respective holder(s).