Why did Nutanix create the NPX Program?
The NPX program is our answer to the global shortage of Enterprise Architects who really understand the business benefits of web-scale. The market needs proven veterans who know how to successfully migrate companies to the same kind of efficient, scalable infrastructure used by Google, Facebook and Amazon. We're really focused on developing people who can take customers on that journey to fully democratized IT – where the gap between the economics of public and private cloud starts to disappear. That means being fluent in all kinds of legacy workloads and platforms while understanding the next generation of IT services and the operational models that go with them. It's a challenge but we're up to it at Nutanix.
What are the goals of the NPX Program?
Certified graduates of the NPX Program will have a unique set of skills, including the demonstrated ability to deliver enterprise-class web-scale solutions built on multiple hypervisors and vendor software stacks (including solutions based on Microsoft® Hyper-V, VMware® vSphere, and KVM). Our hypervisor agnostic certification for Enterprise Architects is a first in the industry. Multi-hypervisor expertise gives every NPX the freedom to design cutting-edge Web-scale solutions for customers based solely on their business needs. The depth and breadth of the solution design and delivery skills validated through our peer-vetted program means every NPX will be a superb technologist, a visionary evangelist for web-scale, and a true Enterprise Architect - capable of designing and delivering a wide range of cutting-edge solutions; custom built to support the business goals of the Global 2000.
Are there any certification prerequisites for NPX?
While it is not necessary that a candidate hold specific industry certifications beyond
Nutanix Platform Professional
(NPP) or specific professional or academic credentials, NPX is unique in requiring expert-level mastery of multiple vendor solution stacks. Therefore it is highly recommended that candidates have skills equivalent to individuals holding one primary plus one of the secondary certifications used as a skills benchmark in the NPX Program Readiness Self-Evaluation Matrix: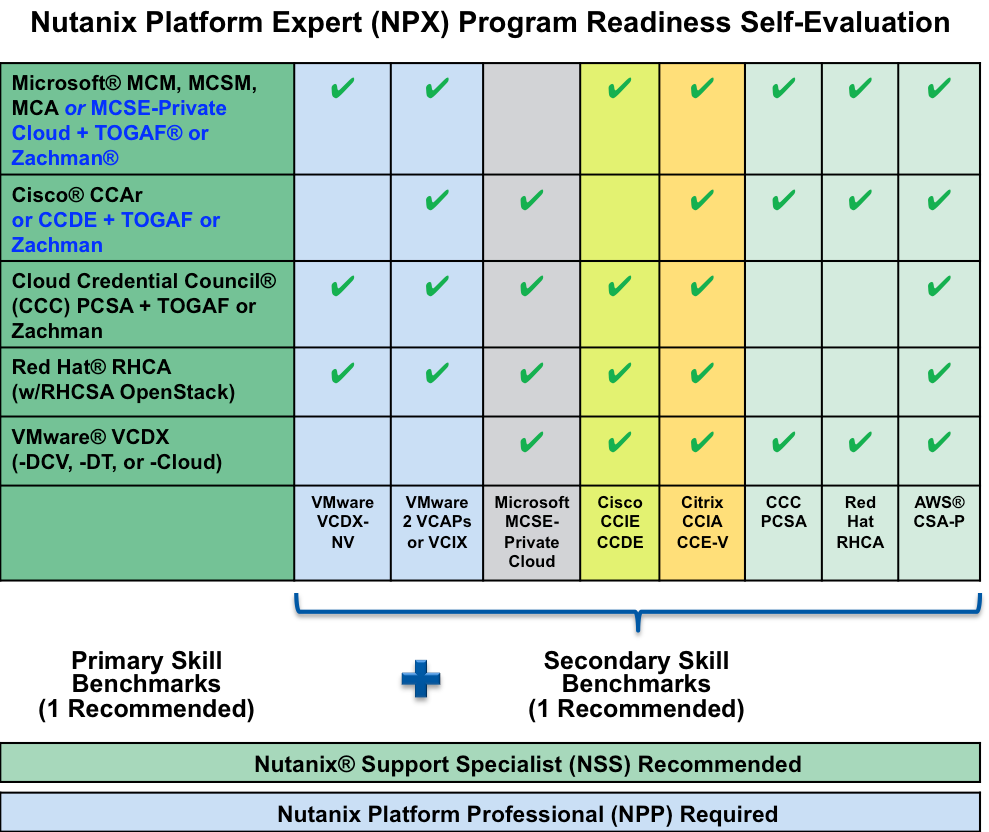 The matrix is not meant to be exhaustive – equivalent industry certifications, professional credentials, or academic degrees may also be used as benchmarks for self-assessment prior to applying for NPX Program acceptance.
While not a prerequisite for NPX, the NSS training and certification vets the skills required for Level 1 & 2 support of a Nutanix cluster. NPX Program candidates may find these skills very useful in the hands-on portion of the NPX Design Review. To learn more about training and exam availability for the NSS certification, email
nu.school@nutanix.com
Where is the schedule of NPX Design Reviews and application due dates published?
The schedule is posted in this forum along with application due dates.
How do I apply for the program?
Instructions are detailed in the NPX Program application. Completed NPX Applications should be sent to
npx@nutanix.com
. If an application is too large for attachment, Nutanix will provide a link to a secure file transfer service. To request the link contact the NPX Program Manager via
npx@nutanix.com
.
What is the time commitment required to complete NPX certification?
This will vary widely depending on job role and experience. However, given the demands of the program candidates should plan to spend between 100-200 hours at a minimum preparing for NPX certification.
What benefits do I get for becoming NPX certified?
NPX-holders will have many benefits including use of the NPX logo, and a catalog of cool NPX gear, but most importantly they will be welcomed into and supported by Nutanix and a community of the world's top Enterprise Architects. Nutanix will also reward commitment to the NPX Program by granting all NPX-holders free access to Nutanix-sponsored events, the opportunity to present at leading industry conferences, and access to beta programs.
Does NPX certification expire?
NPX Certification does not expire. However NPX-holders are expected to keep their skills up-to-date, participate actively in the NPX community, and mentor others who aspire to be NPX.
What are the NPX Program fees?
The NPX program is free to qualified applicants at this time. This may change as the program grows but any fees collected in future will be the minimum required to offset program costs.
How do I get an NPX mentor?
NPX mentors are available to qualified applicants on a first-come-first-served basis. To apply for the NPX Mentor Program send your request and a CV to
npx@nutanix.com
.
Do I need to be a Nutanix employee or partner to be NPX?
No.
Who are the NPX Certified Examiners?
NPX Certified Examiners (NCE) are NPX-holders who have completed training in performance-based skills assessment.
Does my NPX solution design need to be built on the Nutanix Platform?
Yes.
Can I submit an NPX solution design built on Dell hardware?
You may use any hardware certified to run Nutanix. That includes Dell hardware.
What happens if my NPX Program Application is rejected?
If a candidate submits an application that does not achieve a score sufficient to pass the NPX Program Application Review their application will be rejected. Other reasons for application rejection may include late submission (missed deadline), an incomplete document set, lack of sufficient detail in the solution design, or any evidence of plagiarism. Detailed feedback will be provided regarding areas that require improvement. After a 6-month waiting period has expired, candidates will be allowed to reapply. Reapplying candidates will be required to document their revisions and show compliance with recommendations made by their NCE reviewers. Candidates who fail a second NPX Program Application Review will be required to submit an entirely new design for any subsequent attempts. Additionally, they may be required to seek training and obtain certifications equivalent to those specified in the NPX Program Readiness Self-Evaluation Matrix before reapplying.
What happens if I fail my NPX Design Review?
Candidates who complete the NPX Design Review but do not achieve a passing score will receive detailed feedback on their session with recommendations for improving their performance in subsequent reviews. Failed candidates will be assigned an NPX Mentor and may not apply for a second review until their mentor agrees that they have addressed any knowledge deficiencies outlined in their session feedback.