This post was authored by Chris Brown, Solutions Marketing at Nutanix
OpenStack is a powerful tool for managing private clouds, but that power has historically come with a price: complexity. Today we're very excited to announce a new way to remove that complexity with Platform9's Managed OpenStack product, for deployment, upgrade, monitoring and support for all Nutanix OpenStack users.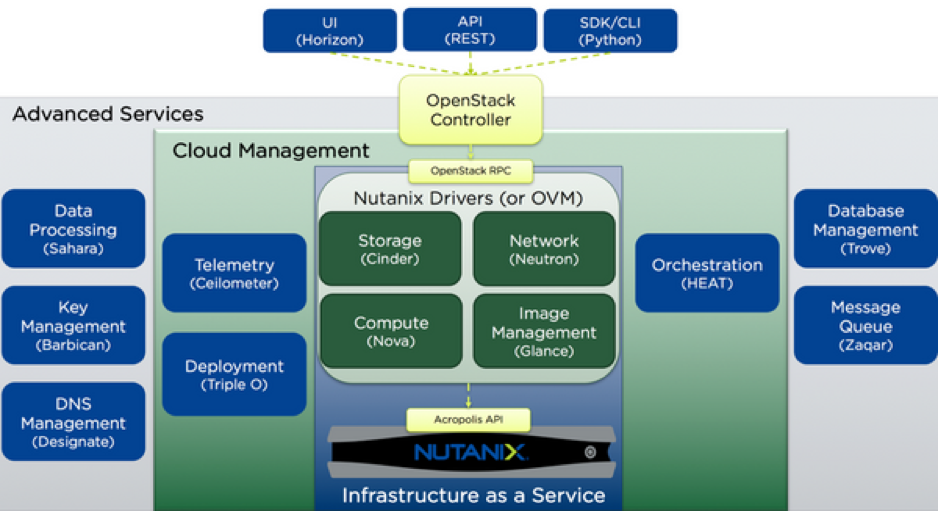 Nutanix OpenStack Drivers: Release 2.1.4
With each new Nutanix release you can expect a trove of new features, and the Nutanix OpenStack drivers are no different.
Check out this previous blog
to learn how the drivers work. Here are highlights of the new release:
Native OVM HA Support: With this new release, you can now deploy the Nutanix OVM in a clustered fashion avoiding any single point of failure without any additional tools
Flexible Deployment Options: With new options for how to define connectivity and port choices the drivers work with more OpenStack deployments natively
OpenStack Liberty Support: OpenStack Liberty focused on core services and improving operational capabilities. With this update, Nutanix clusters can easily be integrated into Liberty deployments to provide the IaaS core of any OpenStack deployment
Most importantly, the upgrade to Liberty means that we can now integrate with OpenStack providers based on Liberty, such as Platform9:
Platform9 is Nutanix Ready!
Platform9
has made massive waves with their fully SaaS-managed OpenStack offering.
Platform9 Managed OpenStack
manages OpenStack complexity for you and allows you to easily integrate OpenStack into your infrastructure.
There is no manual OpenStack deployment needed – Platform9 instantly deploys, manages, upgrades and monitors OpenStack for you, giving you instant time to value and adding no additional operational and maintenance overhead. With this broad reach, Platform9 can provide unified management and policy-based control access across widely distributed infrastructure.
By combining the Nutanix Enterprise Cloud Platform with Platform9 Managed OpenStack, you get the best of both worlds – an easy to use stack that reacts and is managed just like any public cloud. While Platform9 is simplifying the way you and your users provision and use applications, Nutanix will be simplifying operations for the underlying infrastructure. Key benefits of Nutanix in this integration with Platform9 include:
Predictive Analytics: Nutanix provides predictive analysis on growth and what-if analysis, meaning that as more users start deploying workloads using Platform9 or whatever the business throws your way ("What if I have to add 500 VMs to support an acquisition next month?"), Prism will tell you if you the infrastructure can handle it or what is needed before it can.
Simplify operations:No more zoning, masking, RAID group, or other configuration required. Nutanix infrastructure deploys in minutes and combined with Platform9 you can go from nothing to a full OpenStack cloud faster than ever before. The benefits don't stop at deployment though - with integrated one-click firmware, storage, and hypervisor upgrades you won't be held back with old code or need to spend weeks planning and nights executing upgrades. Take your weekend back!
Cloud-native infrastructure: Nutanix is built on the same principles as today's public clouds, but at any scale. Linear scaling lets you start small and grow as needed without over provisioning and native self-healing lets you handle hardware failures on your schedule rather than making a new emergency.
As you can see, Nutanix makes the perfect base for Platform9. With Platform9's removal of OpenStack complexity and Nutanix's removal of datacenter infrastructure complexity you can get a true cloud experience faster than ever before. Make sure to follow us on
twitter
and join the conversation around this and other technologies on the Next forums.
Nutanix Ready identifies recommended applications and solutions that are trusted to enhance the Nutanix Delivery infrastructure. All products featured in Nutanix Ready have completed verification testing, thereby providing confidence in joint solution compatibility. Leveraging its industry leading alliances and partner eco-system, Nutanix Ready showcases select trusted solutions designed to meet a variety of business needs. Nutanix Ready demonstrates current mutual product compatibility, continued industry relationships, and interoperability.
Disclaimer: This blog may contain links to external websites that are not part of Nutanix.com. Nutanix does not control these sites and disclaims all responsibility for the content or accuracy of any external site. Our decision to link to an external site should not be considered an endorsement of any content on such site.
2017 Nutanix, Inc. All rights reserved. Nutanix is a trademark of Nutanix, Inc., registered in the United States and other countries. All other brand names mentioned herein are for identification purposes only and may be the trademarks of their respective holder(s).