This is the fourth installment in a blog series focused on the needs of Service Providers. You can find links to all blogs in the series at the end of this article.
Infrastructure-as-a-Service (IaaS) providers face mounting pressure from direct competition with public cloud. To compete in this new era, it is critical to be able to offer flexible, agile, and reliable services.
A Nutanix enterprise cloud gives IaaS providers more flexibility. Instead of the complexity of deploying and managing separate servers, SANs, and storage, Nutanix provides hyperconverged infrastructure that combines all three elements into simple-to-deploy, standard building blocks.
Combined with powerful integrations with some of the most popular cloud portals—such as OpenStack, VMware vRealize, and Microsoft AzurePack—Nutanix is the perfect building block for your cloud offering. Flexible options let you tailor services more closely to your needs and those of your customers:
https://#_Nutanix_FlexPrice
https://#_Mix_Platforms
https://#_Deploy_Hybrid
https://#_Deploy_All-Flash
https://#_Choose_Hypervisors
https://#_Get_Deeper_Insights
https://#_Save_Space_and
https://#_Increase_Availability
https://#_Repurpose_Equipment
https://#_Support_Self-Service
Improve Economics
Nutanix FlexPrice offers a better way to procure equipment. With FlexPrice, you purchase hardware directly (from Super Micro, Dell, or Lenovo currently) and license Nutanix software as it is needed. With three-month to three-year plans available, FlexPrice lets you run the newest generation hardware while expanding and contracting seasonally. By reducing overall costs, you can increase margins—or pass the savings on to customers.
Mix Platforms
Nutanix provides a broad range of platforms: compute-heavy, storage-heavy, and storage-only. All types and generations can be mixed in the same cluster to satisfy your needs. You can easily add whatever resource you need without re-architecting the entire solution. You can deploy multiple node types and offer those to your customers as different classes or tiers of service.
You can always deploy the latest generation technology so your cluster stays current. Older nodes can be repurposed or decommissioned as needed. You get more useful life out of your hardware investments and never suffer through painful and disruptive forklift upgrades.
Deploy Hybrid
A hybrid Nutanix cluster offers a combination of HDDs for capacity and SSDs for performance. Each node has local access to both types of resources. Storage is pooled across all nodes. Data is automatically tiered so that each VM's data is preferentially stored on local storage with hot data stored on SSD for optimum performance.
Because each node in a Nutanix cluster offers both storage and compute, the noisy neighbor effect that plagues centralized storage systems shared by hundreds of VMs is eliminated. This design ensures that the data your customers care about is always stored in fast SSD while cold data is offloaded to less expensive HDD storage.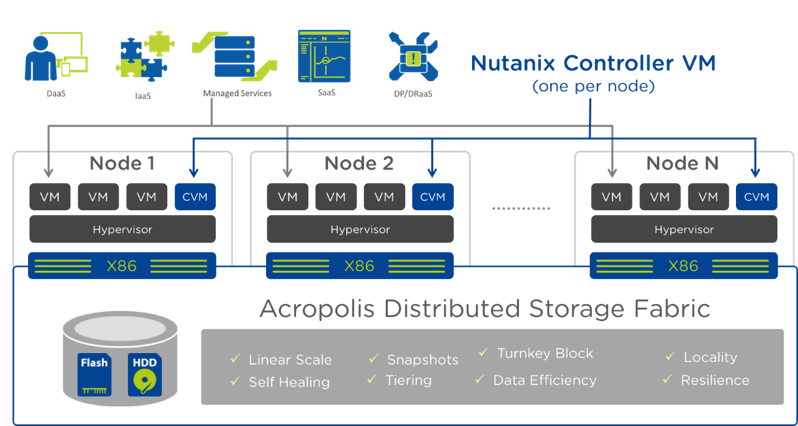 Distributed Storage Fabric provides tiering, data locality and more
In hybrid environments, critical VMs can be pinned in the SSD tier for even greater performance. This can be offered as a premium service.
Deploy All-Flash
Consumers of IT services increasingly recognize the value of all-flash architectures for predictable performance and reliability. You can use Nutanix all-flash nodes to create all-flash clusters. All-flash is ideal for a premium service where performance across the entire dataset is the number one concern, such as business-critical Tier-0 and Tier-1 databases.
Choose Hypervisors
A single Nutanix cluster can run your choice of hypervisor, and you can move VMs between cluster running different hypervisors using the App Mobility Fabric. Nutanix offers full support for VMware vSphere, Hyper-V, and Nutanix AHV, so you can offer your customers a choice of hypervisors without forcing them to change.

Advantages of AHV
Because Nutanix AHV is included with Nutanix purchases at no additional cost, you can deploy it to lower your virtualization licensing costs. AHV is a next-generation hypervisor built to take advantage of the Nutanix hyperconverged architecture—it's streamlined and delivered the way core infrastructure should be—it's
simple, secure, and highly scalable
. Managed through Nutanix Prism or REST APIs, AHV includes the core virtualization features required in today's datacenters, such as high availability, live migration, and one-click upgrades.
Get Deeper Insights
You may have little direct visibility into the workloads your customers are running. Nutanix Prism provides deeper insight into running workloads. Prism's resource runway shows you when you'll need to add new nodes. Combined with what-if analysis, these capabilities remove the guesswork when it comes to scaling, and can provide additional value to your customers.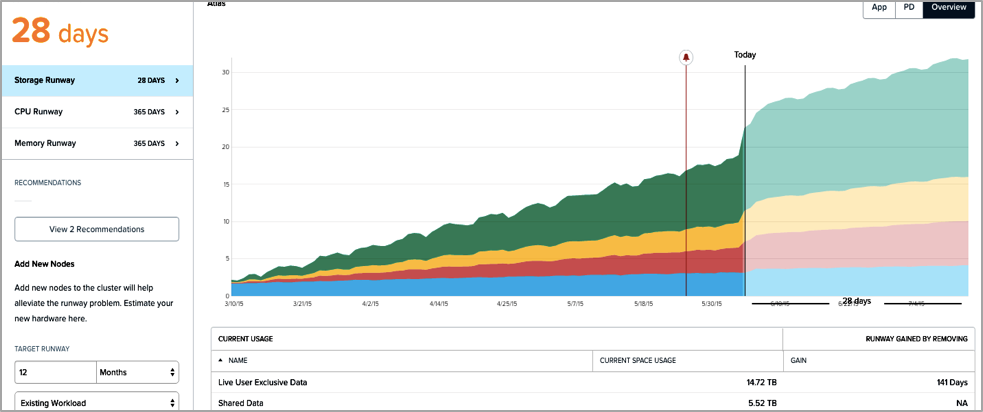 Save Space and Time
Because Nutanix replaces separate servers, storage, and SANs, it reduces space, power, and cooling requirements. Nutanix customers
report reducing datacenter footprint by as much as 80%.
Inline compression and deduplication reduces your overall storage requirement—and your IT footprint. Those savings contribute to significant time savings as well. Nutanix customers spend 71% less time on infrastructure management
according to IDC
.
Increase Availability
Service providers need to protect against both planned and unplanned downtime. Nutanix eliminates the need for planned downtime with one-click, non-disruptive upgrades for Nutanix software, hypervisors, and firmware. A highly resilient architecture reduces outages due to failures through intelligence resource handling and self-healing. Nutanix clusters can be architected to withstand the failure of individual server nodes or an entire server enclosure (four nodes). And because the Nutanix architecture is self-healing, it reduces the urgency to replace failed drives and other hardware. With this technology in hand,
iCore has eliminated the impact of hardware failures
and maintained a %100 uptime for their workloads
The Nutanix solution includes everything you need for local backups, remote backups, asynchronous, and synchronous replication. These capabilities form the foundation of additional value-added data protection and availability services that you can offer customers.
Repurpose Equipment
The Nutanix Operating System makes it easy to repurpose equipment as needed. You can switch a node from one hypervisor to another or take nodes offline in one datacenter where you've got excess capacity and move them to another where they are needed, eliminating expensive over-provisioning.
Support Self-Service
Nutanix solutions will work with your in-house portal or choose options from VMware, Microsoft, or
IaaS deployment with Nutanix, NSX, and vRealize
.)
Get Started Fast
Another benefit of Nutanix for IaaS providers is the ability to get started quickly. Instead of spending days or weeks integrating servers, storage, and SANs, you can be up and running in minutes, and you can start small and scale out your Nutanix cluster incrementally. Many service providers deploy Nutanix for one service and expand the footprint to other services over time.
These are just some of the benefits that Nutanix brings to IaaS. Be sure to follow
Nutanix
on Twitter or
reach out to us directly
to get a demo and a deep dive into all of our technology. Also, continue to watch for additional blogs in this series.
Previous blogs in this series:
This post is authored by Chris Brown, Solutions Marketing Manager at Nutanix