End user computing solutions allow enterprises to provide a rich and adaptive user experience to their mobile workforce while consolidating control and protection of resources and dramatically improving ROI.
However, for these benefits to fully materialize, the solution needs to be enabled by infrastructure that can scale in line with the application, driving cloud-like economics and agility, but with the security and reliability of on-premises solutions.
By combining technologies from F5 and Nutanix, customers can dramatically simplify and linearly scale their VDI deployment. Furthermore, they can ensure secure remote access of users to their desktops through rich authentication and verification schemes
Hyper-converged scale out for end user computing
Nutanix delivers an out-of-the-box turnkey infrastructure solution for the market leading desktop and application virtualizations solutions, eliminating the high cost, variable performance, and extensive risk of conventional solutions. Taking VMware Horizon View as an example, the Nutanix platform's unique architecture allows enterprises to scale their View virtual desktops from 50 to tens of thousands of desktops in a linear fashion, providing customers with a simple path to enterprise deployment with the agility of public cloud providers. Benefits of the combined VMware and Nutanix solution include:
Simple, out-of-the-box deployment: Ready to deploy virtual desktops in under 60 minutes, managed from the virtualization console.
Linear scale out: Scale users seamlessly and modularly with no performance degradation. Data locality allows local caching of data to remain close to the workload and reduces congestion on the network.
Better than PC performance: NOS features, including inline-deduplication, eliminate IOPS resulting in fast application response and boot/login experience. Base images can be fingerprinted enabling the benefits of in-line deduplication with no overhead.
Lower costs: Lower infrastructure CAPEX than a PC and lower ongoing operating costs due to ease of use and small footprint.
Business continuity: Built-in native replication and disaster recovery (DR) features enable highly available desktops to be deployed in mission-critical environments. Block awareness allows larger clusters to lose up to 4-nodes without using any additional capacity.
Enterprise-grade management: Nutanix Prism delivers a simplified and intuitive consumer-grade approach to managing large clusters, including a converged management tool that serves as a single pane for servers and storage, and alert notifications.
F5 for secure desktop and application delivery
Ensuring rich user experience is a critical factor in the success of virtual desktop deployments, where the performance of the virtual desktop needs to compare favorably to a conventional desktop while availability and security needs to be greater.
The F5 BIG-IP Access Policy Manager (APM) provides secure remote access to the virtual desktops in a high performant and scalable way, while avoiding the need to expose sensitive Windows servers, AD joined servers or View Connection servers to the DMZ.
The F5 BIG-IP's rich traffic management capabilities provide valuable load balancing and health monitoring for the View Connection Servers, resulting in higher system availability and greater scalability of the overall deployment – ultimately, a better user experience.
Linear scale-out – The F5 Big-IP APM can be right sized for a target deployment with offerings ranging from micro, small, medium and large, all available as virtual editions - the F5 BIG-IP VE. The BIG-IP APM VE can be deployed seamlessly on the Nutanix platform, providing customers a seamless way of scaling out their APM capacity, fully in line with the virtual desktop deployment size.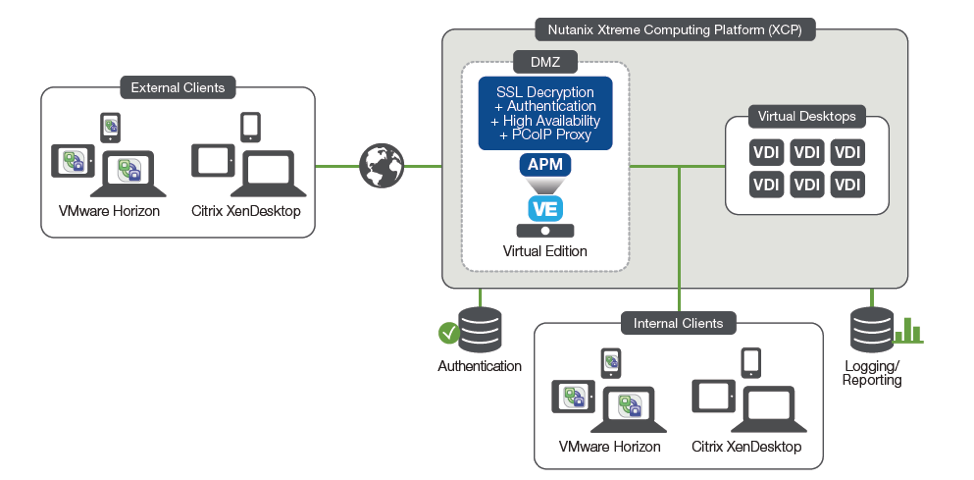 Summary
By centrally maintaining desktops, applications, and data, Horizon with View reduces costs, improves security, and increases availability and flexibility for end users. All these core benefits are maintained and enhanced by running VMware Horizon view on infrastructure that is simple to deploy and manage, linear in scale and ensures secure and authenticated access.
Combining F5 and Nutanix solutions for VMWare Horizon view provides a fully software defined turn-key solution for delivering desktops and applications to users with cloud-like scale out economics and full control of security policies, while ensuring a rich end user experience.
The links below provide more information –
Continue the conversation on the https:///, follow
@Nutanix
on Twitter for the latest news and announcements and sign up to access and download our
Community Edition
software.
This post was authored by Team Nutanix