This blog is authored by Brian Reagan, Chief Marketing Officer, at Actifio
Actifio achieves Nutanix Ready certification. Together, Nutanix and Actifio deliver a powerful, scalable Enterprise Cloud Data Management platform with a wide-range of data-oriented use cases, from data protection and Disaster Recovery, to test data management and analytics, for even the largest data workloads.
Today's digital enterprise is in the midst of a transformation that requires a careful balance between maintaining the legacy infrastructure on which the business was built, and investing in the next-generation architectures that will accelerate new growth. This two-speed approach is further complicated by uncertainty in the reliability, performance, and flexibility of public cloud. And, the unfortunate reality is: moving large-scale data payloads to the public cloud is time- and resource-intensive.
Consider the common challenges faced by many enterprises using traditional technology and IT processes:
a large-scale bank struggles to refresh Oracle test environments for their franchise-critical applications in a timely manner.
a regional hospital lacks the assurance of the recoverability of their patient-critical data.
an email marketing firm is slow to migrate and consolidate application data from acquisitions.
Sound familiar?
In order to deliver their enterprise data-as-a-service, today's modern enterprise is looking for the best of both worlds – the simplicity and agility of the public cloud, combined with the availability, performance, and flexibility of on-premises solutions. Nutanix and Actifio together deliver end-to-end solutions for enterprise cloud data management, including infrastructure, data, and applications.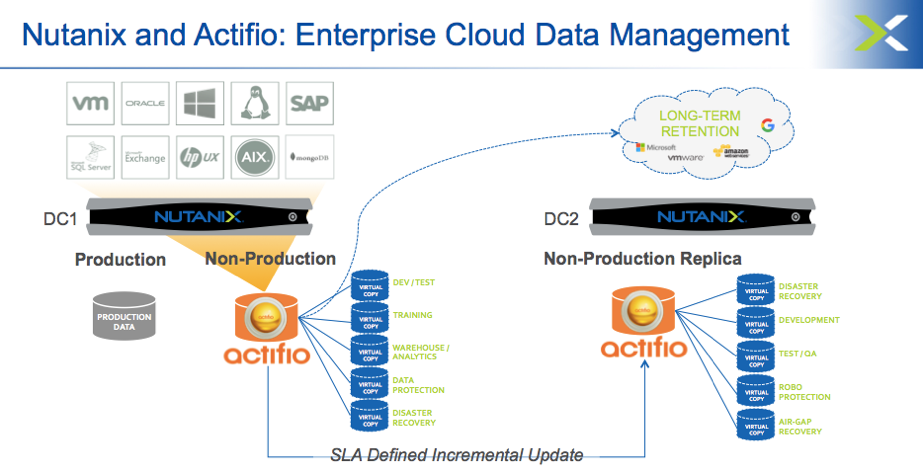 Enterprise cloud is inherently agile and future-proof, as the underlying infrastructure is integrated and virtualized. And, the data management layer is similarly virtualized, enabling instant access to application data, regardless of data size. The combination enables a seamless level of application and data portability across data centers or clouds. And a rich array of data services – backup, disaster recovery, test data management, reporting, and more – can be delivered without incremental expense or operational complexity.
The Nutanix and Actifio solution features include:
Easy to design and deploy: leverage sizing tools and reference designs to go from concept to production sooner than traditional approaches.
One platform for all: Consolidation on to a single solution with predictable scalability delivered by Nutanix's web-scale architecture
Powerful enterprise data services: application aware data capture, management, and use across a wide-range of use cases, from data protection and disaster recovery, to test data management and analytics, for even the largest data workloads.
Those common challenges faced with traditional technologies are overcome with Nutanix and Actifio:
a large-scale bank can refresh their Oracle test environments in minutes.
a regional hospital can non-disruptively test the recoverability of their critical data anytime.
an email marketing firm can seamlessly migrate from any infrastructure to their Nutanix-powered enterprise cloud.
Nutanix and the Nutanix-Ready certified Actifio solution is available today through channel partners worldwide.
Disclaimer: This blog may contain links to external websites that are not part of Nutanix.com. Nutanix does not control these sites and disclaims all responsibility for the content or accuracy of any external site. Our decision to link to an external site should not be considered an endorsement of any content on such site.
2017 Nutanix, Inc. All rights reserved. Nutanix is a trademark of Nutanix, Inc., registered in the United States and other countries. All other brand names mentioned herein are for identification purposes only and may be the trademarks of their respective holder(s).