This blog post is authored by the Nutanix UI Team.
Continuing with the "Ten things you need to know about" blog series, we will be discussing Network Visualization in this blog, which will be a part of our 5.0 software release.
With this new capability, a holistic view of the network infrastructure will be presented in one view. In addition to delivering visibility across server, virtualization and storage resources, Nutanix will also provide detailed visualization of the underlying physical and virtual networking layers.
The network visualization will provide IT administrators with the capability to visually see all the network entities and their relationships with each other. Network visualization will also be highly interactive and depict the network topology of every node in a Nutanix cluster making it extremely simple to use.
With the ability to visualize end to end networking from the VM to virtual NICs, to physical NICs to physical switch ports, this capability will allow IT administrators to visualize the cluster networking setup and make troubleshooting networking issues such as VLAN misconfiguration simple.
Administrators will be able to drill down to a single VM and see what host it runs on, which physical network connection it is using, which switch port it is on and what VLAN is belongs to.
This first version will be supported on AHV clusters, and will be available in Prism as a new Network Page. We plan to extend this capability to other hypervisors in the future.
By showing the relation between the host nic and the switch ports, IT administrators can get a complete picture of the network setup including switch port stats (provided LLDP and SNMP are enabled on the switch).
The Network Page will also give the richness of filtering, grouping and selections of entities allowing administrators to customize the view based on what they are monitoring or troubleshooting.
Deep dive screens will be available for each of the network entities to give more details on the entity. As an example, for Node Network Topology, in addition to basic connectivity information users will be able to interactively understand details on each of the selectable entities.
Prism will provide a layered view of the networking setup for a clutter free design, so that users can select what they want to focus on, and then drill down into further details.
Architected to be a general topology visualization, it can be used to visualize any set of related components, and we plan to extend into other areas of the Nutanix UI such as clusters, hosts, DR sites and snapshots.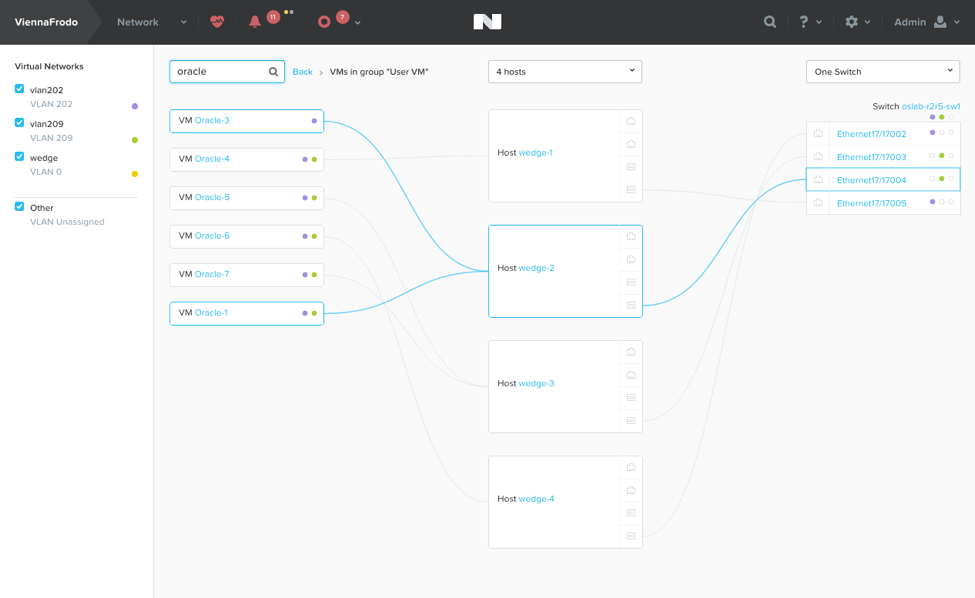 Forward-Looking Statements
This blog includes forward-looking statements concerning product features and technology that are under development or in process and capabilities of such product features and technology, and our plans to introduce product features, including network visualization and extensions thereof, in a future release. These forward-looking statements are not historical facts, and instead are based on our current expectations, estimates, opinions and beliefs. The accuracy of such forward-looking statements depends upon future events, and involves risks, uncertainties and other factors beyond our control that may cause these statements to be inaccurate and cause our actual results, performance or achievements to differ materially and adversely from those anticipated or implied by such statements, including, among others: changes in our relationships with our partners, including Dell EMC and Microsoft; failure to develop, or unexpected difficulties or delays in developing, new product features or technology on a timely or cost-effective basis; the introduction, or acceleration of adoption of, competing solutions, including public cloud infrastructure; a shift in industry or competitive dynamics or customer demand; and other risks detailed in our registration statement on Form S-1, as amended, filed with the Securities and Exchange Commission. These forward-looking statements speak only as of the date of this blog and, except as required by law, we assume no obligation to update forward-looking statements to reflect actual results or subsequent events or circumstances. Any future product or roadmap information is intended to outline general product directions, and is not a commitment, promise or legal obligation for Nutanix to deliver any material, code, or functionality. This information should not be used when making a purchasing decision. Further, note that Nutanix has made no determination as to if separate fees will be charged for any future product enhancements or functionality which may ultimately be made available. Nutanix may, in its own