On the cluster home page, the memory usage box shows that we're using 51.71% of the Cluster Memory (2.21TiB). The only thing running on this cluster right now are the CVMs which have just been bumped to 24GB each for dedup.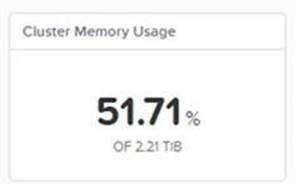 In actuality when we drill down, we're using 5.79% on each of the ESX hosts (512GB on each) and around 77.95% on the storage only nodes (32GB) which are good numbers.
In doing the math, it appears that someone just got lazy with the calculation on the home page widget and averaged the percentages across all nodes instead of actual memory capacity vs used probably anticipating every node to have identical builds and the same memory capacity. This is why it comes out to the over 50% utlized for us. It's really more like 6% utilized since the AHV storage only nodes shouldn't really count in the overall total of available for use by VMs other than CVMs.
It would be helpful for the dashboard widget to show to true capacity utilized.