By Jimmy Chang, VP Products & Alliances, Workspot
In today's environment, businesses have to move quickly to respond to rapidly shifting economic conditions. For many businesses, growth comes from mergers and acquisitions and global expansion. As a result, businesses place greater demands on IT to deliver critical applications, data, and desktops to an increasingly mobile and distributed workforce.
For IT, these demands create real concerns:
How do I quickly onboard new users, LOB, or businesses that are located globally?
How do I increase the efficiency of my valuable and limited IT resources to meet the business's growing demands?
How do I deliver high performance access to apps and data?
How do I stay agile to quickly adapt to the next set of demands?
Virtual Desktop Infrastructure (VDI) is an essential tool to meet the demands of modern businesses. VDI enables IT to securely deliver desktops, applications, and data to any user on any device. It is also one of the primary drivers for moving to the modern data center. And thanks to the new technologies introduced in the modern data center, it is possible to completely reinvent VDI.
This next generation VDI technology, called VDI 2.0, delivers the full benefits of the cloud and hyperconvergence. It enables IT to deploy and scale VDI faster, while decreasing the demands on resources to manage on-going VDI operations. It also extends VDI's reach to new use cases on a global scale.
Cloud native architecture transforms IT into a Service Provider
Workspot's
VDI 2.0
is a cloud native, multi-tenant service that transforms IT into a service provider. With the operational components (management, brokering, load balancing, provisioning, etc.) as a cloud service, IT can instantly create new tenants, scale up more users, and add more locations without having to "copy" a whole operation front end. Workspot's integration with Nutanix AHV means that IT can seamlessly onboard, provision, and scale tenants in a matter of minutes. Scaling tenants is as simple as adding another Nutanix node or cluster.
Fig 1. Workspot + Nutanix clusters in a multi-tenant environment
The benefits of this multi-tenant architecture include:
Onboard tenants in minutes. The Workspot cloud service + AHV integration does the heavy lifting.
Treat subsidiaries, geos, or LOBs as tenants.
Extend VDI to new use cases on a global scale.
Mix-and-match virtual desktops and apps from any private or public data center.
Support for heterogeneous infrastructure, commonly found in companies with a global footprint or growing through mergers and acquisitions.
Place Nutanix clusters closer to users / tenants for higher performance and manage all tenants, globally, from a single pane in the cloud.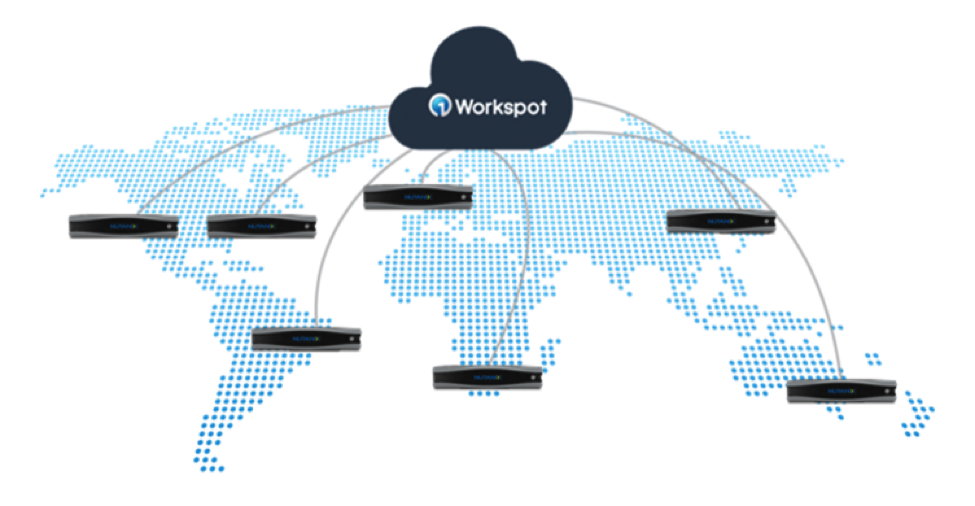 Fig 2. Deploy Nutanix clusters closer to users for maximum performance. All tenants are managed by Workspot's single pane of glass.
Workspot is Nutanix Ready for Desktop Virtualization and AHV
Since joining the Nutanix Elevate program in late 2015, Workspot has integrated their VDI technology to fully leverage Nutanix's disruptive AHV platform and is now verified Nutanix Ready for Desktop Virtualization and AHV.
The integration of Workspot's cloud native architecture with Nutanix AHV enables IT to quickly deploy VDI onto Nutanix clusters running AHV, in as little as an hour. This solution not only streamlines IT operations but also significantly reduces costs. Moreover, it also enables IT to become a service provider with the ability to quickly onboard subsidiaries, geos, and LOBs as tenants and manage them from a single pane of glass.
For more information about Workspot's VDI 2.0 on Nutanix AHV, please come see us at the .NEXT Conference 2016 in Las Vegas at booth S24 or visit us online at
www.workspot.com/next
for the Workspot VDI 2.0 on Nutanix AHV Solution Note.