In a perfect world, everything would run in virtual machines and leverage hyperconverged infrastructure to achieve the lowest possible capex and opex. But even as the Enterprise drive towards hyperconvergence continues to accelerate, a number of adjacent use cases stubbornly demand their own storage silos, often delaying the adoption of the hyperconverged infrastructure model in the process.
One such need is for general-purpose file services—especially home directories, user profiles, application logs and department shares. To address this, Nutanix recently released its
Acropolis File Services (AFS)
offering. Currently available as a technology preview, AFS enables these use cases to be consolidated onto Nutanix for the first time without the need for special-purpose filers.
Just as important is the need for customers to continue to run a subset of production applications bare metal. Addressing bare metal applications like Oracle RAC and Microsoft SQL Server is the driving force behind the newly released Acropolis Block Services (ABS). With ABS, Nutanix customers can easily plug their tier 0/1 applications into the same Nutanix fabric already running their virtualized workloads that are able to take full advantage of hyperconvergence. Think of ABS as a service that bridges the world of bare metal with the world of virtualization and in the process consolidates infrastructure across both.
Continue reading to learn more about ABS use cases and design. In follow-up posts, we'll also
explore a real-world ABS deployment scenario highlighting valuable day-two operational advantages
and show off the high performance of ABS in a hyperconverged deployment.
Why Run Bare Metal
Nutanix recommends that customers virtualize everything. However, some practical limitations, predominantly non-technical, force a subset of applications to run bare metal. For instance, database licensing schemes can make virtualizing databases expensive. Another example is High Performance Computing (HPC) where one application can often take over an entire server cluster at very high utilization rates, diminishing the value of server virtualization.
Consolidate Bare Metal Applications onto the Nutanix Fabric
When apps are deployed using ABS, customers are taking advantage of the benefits of hyperconvergence and virtualization while also collapsing what would have been a bare metal silo onto the Nutanix fabric. Such consolidation increases efficiency through higher utilization levels, directly lowering capex and opex as a result. Practically, this means buying less infrastructure less often. Just as importantly, management costs can be decreased because of the single point of management that Nutanix offers, coupled with advanced tooling, automation and orchestration capabilities. In addition to spending less on process and third party management tools, simplified management also means being able to redeploy valuable and overburdened IT staff to other business-critical needs.
ABS Use Cases
ABS for Three-tier Applications
A popular deployment mode involves
consolidating a three-tier application
onto a single Nutanix cluster. This allows the production database tier to run on bare metal servers while both the web tier and the application tier operate in a fully virtualized infrastructure.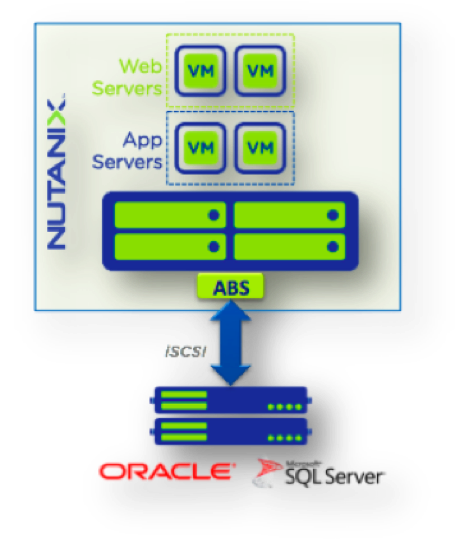 ABS for Database Development and Test
Database dev & test environments usually run in virtualized environments. Here the purpose of ABS is to use Nutanix
native clones
to clone a production bare metal database already using ABS for its storage. The clones are then attached to virtual machines for the purposes of dev & test.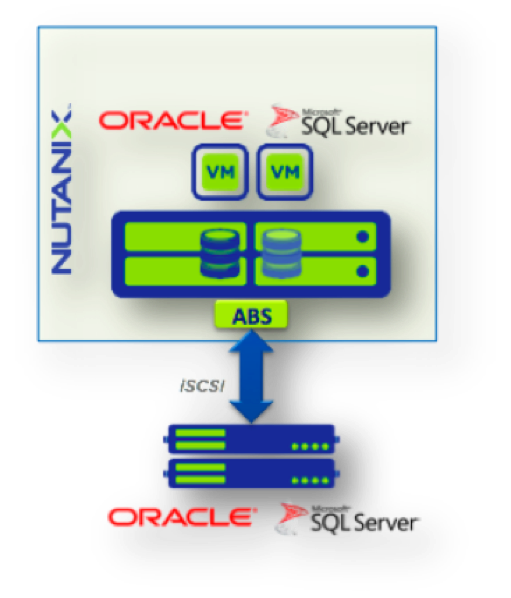 ABS for Infrastructure Consolidation along the Application Development Lifecycle
Consolidation also allows customers to optimize costs across the application development lifecycle. This is accomplished by standardizing on the same product and process starting with development and test (QA) leading all the way to staging and production. Go virtual or go bare metal? Here, the answer is simply "yes." Leverage virtualization for development and test databases, then run the staging and production databases bare-metal using ABS.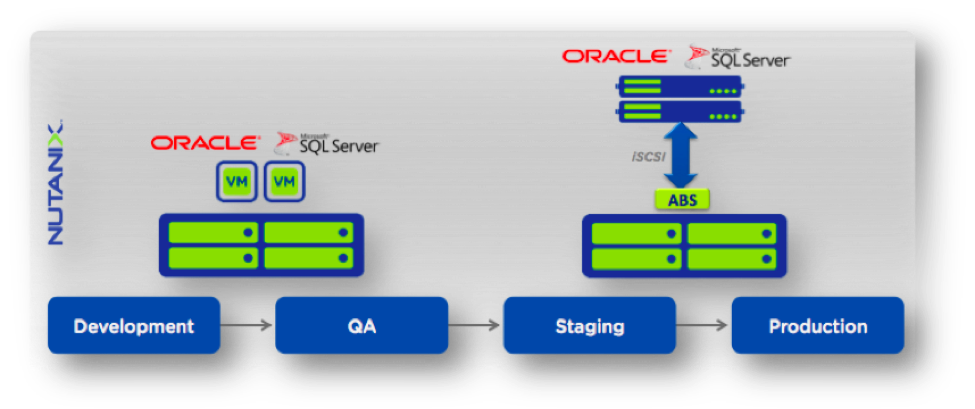 ABS for Server Investment Protection
When server and storage amortization cycles are misaligned (storage is being retired but servers are not), ABS can be used as a bridge to a fully hyperconverged environment. Start by replacing the storage being retired by plugging your existing virtualized or bare metal server investment into the Nutanix cluster with ABS. When the servers are also ready for retirement, it is then a simple matter to move the applications onto Nutanix running as hyperconverged virtual machines. And since the application's data remains unchanged on the cluster, moving them is an easy, copy-free operation.
ABS for Legacy Applications
Most legacy applications live out their lives undisturbed with no plans for virtualization until a major rewrite. Like the last use case, ABS can function as a bridge, serving these bare metal legacy applications until that rewrite takes place. At that point they can be run on Nutanix the traditional way as hyperconverged virtual machines.
ABS Design
In order for ABS to succeed in a bare metal server context, Nutanix engineers focused on high performance, high availability, and flexibility. The result is a simple and broadly applicable storage solution fully integrated with the current Nutanix feature set and capability.
High Performance
All nodes in the Nutanix cluster work in parallel to deliver aggregate, scale-out performance. If a single node pushes 100,000 random I/O, then three nodes will push 300,000. This performance is aggregated and can be delivered to a single monster application running bare metal.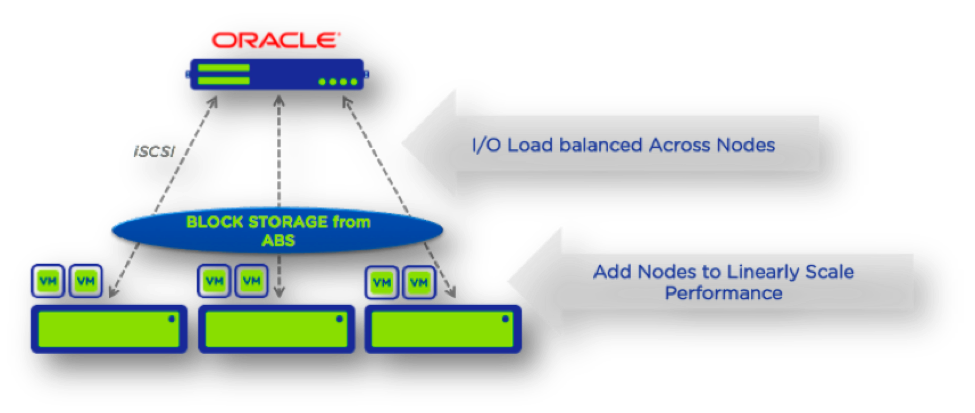 Highly Available & Durable
In the unlikely event of a node failure, iSCSI failover ensures that the ABS services that had been running on the failed node will quickly be taken over by a surviving node. This failover process occurs in the order of seconds, within the thresholds for target applications. Data durability is inherited from the platform by maintaining two or three data copies along with several low-level data integrity checks—a norm on the Nutanix platform. Five 9's of availability or higher can be achieved as a result.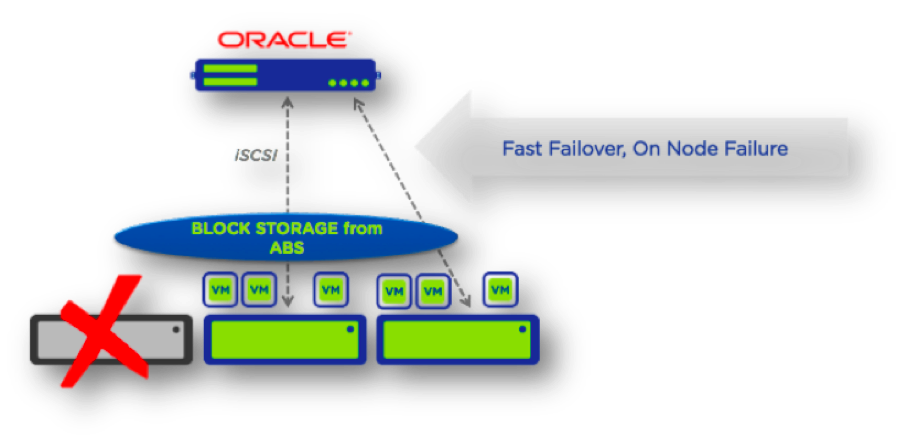 Fully Leverages Nutanix Feature Set
ABS deployments benefit from the same comprehensive Nutanix feature set that customers already love in virtualized environments. Snapshots of ABS block data can be taken frequently, with multiple copies retained, replicated, recovered on DR, backed up to the cloud, deduped, compressed, and erasure coded. Best of all, it can easily all be managed from Prism, providing a single point of management for the Nutanix solution.
One-click Simplicity
ABS storage is served over iSCSI, a popular and broadly accepted block storage protocol, which does away with the need for fiber channel networks and the complexity that accompanies them. With Nutanix, block storage can be provisioned in a few clicks and intelligent defaults mean that changes are usually minimal. Day-two operations like scaling out, updating software and servicing hardware are also accomplished in a few clicks and not different from operations on the Nutanix platform today. And unlike fibre channel SANs, no client-side changes are required to scale out—simply grow the size of the Nutanix cluster to scale the application I/O performance.
Summary
The strong value of hyperconvergence can be put into question when one or two production applications benefit from continuing to run as bare metal deployments. ABS alleviates this concern, making it easy to serve those bare metal applications with ABS while simultaneously attaining the advantages of hyperconvergence for the majority of the applications in a fully virtualized environment.
ABS addresses multiple use cases including production bare metal databases and database dev & test. It can also smooth the entire application development lifecycle by consolidating the storage on Nutanix and using a combination of virtualized and bare metal access to the data. Finally, legacy server and bare metal application deployment investments can be protected until those servers are retired and legacy applications rewritten. The simplicity and ease of use of ABS is shown in
real-world deployments and day-two operations
, which we will detail in a later blog.
We hope you enjoyed this post. Acropolis Block Services (ABS) is available today as a generally available product. Take it through the paces and let us know what you think!
This post is authored by Timothy Isaacs and Geoffrey Noer, Product Management Nutanix
Related Reading
Putting Acropolis Block Services (ABS) through its Paces