This post was authored by Vandana Rao, Director, Services Strategy and Sachin Chheda, Global Accounts and Verticals Marketing at Nutanix
In every industry, digitalization requires agile software development to be a core competency. So, whether an organization is transforming itself to deliver software as a service , eking out more efficiency, or delivering better services or products, it is critical that organizations become comfortable with agility in their software development to adapt to rapidly changing business requirements.
Software eats hardware
Others at Nutanix have talked extensively about the organizational changes needed from
gaining support for change
to hiring the right talent to putting in place the
right processes and tools
. In this blog we will explore a core tenet of being agile: continuous integration and continuous delivery or CI/CD.
Broadly defined CI/CD (or for purists CICD) is the practice of iterative development, test and deployment of code with an automate everything philosophy. Or, in layman terms the practice of developing and delivering code more reliability, and more frequently, with less to no manual effort. Relative to legacy "waterfall" development, this agile process can cut down on wasted efforts and enable far greater responsiveness to business needs. Constant builds, tests, staging and deployment, however, also potentially represent a massive operational burden.
Consequently, to be practical in a speed-of-business setting, CI/CD methodology necessitates a fast, highly-automated process for building and testing
. This automated procedure needs to provide for resources including source code repositories and build tools. It needs to be highly customizable and usable by both administrators and working developers. Most of all, it needs to let skilled "Dev" teams focus on coding and "Ops" teams focused on SLAs versus mundane tasks.
Nutanix provides not just the requisite infrastructure, but the 1-click simplicity and consulting services streamlining of CI/CD automation.
Let's start with Nutanix Calm. It provides application lifecycle management and orchestration across multiple clouds. It helps everyone ranging from high-level IT operations administrators to actively-coding developers to roll out updates faster than ever before while leveraging the power of automated testing to maintain quality. Or simply put: help organizations create a CI/CD pipeline.
Let's discuss a few user stories or scenarios to demonstrate the power of Calm, to not only automate the deployment of your applications but also deploy a solution stack for CI/CD. We'll start with the demo video in case you want to jump right to the nitty gritty with scenarios to follow:
Scenario #1:
Who: Infrastructure Administrator
What: Deploy an instance of a fully operational CI/CD solution instance, so the broader team will have consistent deployments of the entire toolset
Tools: Docker registry, Gitolite, Jenkins, JFrog Artifactory, and developer workstations (aka Linux VMs for developers to use to develop code)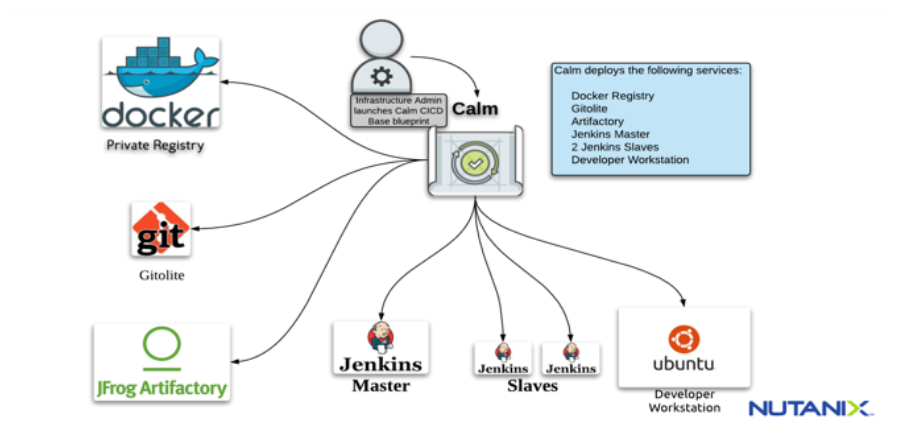 Task list for the Calm blueprint:
Deploy all applications required to instantiate a sample CI/CD environment. This implementation includes a private Docker Registry, a git repository (gitolite), an Artifactory, and Jenkins)
Integrate all of the components seamlessly using SSH Keys and certificates.
Configure Jenkins to access all other components.
Preconfigure Jenkins to build and deploy the sample application
Deploy developer workstation(s) with pre-configured apps
Scenario #2:
Who: IT Administrator for Dev team
What: Deploy developer workstations on demand to make developers productive ASAP
Tool(s): Developer Workstations with configured developer tools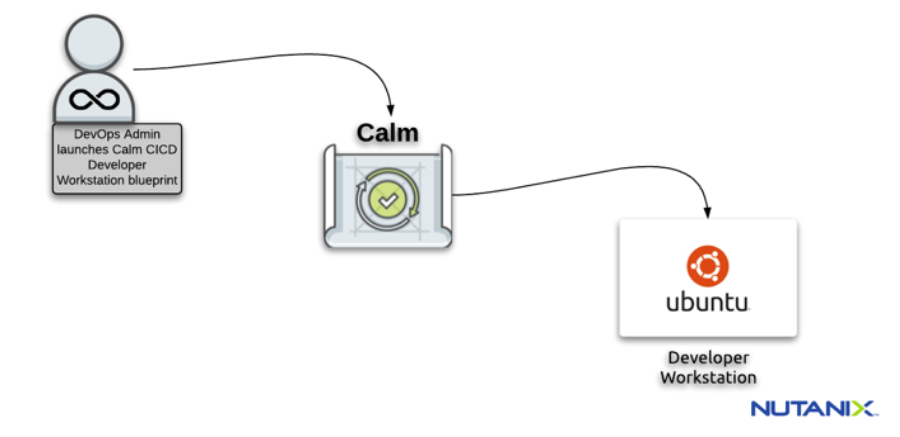 Task list for the Calm blueprint:
Deploy and preconfigure CI/CD tools within the developer workstation. This way the developer can focus on application development—not waste cycles on the configuration etc.
Scenario #3:
Who: Developer
What: Test and deploy code written to service the entire application lifecycle themselves (i.e self-service).
Software deployed: Three-tier application stack: (Nginx) Web server, (node.js) App server, and (MongoDB) Database server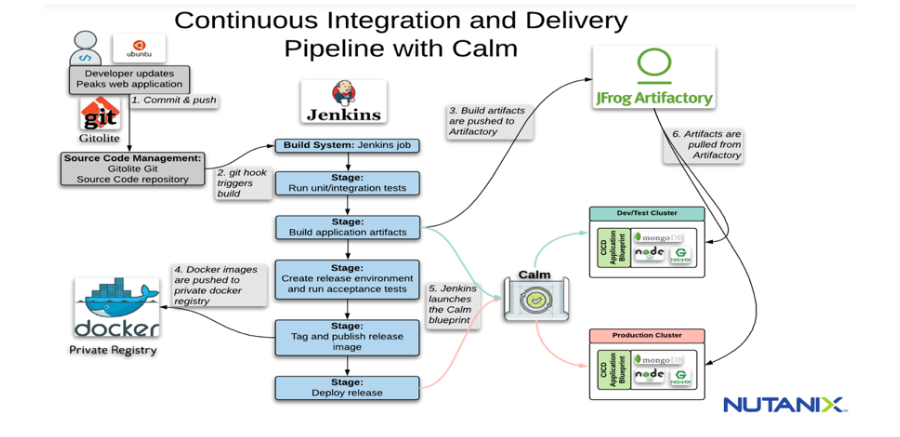 Task list for the Calm blueprint:
NOTE: Developer can use the tool chain created in scenario #1 to call Nutanix Calm through Jenkins (using REST APIs)
Leverage Jenkins to call automate the entire build, test and publish phases.
Automate deployment of a three-tier application including Nginx web server, node.js and MongoDB database.
Since it's re-release as a part of the Nutanix solution family, Nutanix Calm has helped our install base simplify application lifecycle management. Every Nutanix customer has a complementary 25 VM licenses to experience the power of Calm.
Nutanix Consulting Services also deliver a well-regarded
consulting workshop
and custom services to help IT and line of business organizations master the power of Calm, including integrating in organizations' existing development practices.
We would love to talk to you more on how we can help you further your organization's goals on agile software development and CI/CD. Reach out to us over email (services@nutanix.com) or reply here to get started.
👉 Continue the conversation in our Nutanix Calm
forums
.
© 2018 Nutanix, Inc. All rights reserved. Nutanix, the Nutanix logo and the other Nutanix products and features mentioned herein are registered trademarks or trademarks of Nutanix, Inc. in the United States and other countries. All other brand names mentioned herein are for identification purposes only and may be the trademarks of their respective holder(s).