The Nutanix AFS team has been working non-stop on supporting file server cloning, due to customer demand for a variety of new uses cases. AFS was originally designed to have a 1-to-1 relationship with every AFS deployment using one underlying storage container. The 1-to-1 relationship made a lot of sense to me in the beginning, because I could just look at the storage container in Prism and get all of the stats I needed to do my work.
This also allowed for the underlying Volume Groups on AFS to have the same name as the container/AFS server. Supporting cloning of the entire file services setup required the engineering team to remove hard bindings between AFS and its corresponding volume group.
Starting with AFS 2.1.1, cloning a file server is now fully supported on both AHV and ESXi. This also represents the first time more than one file server can reside in the same container. Cloning a file server also provides the ability to rename the file server without having to clone, which is new in AFS 2.1.1.
These enhancements support the following use cases
Creating clones of full environments for development and testing
Fully testing DR while the original file server is running
Enabling full antivirus scan offloads
Running analytics, while keeping the production servers ready for use
Backing up ROBO sites, e.g., offshore drilling rigs, so remote offices can replicate their file servers to headquarters, and then clone it to perform the backup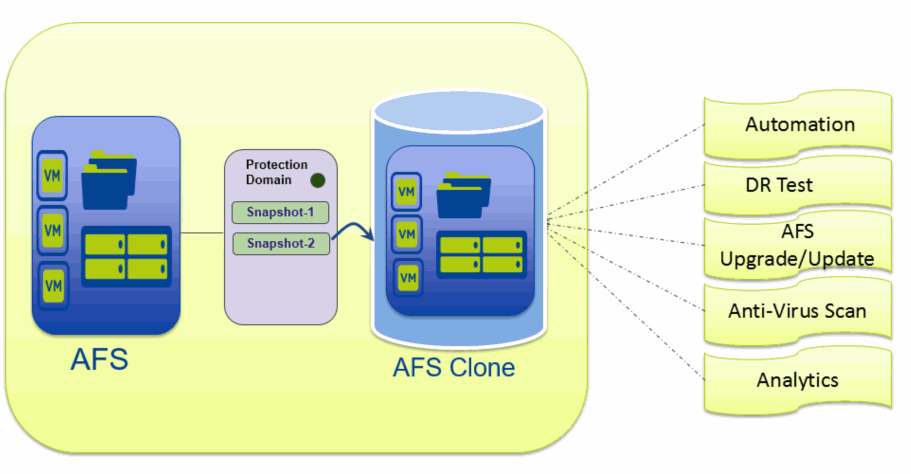 Other new improvements for AFS 2.1.1
AFS Sizing Workflow: Workload-based sizing is now available when creating AFS clusters in Prism. There are still options for manual configuration.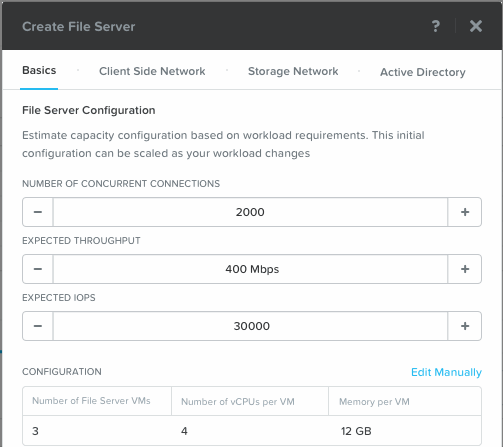 The MMC snap-in is now supported for AFS. This enables the renaming of top-level directories for the home share, recursive deleting, and applying permissions. This avoids having to use powershell scripts. The reason it does not work from Windows Explorer on our home directories is because we use DFS referrals for the top-level folders, and no other product uses that. These referrals allow one single share to service tens of thousands of users across many nodes under one namespace.The new MMC snap-in can be found on the support portal for download.
Manage top-level directories
Administrator and Backup Administrator Support: Non-domain admin users can be added as administrators and backup admins from the UI without having to go into the cli.
In short, AFS 2.1.1. is a minor release, but it will have a huge impact on day-2 operations.