This guest post was authored by Rebecca Fitzhugh - Technical Marketing Engineer at Rubrik
At Rubrik, every new feature and product launch is designed to make our customers' lives easier. We provide a
hypervisor-agnostic solution
that enables them to seamlessly orchestrate application data across multi-hypervisor and multi-cloud environments. Our focus on simplicity and scale is why we're thrilled to be one of the first platforms to support
backup and recovery on Nutanix AHV
. Since launching this integration, it's been exciting to see customers leverage the joint solution and achieve end-to-end management for all their apps running on Nutanix.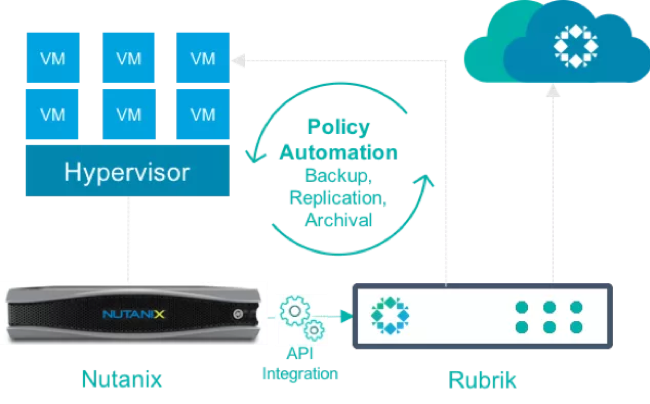 The architecture and configuration between Rubrik and Nutanix is straightforward, yet powerful. Rubrik and Nutanix work together to leverage AHV's powerful APIs to integrate seamlessly and provide users with unprecedented simplicity and backup performance.
Some of the main benefits of the Rubrik and Nutanix AHV integration include:
Automated Protection & Restore Workflows: Through a single policy engine, users can automate protection across their entire virtual infrastructure in just a few clicks. To make it even easier, anytime a new VM is added to that environment, Rubrik auto-discovers it and immediately applies the appropriate protection policies.
Secure Archival: CloudOut is Rubrik's ability to cost efficiently archive data to the cloud for long-term retention. An SLA domain can include an archival policy that instructs Rubrik to store protected data to an archival location for long-term retention. The archival location may be Google Cloud Platform (GCP), AWS, Azure, or on-premises using tape or NAS.
Rubrik Core Capabilities: As with all our other offerings, AHV users can enjoy Rubrik's core capabilities such as global search (even for VM-level restores), erasure coding, and on-demand reporting.
Scale-as-you-go Architecture: Rubrik and Nutanix are both built with infinite scale in mind. Rubrik uses a complementary web-scale architecture that eliminates the complexities of a traditional platform in order to deliver a simple solution that easily grows with any business.
Rubrik was built to be the complete data management solution for the hybrid cloud enterprise. That's why we were thrilled when Nutanix announced its strategic partnership with GCP. Rubrik enables long-term retention of data in the cloud while providing immediate access with our global predictive search capability. So, now Nutanix customers can leverage our platform to easily deliver app data and cloud services.
As more infrastructures embrace hybridity, automated provisioning and lifecycle management become paramount. Rubrik uses an API first architecture -- every action in the UI calls to the Rubrik APIs. This unleashes the potential to integrate with any solution that is capable of consuming RESTful APIs, from on-premises to the public cloud and beyond. Add Rubrik Cloud Data Management to automation workflows and provision and protect in one task.
Rubrik's direct integration with Nutanix AHV extends our focus on simplicity while meeting customers' business requirements. Regardless of which hypervisor you prefer, Rubrik provides simple yet powerful data protection for your Nutanix infrastructure. I'll dive deeper into this topic at .NEXT, so be sure to catch my session on
Wednesday, May 9th
to learn more.
Disclaimer: The views expressed in this blog are those of the author and not those of Nutanix, Inc. or any of its other employees or affiliates. This blog may contain links to external websites that are not part of Nutanix.com. Nutanix does not control these sites and disclaims all responsibility for the content or accuracy of any external site.
© 2018 Nutanix, Inc. All rights reserved. Nutanix, the Enterprise Cloud Platform, the Nutanix logo and the other Nutanix products and features mentioned herein are registered trademarks or trademarks of Nutanix, Inc. in the United States and other countries. All other brand and product names mentioned herein are for identification purposes only and are the property of their respective holder(s), and Nutanix may not be associated with, or sponsored or endorsed by such holder(s).