Written By: Mike Langdon, Product Manager, Blue Medora
Blue Medora is excited to announce that its
vRealize Operations (vROps) Management Pack for Nutanix
is now Nutanix Ready. The management pack helps you gain visibility into the health and performance of your Nutanix clusters and the workloads running on them.
As part of Blue Medora's True Visibility Suite, the vROps Management Pack for Nutanix brings visibility into vRealize Operations so you can clearly understand how your hypervisors are performing within the Nutanix enterprise cloud platform. In particular, I'd like to highlight three key areas where Blue Medora integrations will transform your vROps monitoring experience.
Gain visibility into capacity and performance with 1,000+ metrics
The Blue Medora Management Pack for Nutanix extends your monitoring to provide easy access to health, performance and availability metrics for your infrastructure alongside databases and applications.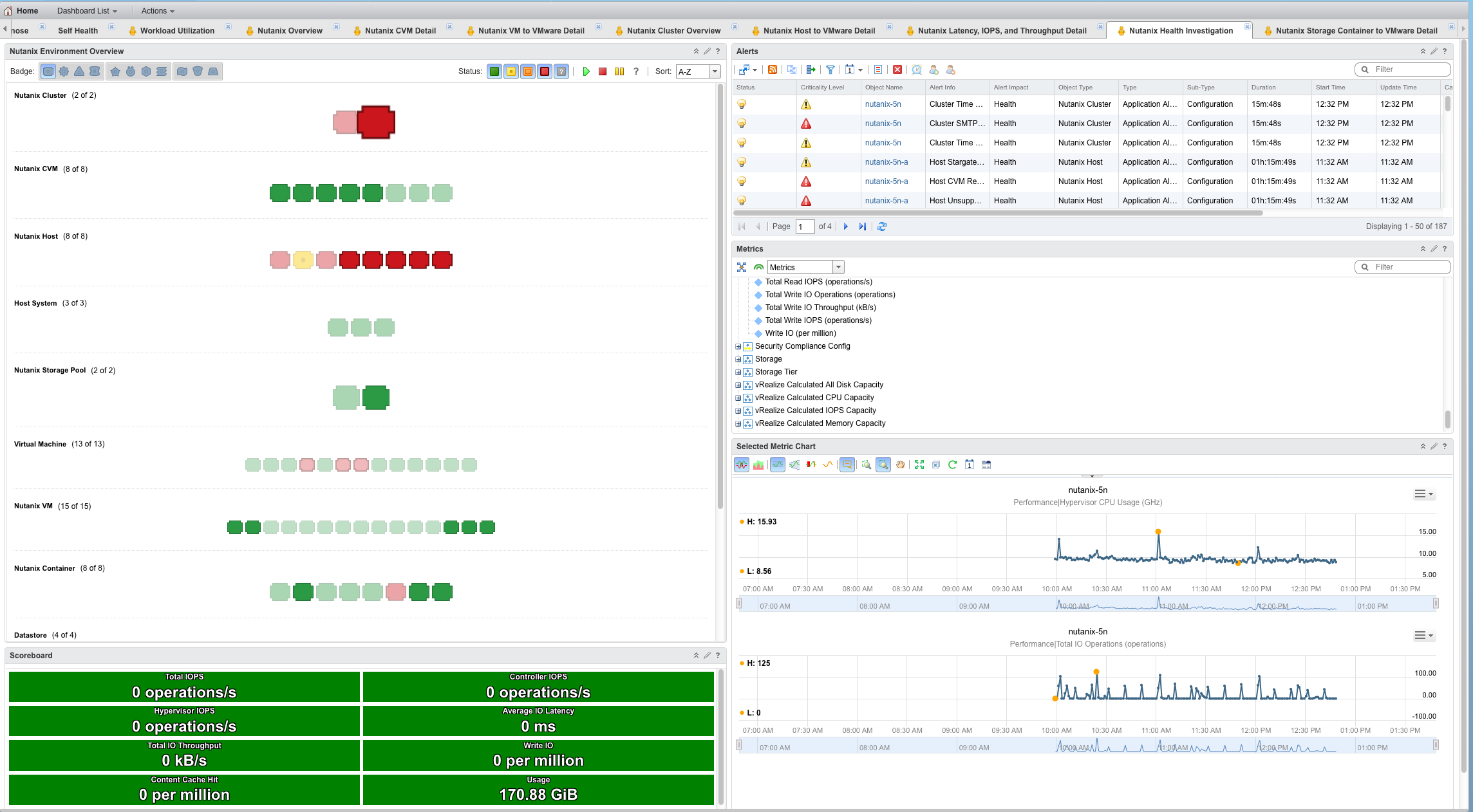 Figure 1:
Extend visibility with out-of-the-box dashboards, like the Nutanix Health Investigation shown above.
The management pack features more than 1,000 metrics, including key indicators like IO operations, IO latency, disk size and total IOPS. You can view these metrics in custom reports and dashboards, or use the dashboards provided out-of-the-box:
Nutanix Overview
Nutanix Cluster Overview
Nutanix Health Investigation
Nutanix Latency, IOPS, Throughput Detail
Nutanix CVM Detail
Nutanix VM to VMware Detail
Nutanix Host to VMware Detail
Nutanix Storage Container to VMware Detail
Precise control of alerts and notifications
More than 150 alerts and notifications are provided through the Blue Medora Management Pack for Nutanix. As a result, you gain immediate insight into important alerts so you are able to address them before the spread to other layers of the IT stack.
Strong integration with vRealize Operations allows you to leverage predictive analytics to pinpoint problems before they arise and optimize the performance of your hyperconverged systems.
Reduce mean time to innocence
The Blue Medora Management Pack for Nutanix automatically maps relationships between Nutanix and VMware. You will gain insight into performance dependencies with the discovered relationships, such as Nutanix VM to VMware VM; storage container to VM; and host to VM. In addition, when you pair the Management Pack for Nutanix with others from Blue Medora, you can gain a clear and accurate understanding of other relationships between Nutanix, databases and applications.
Figure 2:
Leverage relationship mapping -- like storage container to VMware shown above -- between Nutanix and VMware layers with Blue Medora's management pack.
Leveraging key metrics about each of these relationships in your Nutanix environment means you have visibility into the data you need to reduce your mean-time-to-innocence should any troubles arise.. Our customers find that they can increase availability across their environments, which helps them to accelerate performance across the IT stack.
For more information about Blue Medora's management pack for Nutanix, review our solutions brief or
get a free trial
.
About Blue Medora
Blue Medora creates software that extends the capabilities of vRealize Operations and exposes more elements of your underlying hardware and software solutions to provide you with detailed performance metrics and in-depth analytics across the IT stack.
As a result, you receive comprehensive visibility into your physical and virtual infrastructure for root cause analysis and overall infrastructure management. For more information about the True Visibility Suite for vRealize Operations, visit
our website
.
Disclaimer: This blog contains links to external websites that are not part of Nutanix.com. Nutanix does not control these sites, and disclaims all responsibility for the content or accuracy of any external site. Our decision to link to an external site should not be considered an endorsement of any content on such site.