This blog was authored by EJ Bodnar, Senior Product Marketing Manager at Nutanix
These are the top ten things you should know about Nutanix™ on Cisco UCS®.
1) Nutanix™ Enterprise Cloud Platform for Cisco UCS® Named a 2016 CRN Product of the Year Winner.
CRN® has named Nutanix Enterprise Cloud Platform™ for Cisco® Unified Computing System (UCS) a winner in the 2016 Product of the Year Awards in the Hyperconverged Infrastructure category.
The Nutanix Enterprise Cloud Platform™ took first in two subcategories: Technology and Customer Demand.
2) More
customers
choose
Nutanix™
than
all
other
hyperconverged
offerings
combined.
Nutanix™ has over 50% market share, according to Gartner(1).
3) Customers
running
Nutanix™
save
71%
in
time
and
58%
in
TCO
by
running
Nutanix™.
Nutanix™ capabilities include multiple hypervisor support, advanced data optimization, web-scale design including scale-out storage services, predictive capacity planning, one-click software upgrades and much more.
4) Nutanix™
is
fully
tested
& validated and is currently running on Cisco UCS® C- Series Servers in live customer environments worldwide.
Nutanix™ independently validated and certified Nutanix™ software on Cisco UCS® C-Series servers. In addition, Nutanix™ and Cisco® channel and SI partners have also successfully tested and validated Nutanix™ software on Cisco UCS® C-Series in both customer and partner environments.
Multiple customers across multiple industries in multiple countries are running Nutanix™ on Cisco UCS® C-Series Servers in live production environments.
5) Rackmount Cisco UCS® Servers are supported, with support for Blade servers in development.
Nutanix™ is currently available on Cisco® C220 and C240 Rackmount servers. In November 2016, Nutanix™ announced planned future support for Cisco® B200 Blade servers, as well as All-Flash and StorageOnly nodes.
As Cisco® customers express demand, Nutanix™ plans to add support for additional UCS® models.
6) Nutanix™
for
Cisco UCS®
is available as
a software offering that can be deployed up front or added on later.
Nutanix™ is leveraging a classic "meet-in-the-channel" model where the Cisco UCS® servers are purchased separately from the Nutanix™ software.
Leading Cisco® channel partners around the world are offering Nutanix™ on UCS® and authorized distributors and resellers for Cisco® and Nutanix™ integrate the Cisco® hardware and Nutanix™ software together, either at their facilities or at the customer's site, ensuring an exceptional experience for the joint Nutanix™ and Cisco® customer.
7) Nutanix™
software
for Cisco UCS®
is
easy
to
order.
The Nutanix™ software has support bundled in, thereby providing Cisco UCS® customers a complete solution.
Nutanix™ software is priced per node for a fixed term (1/3/5 years).
8) Cisco UCS®
customers
receive
top
notch
Support leveraging
industry
standard
processes.
Support is handled by Nutanix™ and Cisco®'s industry leading customer support teams. Nutanix™ supports the Nutanix software and Cisco® supports the Cisco UCS® hardware.
While customers will typically call Cisco® first for obvious hardware issues and Nutanix™ for obvious software issues, Nutanix™ is always ready to take the first call.
Nutanix™ will coordinate Cisco's hardware support cases through TSANet (Technical Support Alliance Network – www.tsanet.org) which hands off to Cisco® for hardware support and replacement.
Customers receive the highest level of Support as Nutanix™ consistently achieves a Net Promoter Score of 90+.
9) Nutanix™ pioneered Hyperconverged Infrastructure.
Hyperconverged Infrastructure natively combines x86-based compute and storage resources with intelligent software to create flexible building blocks that replace legacy infrastructure consisting of separate servers, storage networks and storage arrays.
While hyperconvergence is not an end point in itself, it is the fundamental building block for the ultimate destination of the Enterprise Cloud Platform.
10) Nutanix™ pioneered the Enterprise Cloud Platform.
Nutanix™ pioneered the concept of hyperconverged infrastructure. However, where other vendors view that as the destination, Nutanix™ sees hyperconverged infrastructure as simply a stepping stone on the road to delivering a complete Enterprise Cloud Platform.
Nutanix's ultimate journey is to make infrastructure invisible and enable customers to focus on the applications and services that power their business.
Providing an Enterprise Cloud Platform means removing the technological barriers that force customers to choose between on-premise and public cloud deployments, and Nutanix™ enables Cisco UCS® customers to span both.
Therefore, the choice of where compute and where data reside ultimately becomes simply a business decision that can be dialed back and forth.
Nutanix on Cisco UCS
Nutanix natively converges compute, storage and virtualization into a turnkey enterprise cloud platform that can be deployed in 30-60 minutes, and runs any app at any scale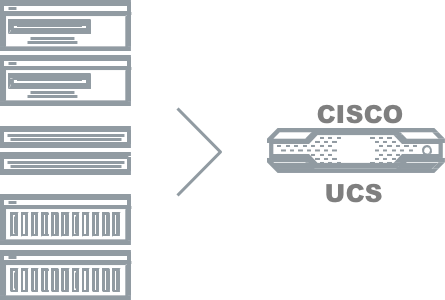 (1) Gartner Magic Quadrant for Integrated Systems Published: 10 October 2016
(2) IDC White Paper | Quantifying the Business Value of Nutanix Solutions, August 2015
© 2016 Nutanix, Inc. All rights reserved. Nutanix™ is a trademark of Nutanix, Inc., registered in the United States and other countries. Cisco® and Cisco UCS® are the registered trademarks of Cisco Technology, Inc. Nutanix is not associated with, sponsored or endorsed by Cisco.
Forward-Looking Statements
This blog includes express and implied forward-looking statements concerning product features and technology that are under development or in process and capabilities of such product features and technology, and our plans to introduce product features, including support for Cisco USC B-Series blade servers, in a future release. These forward-looking statements are not historical facts, and instead are based on our current expectations, estimates, opinions and beliefs. The accuracy of such forward-looking statements depends upon future events, and involves risks, uncertainties and other factors beyond our control that may cause these statements to be inaccurate and cause our actual results, performance or achievements to differ materially and adversely from those anticipated or implied by such statements, including, among others: failure to develop, or unexpected difficulties or delays in developing, new product features or technology on a timely or cost-effective basis; the introduction, or acceleration of adoption of, competing solutions, including public cloud infrastructure; a shift in industry or competitive dynamics or customer demand; and other risks detailed in our registration statement on Form S-1, as amended, filed with the Securities and Exchange Commission. These forward-looking statements speak only as of the date of this blog and, except as required by law, we assume no obligation to update forward-looking statements to reflect actual results or subsequent events or circumstances. Any future product or roadmap information is intended to outline general product directions, and is not a commitment, promise or legal obligation for Nutanix to deliver any material, code, or functionality. This information should not be used when making a purchasing decision. Further, note that Nutanix has made no determination as to if separate fees will be charged for any future product enhancements or functionality which may ultimately be made available. Nutanix may, in its own discretion, choose to charge separate fees for the delivery of any product enhancements or functionality which are ultimately made available.